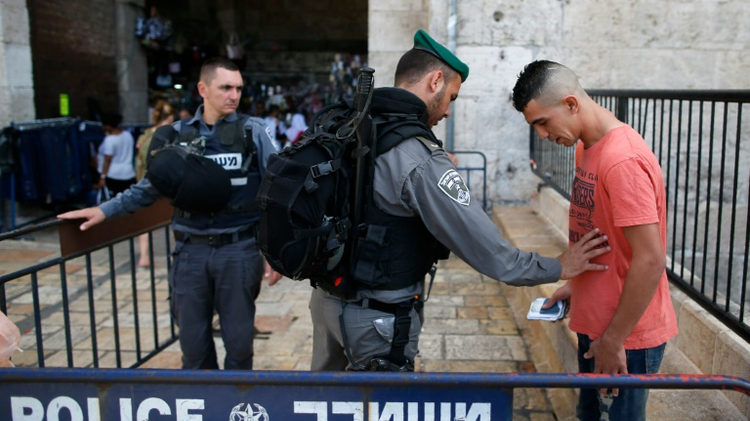 ☆
Palestinian killed in East Jerusalem during Yom Kippur riots
credits/photos : AHMAD GHARABLI (AFP/Archives)
Checkpoint in East Jerusalem
IDF denies reports its soldiers killed Gazan boy, saying child killed by stray gunfire from nearby celebration
Israel Defense Forces on Wednesday denied Palestinian reports that Israeli soldiers killed a 10-year-old Gazan boy, saying the child was killed by a stray gunfire from a nearby Palestinian celebration.
As Israel shut down Wednesday for the Jewish Yom Kippur holiday, with roads, shops, airports all closed, clashes erupted during an overnight Israeli raid in the Silwan area of the mainly Palestinian east Jerusalem.
Israeli security forces shot dead a 20-year-old Palestinian man, Ali Shiouki, Palestinian officials said.
The incident took place near the home of the terrorist who on Sunday killed two people in a gun attack in Jerusalem.
Israeli police said about the Silwan incident that "Arabs rioted throwing petrol bombs and rocks at officers," who "opened fire when their lives were endangered by rioters."
"One resident was injured critically and died. He was buried overnight by local residents."
Israel closed off the border crossings to the West Bank and the Gaza Strip for 48 hours during Yom Kippur (the Day of Atonement) following Sunday's deadly shooting, the military said on Monday.
The solemn holiday began Tuesday evening and ended Wednesday at sunset.
Many Jews fast during that time. Families and young people also walk and cycle through empty streets, while Orthodox Jews with prayer shawls can be seen making their way to synagogues.
Security was tight for this year's holiday with fears of a fresh surge in violence.