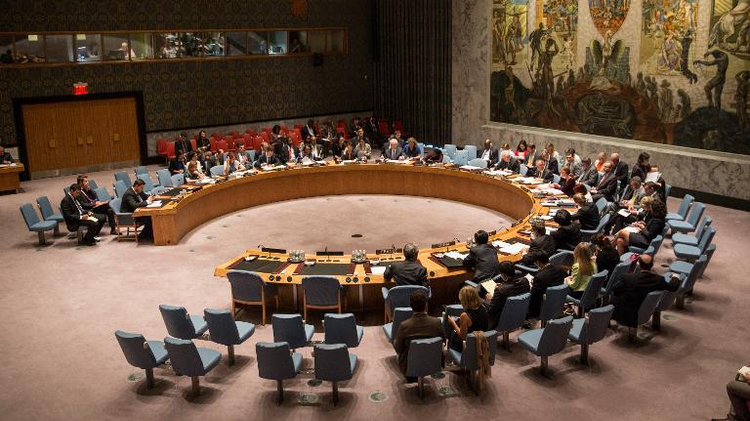 ☆
Occupation incompatible with democracy, Israeli NGOs tell UNSC
credits/photos : Andrew Burton (Getty/AFP)
The United Nations Security Council (UNSC)
Israel slammed the meeting as biased 'diplomatic terror'
Left-wing Israeli organizations "Peace Now" and "B'Tselem" on Friday harshly criticized Israel's policies and continued military presence in the West Bank at a special meeting of the United Nations Security Council devoted to Israeli settlement building.
The meeting, called under the banner "Illegal Israeli Settlements: Obstacles to Peace and the Two-State Solution," was formally requested by UN members Malaysia, Venezuela, Senegal, Egypt and Angola on behalf of the Palestinians, who hold observer status.
Hagai El-Ad, executive director of B'Tselem said in the meeting that "with every breath the Palestinians take they are breathing an occupation. Israel cannot call itself a democracy while occupying another people. El-Ad also accused Israeli security forces of ill-treatment of Palestinian civilians and called on the Security Council to take actions against Israel.
Peace Now representative Lara Friedman added that "Israeli policy in the settlements is ending the chance for peace. I call on the Security Council to send a message to Israel and to end this policy."
A concept note circulated before the event by the organizers stated that the prospects for a two state solution is jeopardized by "the presence and continuing growth of illegal Israeli settlements on Palestinian land occupied by Israel since June 1967."
They also wrote in the note that Israeli security forces "routinely oversee acts of settler violence against Palestinian civilians, denying protection to the occupied population."
The meeting was called after the United States issued an uncharacteristically strong rebuke of the Israeli government's recent approval of nearly 300 new housing units near the West Bank settlement of Shilo, situated between Nablus and Ramallah, in an apparent compensation for a Supreme Court ruling ordering the eviction and demolition of the wildcat Jewish settlement of Amona.
Israel's UN Ambassador Danny Danon slammed the meeting as anti-Israeli and accused the two NGOs of providing "moral cover for anti-Israel activities at the United Nations."
"Just two days after anti-Israel forces approved a resolution intending to sever the historical bond between the Jewish people and Jerusalem, Israeli organizations chose to slander and besmirch Israel's good name at an event organized by the Palestinian delegation," the official said.
"We will continue to fight and tell the truth about Israel despite the attempts to spread lies about us. It is unfortunate that Israeli organizations have joined the Palestinian attempts to wage diplomatic terror against Israel at the UN."