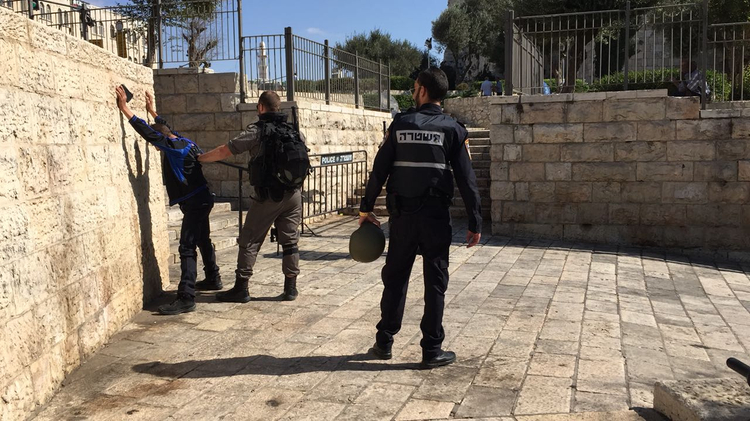 ☆
Terrorist attacks in Israel hit six-month low
credits/photos : Mohammad Al Kassim/ i24news
Israeli police search a Palestinian near the Damascus Gate entrance to Jerusalem's Old City on October 10, 2016
No fatalities recorded from August's incidents; Number of attacks in Jerusalem down 50 percent from July
The number of terrorist attacks in Israel hit a six-month low in August, dipping below 100 for the first time since March 2015, the Shin Bet domestic security agency said this week in its latest monthly report.
The security agency marked 93 attacks in August, marking an overall eight percent drop from the 101 incidents recorded in July.
In the flashpoint city of Jerusalem, the number of attacks almost halved, with 13 incidents recorded in August compared to 24 the month before, the Jewish Telegraphic Agency (JTA) reported.
There were no fatalities as a result of August attacks, though seven Israelis suffered injuries, including three victims of stabbing attacks and two injuries from fire bombings. The remaining victims were injured by an explosive device and stone throwing, the report said.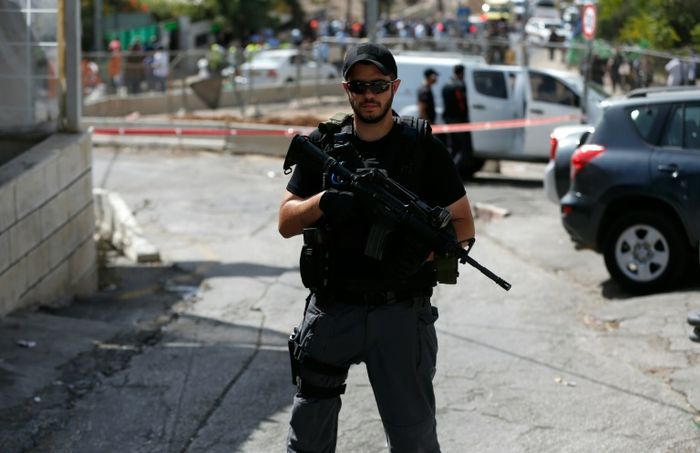 Three of the incidents recoded in August involved mortar fire from the Hamas-controlled Gaza Strip, but did not result in any injuries.
Since August, at least two other projectiles fired from the coastal enclave have landed in Israeli territory prompting Israel to conduct retaliatory air and artillery strikes in the Gaza. Israel says that it hold Hamas responsible for all projectile fire coming from its territory.
In August 2015, the number of attacks recorded was 171, with violence between Israelis and Palestinians reaching a peak in October 2015 when 620 attacks were recorded. 
Since then, at least 231 Palestinians, 38 Israelis, two Americans, one Jordanian, an Eritrean and a Sudanese national have been killed in terror-related incidents.
Most of the Palestinians were killed while attempting to perpetrate attacks, Israeli authorities have said, while others have been killed during protests or clashes.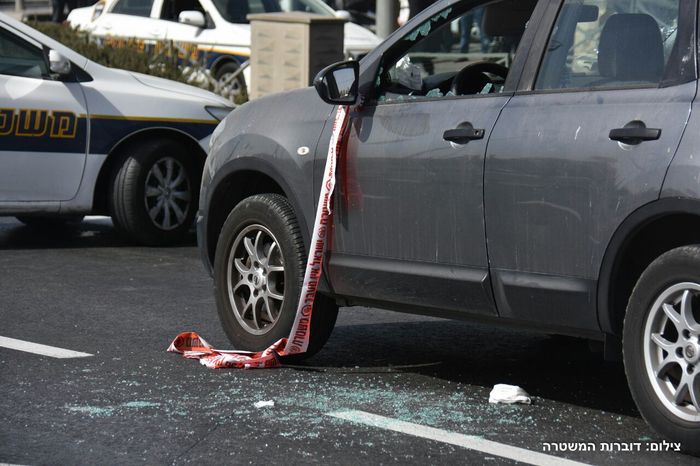 The number of attacks had been on a steady decline since November 2015, but an uptick in attacks or attempted attacks over recent weeks has renewed violence.
On October 9, two Israelis were killed and six injured after a Palestinian gunman opened fire at a light rail stop in Jerusalem.
On Wednesday, Israeli security forces shot dead a 20-year-old Palestinian man during riots near the home of the Jerusalem shooting terrorist. 
On the same day, the IDF denied Palestinian reports that Israeli soldiers killed a 10-year-old Gazan boy, saying the child was killed by a stray gunfire from a nearby Palestinian celebration.
(Staff with agencies)