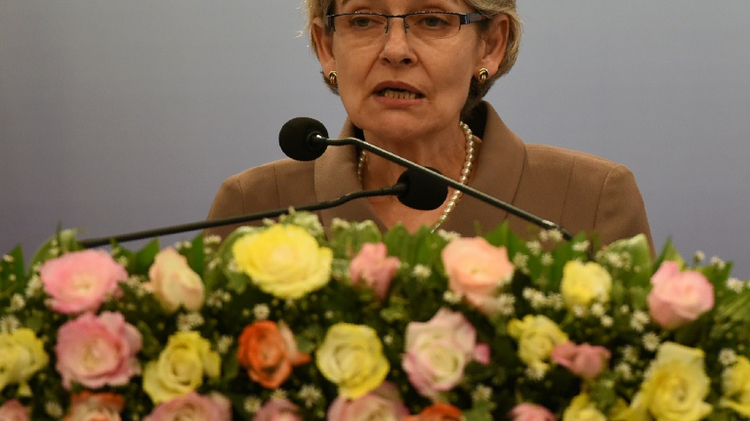 ☆
UNESCO chief faces 'death threats' over Jerusalem vote
credits/photos : Ishara S. Kodikara (AFP/File)
UNESCO Director General Irina Bokova
Israel pulls state funding from a Hebrew University human rights center over cooperation with leftist NGOs
UNESCO chief Irina Bokova has received "death threats" after expressing reservations about Arab-backed resolutions on the holy sites in Jerusalem, Israel's ambassador to the United Nations organisation said on Monday.
"The director general has received death threats and her protection has had to be reinforced," Carmel Shama-Hacohen said on Israeli public radio.
"These threats were made after her criticism" of two resolutions adopted last week at committee stage ahead of a final vote, the former Likud MK said, accusing Arab countries of "appalling conduct" over the drafts.
Bokova distanced herself from the resolutions in a statement on Friday, saying "nowhere more than in Jerusalem do Jewish, Christian and Muslim heritage and traditions share space."
The resolutions refer to "Occupied Palestine" and the need to "safeguard the Palestinian cultural heritage and the distinctive character of East Jerusalem."
They refer to the Al-Aqsa mosque compound in east Jerusalem's Old City -- Islam's third holiest site -- without any reference to the site also being revered by Jews as the Temple Mount.
Israel suspended cooperation with UNESCO on Friday, a day after its committee adopted the two resolutions, which the Jewish state said ignored "thousands of years of Jewish ties to Jerusalem."
The two resolutions are due to be put to the executive board of the United Nations Educational, Scientific and Cultural Organization on Tuesday, which generally votes with the line taken by committees.
But Michael Worbs, who chairs UNESCO's executive board, said he hoped a final vote would be postponed to allow time for a compromise to be worked out.
The status of Jerusalem is among the thorniest issues of the Israel-Palestinian conflict.
Israel captured east Jerusalem during the 1967 Middle East war and later annexed it in a move not recognized by the international community, declaring the entire city to be its indivisible capital.
The Palestinians see east Jerusalem as the capital of their promised future state.
Israel pulls support from Hebrew U human rights center
Meanwhile Israel's deputy foreign minister suspended cooperation with the Hebrew University's human rights institute over its cooperation with NGO the Benjamin Netanyahu government deems anti-Israeli.
Likud's Tzipi Hotovely, who is identified with advocacy of national-religious causes, said the Minerva Center for Human Rights works closely "a number of anti-Israel organizations that have a track record of ignoring Jewish human rights issues," apparently in reference to Jewish settlers in the West Bank.
One such organization cited by Hotoveli was B'Tselem, which Netanyahu on Saturday called "shoddy and unhinged," after representatives from B'Tselem and NGO Americans for Peace Now criticized Israel at a special meeting of the United Nations Security Council, including saying that "Israel cannot call itself a democracy while occupying another people."
The list given by the official also included Public Committee Against Torture in Israel and Gisha, among others.
She added that the majority of these groups were "involved in anti-Israel activity. The ministry will not cooperate with organizations guilty of slandering Israel from every stage."
(Staff with agencies)