Ministers reject bill opposing prisoner release
Following heated debate, Israeli ministers vote against bill seeking to stop goodwill gesture to Palestinians
After a heated debate and much mudslinging, Israel's Ministerial Committee on Legislative Affairs voted on Sunday to reject a bill that would prohibit the release of Palestinian prisoners. The bill, put forward by the right-wing Habayit Hayehudi party came to vote on the same day that a second ministerial committee was set to approve the release 26 inmates as a goodwill gesture to the Palestinian Authority, as the sides continue US-brokered peace talks.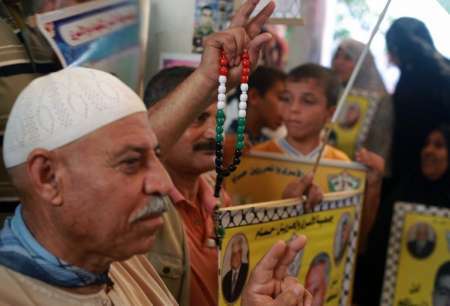 Eight ministers, including four from Prime Minister Benjamin Netanyahu's Likud party opposed the bill, while ministers of Habayit Hayehudi and Yisrael Beiteinu supported it.
Sources close to the Prime Minister said that Netanyahu instructed his ministers to oppose the bill, "in light of the understanding that the proposal is cynical and served no real purpose."
The same source called the proposal a "poorly thought out, populist bill" and said its only goal was to "stimulate media attention without considering the consequences that may arise from it."
A source close to Israel's chief negotiator Tzipi Livni, who is also Israel's Justice minister, said on Saturday that since the construction of Jewish settlements in the West Bank continues, despite it being one the issues the Palestinians oppose to most fiercely, "the State of Israel was only left with the gesture of prisoners' release to demonstrate its commitment to the peace talks."
The source added that the prisoners' release at this point is a direct outcome of Habayit Hayehudi's support of the construction, adding that "Habayit Hayehudi's conduct is disgraceful."
The source also said that "Habayit Hayehudi prefers building in settlements over any other national or security interest of Israel. Livni's party, Hatnua, will keep on leading in coordination with the prime minister, the diplomatic process to accomplish the goal of two states for two people, which is a vital Israeli interest."
Interior Minister Gideon Sa'ar (Likud) said that those ministers who were dead set against releasing prisoners could choose to resign from the government, while Finance Minister Yair Lapid (Yesh Atid) called the bill an "irresponsible" public relations stunt.
No link between construction and prisoners
The Palestinians denied Saturday that a mooted Israeli release of Palestinian prisoners is part of understandings in peace talks under which Israel would be allowed to build more settlements in exchange.
The Israeli media reported last week that, in tandem with confirming the release, Israeli authorities would announce a new swathe of settler housing to be built in the West Bank or East Jerusalem.
An Israeli official, speaking on condition of anonymity, said in a text message Thursday that such continued construction was part of "understandings" reached with the Palestinians and the Americans ahead of the renewal of talks.
"Israel will continue in the coming months to announce building in the settlement blocs and in Jerusalem," he wrote. "Both the Americans and the Palestinians were aware in advance of these understandings."
But Yasser Abed Rabbo, secretary general of the Palestine Liberation Organisation, denied such understandings exist.
"Establishing a link between settlements and the freeing of prisoners goes against all the undertakings made," he told AFP. It would "create a very dangerous situation that we would not accept at any cost."
He added that the United States, which is sponsoring the talks, had actually "promised that it would manage to reduce Israeli settlement activities to a minimum.
"If [Palestinian] President Mahmoud Abbas had known that Israel intended to make a link between prisoners and the prisoners, he would have never agreed to relaunch negotiations."
The Palestinian Authority has also launched a campaign calling on countries to clamp down on companies that do business with Jewish settlements in the West Bank and East Jerusalem.
In a report published Thursday, a senior Palestinian official told the Financial Times that the PA had sent letters to 50 countries urging them to instruct the companies to "withdraw their investment or freeze their activities."
Former Palestinian minister and member of the negotiating team in the current peace talks with Israel, Dr. Muhammad Shtayyeh, told the Times that each country was asked to ensure companies operating within its borders knew that investments in West Bank settlements were illegal.
"The duty of the government is to tell the private sector company, 'maybe you don't know you are investing in something illegal,'" Shtayyeh told the Times. "We wrote letters to every single country that has national investments in settlements, or countries that have Israeli companies with business in settlements."
Earlier in the week, Palestinian Authority President Mahmoud Abbas called upon European and other foreign companies not to deal with businesses based in Jewish settlements.
Direct peace talks resume in July after a hiatus of nearly three years created by Israeli Prime Minister Benjamin Netanyahu's refusal to extend a moratorium on construction of new settler housing in the occupied West Bank and predominantly Arab east Jerusalem.
Maariv daily paper said Thursday that 26 prisoners would be freed, the same number as in a first tranche in August.
Netanyahu said just before the July 30 resumption of talks that he had "agreed to free 104 Palestinians in stages, after the start of negotiations and according to progress".
In August, Israel approved the construction of more than 2,000 settlement units in East Jerusalem and the West Bank.
That came just days before a round of direct bilateral talks, leading the Palestinians to warn the fledgling process was in danger of collapse.
RECOMMENDED STORIES
In interview to Channel 2, US secretary of state says settlers may not have to leave their...
The new plans, which still requires government approval, will result in over 900 new housing...
Uri Ariel tells i24news the US and Palestinians know about construction, 'It's all a well coordinated...