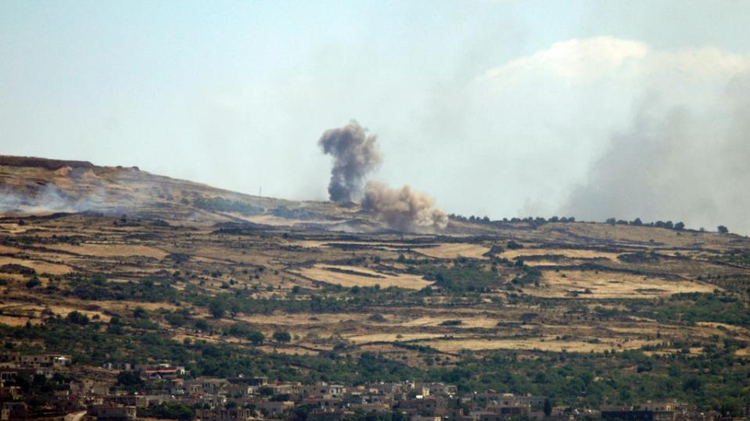 ☆
Islamic State likely not opening front against Israel in Golan, says general
credits/photos : AFP/Jalaa Marey
A picture taken from the Golan Heights shows smoke rising from the Syrian Druze village of Hader, on June 16, 2015
Army spokesperson tells Saudi-owned newspaper that the terror group was probably testing Israel's preparedness
Israeli military spokesperson Moti Almoz said on Monday that the army does not believe a recent clash with Islamic State (IS) militants is part of a more general push by the group to launch operations against Israel, the Times of Israel reports, citing an interview Almoz gave to the London-based, Saudi-owned Elaph newspaper.
Asked whether he believed IS was launching a new phase in the Golan Heights, Almoz said he did not think so.
 "The operation [occurred] perhaps to examine our capabilities and our preparedness," he said. "It was no coincidence [it happened] Sunday morning, after the Sabbath, a weekly day of rest, in which we usually have a quiet day and a little routine military action."
The Israeli Air Force struck an Islamic State held target in the southern Syrian Golan Heights early Monday morning in response to an attack on Israeli soldiers near the Syrian border on Sunday. 
According to the IDF spokesperson, the attack targeted an abandoned military facility that was previously used by the United Nations and served as a location for Islamic State to consolidate their offensive forces and operations near the border.
Almoz also told the newspaper that Iran has not moderated its policies in the wake of the agreement over its nuclear program. "Iran has not changed, not before the agreement on the nuclear program or after it. Its objective remains the same, which is to maintain a foothold in the region and keep the fire of terrorism burning," Almoz told Aleph, according to the Times of Israel.