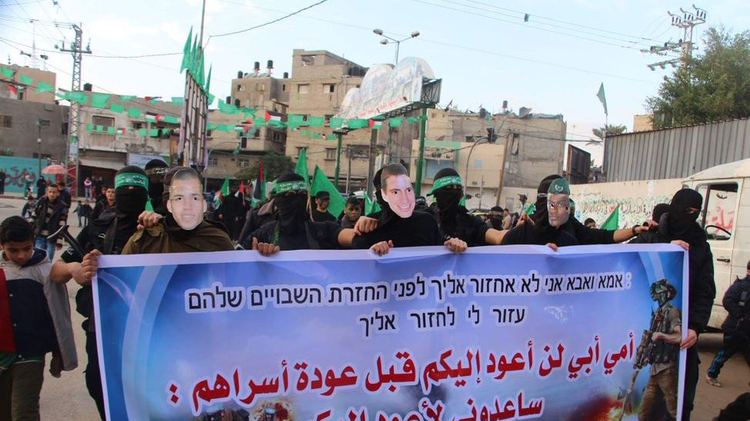 ☆
Israeli chief negotiator sees no breakthrough in bid to return soldiers' remains
credits/photos : Twitter
Hamas militants march in Gaza with the faces of Israeli soldiers Oron Shaul, Hadar Goldin, and missing Ethiopian Avera Mengistu, holding banner reading: "Mother and father, I will not return to you before Palestinian prisoners return home"
The bodies of Hadar Goldin and Oron Shaul have been held in Gaza for over two years
The head of the Israeli military's Manpower Directorate said Tuesday that he does not expect any breakthrough in efforts to secure the return of two soldiers' remains held in the Gaza Strip, the Haaretz daily reports.
Hagai Topolansky, whose department deals with the families of missing and captive Israeli troops, said there has been "stagnation" in the bid to return the bodies and that he does "not see the breakthrough at the moment."
He also referred to the three Israeli civilians held in Gaza, saying that there are fundamental differences between their cases and that of the soldiers. "There is a different between soldiers sent by the government on a mission they were sent on, to civilians who traveled in the past, and now, to this or that place," he said. "The government has an obligation towards everyone – but differently."
The Israeli military announced in June that it was revising the status of Oron Shaul and Hadar Goldin. Goldin was classified as a fallen soldier with the status of missing prisoner, while Shaul was defined as a fallen soldier with the status of missing prisoner whose place of burial is unknown.
Lior Lotan, Israel's chief hostage negotiator, said in September that Israel had made two prisoner exchange offers but was turned down by Hamas – which the Gaza-based group denied.
Lotan said that Israel had offered to return prisoners captured during the summer 2014 conflict in Gaza as well as the remains of 19 Hamas operatives.