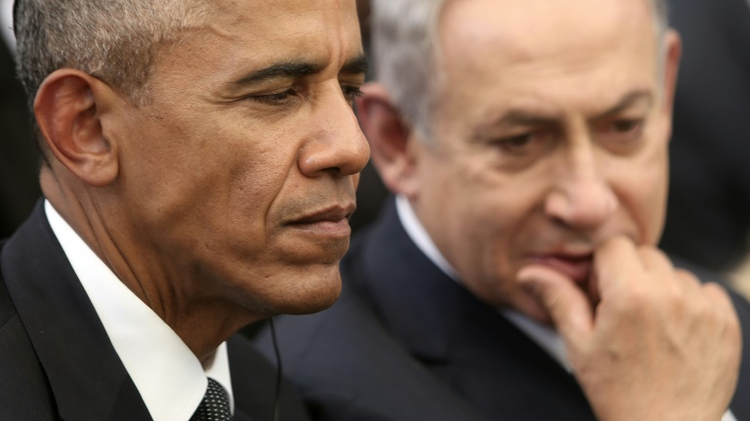 ☆
US to set forth principles for agreement between Israelis, Palestinians: report
credits/photos : MENAHEM KAHANA (POOL/AFP/Archives)
Le président Barack Obama et le Premier ministre israélien Benjamin Netanyahu, lors des funérailles de Shimon Peres, à Jérusalem, le 30 septembre 2016
Unhappy with Obama, Israeli PM 'reaching out to Trump' fearing new measures towards Palestinian statehood
United States Secretary of State John Kerry is preparing a document which will form the basis for final negotiations between the Israelis and Palestinians to be presented next month before President Barack Obama leaves office, the Palestinian al-Quds newspaper reported Monday.
The document will outline the establishment of a future Palestinian state according to the internationally recognized 1967 borders, with land-swaps leaving approximately 75 to 80 percent of Israeli settlers living in the West Bank under the sovereignty of Israel, the report states.
The principles will also set out requirements for Palestinian recognition of Israel as a Jewish State, and Israel's required recognition of a Palestinian state with East Jerusalem as its capital, al-Quds says.
The report comes following the United States' shocking and momentous abstention during a vote at the UN Security Council on Friday, which enabled the adoption of the first UN resolution since 1979 to condemn Israel over its settlement policy by a 14-0 vote.
Israel has accused the Obama administration of playing a part in formulating and pushing through the landmark measure.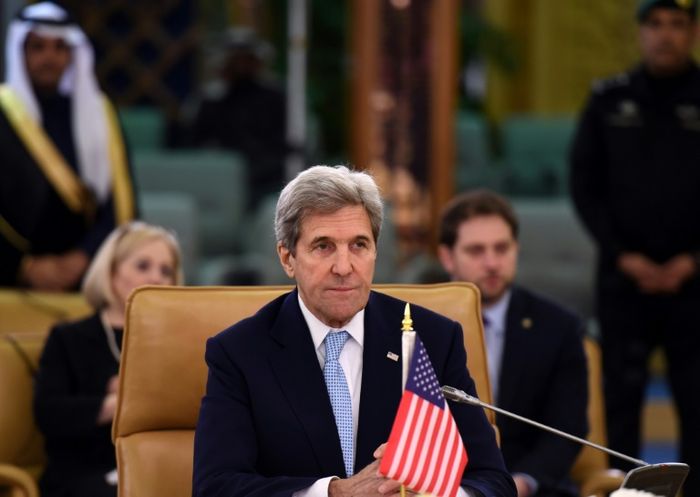 Netanyahu, who had rejected the resolution as a "shameful blow against Israel," repeated on Sunday the Israeli claim that Obama and Secretary of State John Kerry were behind the resolution.
"We have no doubt that the Obama administration initiated it, stood behind it, coordinated the drafts and demanded to pass it," Netanyahu said at the beginning of the weekly cabinet meeting.
David Keyes, a spokesman for Netanyahu told Fox News on Sunday that Israel has "ironclad information" of the US government's involvement in the resolution.
"We have rather ironclad information from sources in both the Arab world and internationally that this was a deliberate push by the United States and in fact they helped create the resolution in the first place," Keyes said on Fox News' "America's News HQ."
Unhappy with Obama, Netanyahu is believed to be attempting to "recruit" the incoming Trump administration to but the brakes on an attempted bid by the outgoing administration to have the Security Council approve principles for a Palestinian state, Israel's Channel 2 News reported.
"They are spitting at us," Netanyahu told colleagues, according to Channel 2. "We will respond forcefully."
The landmark vote came despite intense lobbying efforts by Israel and calls from US President-elect Donald Trump to block the text.
(Staff with agencies)