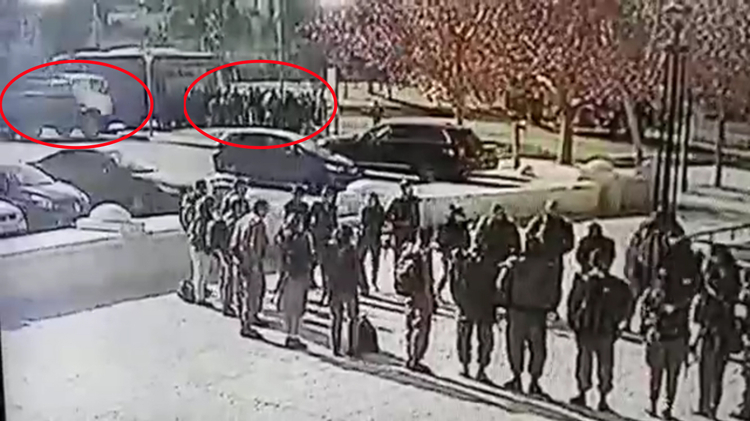 ☆
Four Israelis in their 20s killed in east Jerusalem truck ramming: medics
The moment before a truck rammed into a group of soldiers in Jerusalem captured on surveillance video in what is suspected to be a terror attack on January 8, 2017
Reports of a second vehicular attack nearby were ruled out by Israeli authorities
Four Israelis were killed and at least 15 others injured after a truck rammed into a group of pedestrians, mostly soldiers, as they were disembarking from a bus on a popular tourist promenade in east Jerusalem's Armon Hanatziv neighborhood on Sunday.
The incident is being treated as a potential terror attack, police said, adding that the driver accelerated as he struck the crowd. The police investigation is ongoing.
The four deceased, including three women and one man, were all in their 20s. The driver of the truck was shot dead at the scene. Palestinian media reports identified him as a man in his late 20s who lived in the Jabel Mukaber neighborhood of east Jerusalem. 
Video from the scene of the suspected ramming attack. Medics say toll has risen to four dead. Video @Mdais pic.twitter.com/0wgUvVDU4E

— Jessi Satin (@JessSatin) January 8, 2017
Israel's Magen David Adom emergency medical service said paramedics on scene were providing treatment to 13 wounded, including one severely injured, and the rest moderately or lightly injured.
The injured were transferred to areas hospitals.
Jerusalem's Hadassah Ein Kerem Hospital said that it was treating five in the trauma ward, one in critical condition, three in moderated condition and one who is lightly inured.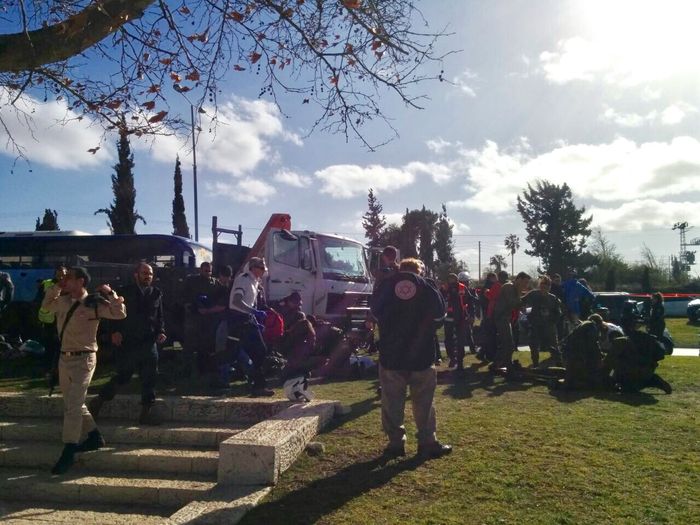 The fire department said several people possibly remained trapped under the large Mercedes truck.
Reports of a second vehicular attack moments later in the nearby Har Homa area of Jerusalem were ruled out by authorities.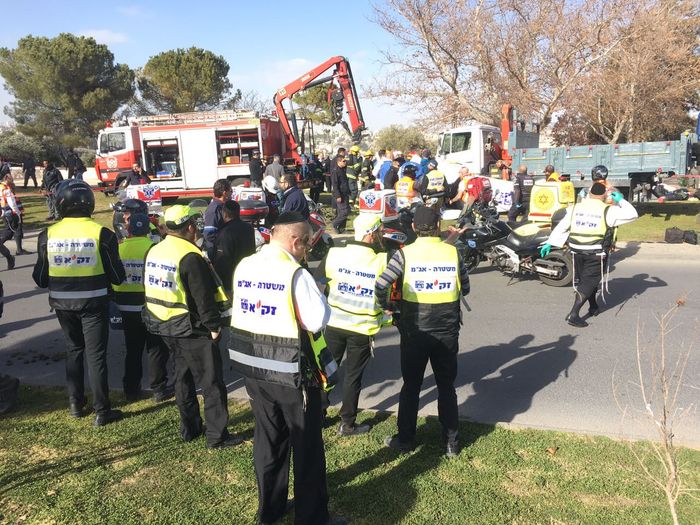 "The world is receiving a clear answer to their peace conference from the Palestinians," Deputy Foreign Minister Tzipi Hotovely said after the attack. "The international community must demand an end to terror."
Culture Minister Miri Regev also responded to the suspected attack, which occurred during a period of relative calm in the city.
"For the renewal of Islamic terror there is no difference between a resident of east Jerusalem, Ramallah or Tehran," she said.
This is a developing story.