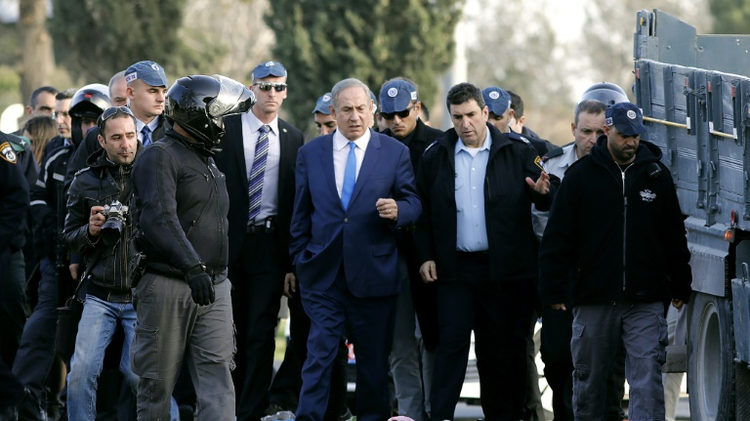 ☆
Netanyahu says Abbas's party praising terrorist, inciting to violence
credits/photos : Menahem Kahana (AFP)
Israeli Prime Minister Benjamin Netanyahu (center) visits the site of a vehicle-ramming attack in Jerusalem, on January 8, 2017
Security officials meanwhile say they can not yet confirm PM's statement that attacker supported Islamic State
Israeli Prime Minister Benjamin Netanyahu on Tuesday said that members of the Palestinian President Mahmoud Abbas's Fatah party praised the perpetrator of a terror attack that killed four Israeli troops and are inciting to violence, the Times of Israel reports.
Also Tuesday, security officials said they could not yet confirm Netanyahu's claim soon after the attack on Sunday that the attacker was apparently a supporter of the Islamic State group, according to the news site. 
Security officials did confirm that the attacker, named as east Jerusalem resident Fadi Qunbar, was "exposed" to Islamic State propaganda, however.
"We know that the terrorist was exposed to Daesh materials," an official told the Times of Israel, using the name commonly used in Arabic to refer to Islamic State.
"Beyond that, things are still in the investigative stages, and we cannot determine definitively if it was planned in advance or if others were aware of his plans], or if he had help," officials were quoted as saying.
Sunday's attack, which saw the perpetrator drive a large truck into a crowd of soldiers, quickly drew comparisons to similar attacks in France and Germany that were claimed by Islamic State.
Netanyahu said at the scene of the attack on Sunday that the the assailant was "by all indications" a supporter of Islamic State.
"We know there is a series of attacks, and there certainly could be a connection between them, from France to Berlin and now Jerusalem," said the prime minister, apparently referring to terrorists who used trucks as weapons in Nice and Berlin in 2016.