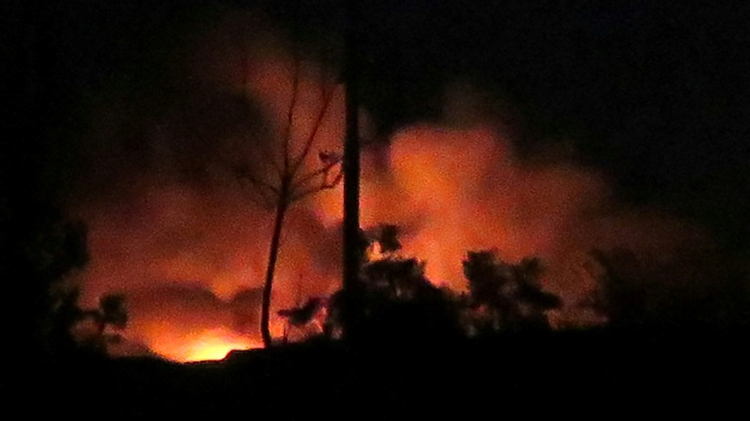 ☆
Syria asks international community to punish Israel over 'role in terrorist war'
credits/photos : AFP
Flames and smoke rise from the Mazzeh airbase on the outskirts of Damascus following what the Syrian army said were Israeli missile strikes
Syria accused Israel on Friday of carrying out missile strikes on a military airport outside Damascus
Syria on Friday wrote two letters to the United Nations asking that the international community "punish" Israel over alleged strikes on a military airport outside Damascus overnight.
A statement published on the Syrian Foreign Ministry's website said that the letters were addressed to the UN Secretary General and the President of the UN Security Council, and stated that "Israel's role in the terrorist war on Syria...makes it imperative for the international community and the Secretaries of the United Nations and the Security Council to take immediate action to punish the Israeli aggressors and prevent the recurrence of such terrorist attacks."
A series of explosions ripped through  the al-Mazzeh military airport on the western outskirts of Damascus overnight, Syrian state TV reported Friday.
Syrian media was quick to attribute the airstrikes to the Israel Defense Forces.
State news agency SANA said Israel had launched the missiles from Israeli territory north of the Sea of Galilee.
"At 3:00 a.m., the Israeli enemy fired several surface-to-surface missiles from inside occupied territory," SANA said, citing a military source.
The Syrian military source called the alleged Israeli missile attack part of "desperate attempts by the Israeli enemy to support terrorist groups and raise their low morale."
An AFP correspondent heard several explosions and saw a large fire inside the Mazzeh military airport, with smoke ​visible across the capital.
The Foreign Ministry statement also implicated other nations in the alleged strikes, saying that Israel would not have been able to carry them out without a "green light" from Britain, France and the United States.
Syria continued to accuse Israel and its allies of trying to "impose control" on Syria.
"The new Israeli missile attack on Mezzeh military airport west of Damascus comes within a long series of Israeli attacks since the beginning of the terrorist war on the sovereignty, territorial integrity and independence of Syria which has been planned in the Israeli, French and British intelligence agencies and their agents in Saudi Arabia, Turkey, Qatar and other countries that wanted to impose control and hegemony on Syria and the region," it said.
The regime earlier in the day threatened "repercussions" against Israel over the strikes.
The Israeli military refused to confirm or deny the reports of the strike, in line with its policy of not commenting on foreign reports of military operations.
Syrian sources have reported several Israeli air strikes on Syrian territory in the course of the civil war, including in the Mazzeh area.
The latest report of alleged Israeli military action was the first since last December, when Syrian state media reported that the IDF fired missiles from within "occupied" territory at an important Syrian regime airbase outside Damascus.
Officials in Jerusalem have repeatedly said that Israel will take action to stop the transfer of advanced weapons to terror groups and over a dozen strikes inside Syria have been attributed to Israel.