Top Hamas commander arrested in West Bank
Jerusalem police investigates possible terrorist motivation behind gas-lines tampering in three buildings
An undercover Israeli special forces unit arrested Ayub al-Qawasmi, a Hamas military commander in the West Bank, in Hebron on Tuesday night.
Qawasmi, 50, has been one of Israel's most wanted suspects for 16 years and is suspected of being behind several deadly terror attacks against Israelis during the Second Intifada.
He had recently embarked upon a campaign to renew Hamas' terror infrastructure in the West Bank.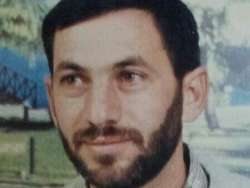 He was imprisoned by the Palestinian Authority in 2010 and was released two weeks ago.
Since his release Qawasmi had been in hiding but was traced following intelligence received by Israel's Shin Beit security service.
Palestinian sources reported that the Israel Defense Forces' elite Duvdevan unit arrived to arrest Qawasmi at a store belonging to a family member, and that no one was hurt during the arrest. IDF soldiers also confiscated a computer as well as security cameras around the store.
An Israeli military spokeswoman confirmed the arrest, and said he was being questioned by police.
Jerusalem gas attack
Also on Tuesday, three buildings in the Armon Hanatziv neighborhood in Jerusalem were evacuated by fire fighters after multiple gas lines inside the buildings were found severed.
A burning candle and other flammable materials were discovered near one of the cut lines. Police believe the lines were intentionally cut.
A police official said the police are investigating a number of possibilities to determine the motivation behind it, including the possibility of a terrorist attack.
"This was very suspicious and a special investigation unit is investigating all possible directions," the spokesperson said. "There would have been an explosion within minutes if the gas was not shut down."
RECOMMENDED STORIES
Following last week's escalation of violence, Tel Aviv's municipality cancels school trips...
Israeli page 'Israel demands revenge' of murdered teens racks up over 30,000 likes in just...
Statement is a dramatic departure from previous policy and contrary to most international...