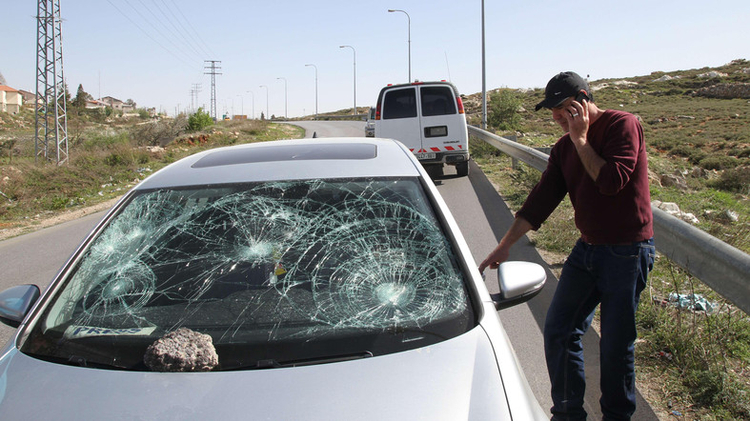 ☆
Israeli settlers attack, injure AFP photographer
credits/photos : AFP
AFP photojournalist Abbas Momani stands next to his damaged car on the road leading to the al-Jalazun Palestinian refugee camp, near the West Bank Jewish settlement of Beit El, near Ramallah, March 7, 2014
Photographer was injured after his car was stoned; IDF soldiers at scene reportedly did not intervene
Israeli settlers in the West Bank stoned the car of a Palestinian photographer working for AFP, slightly injuring him, as he was on his way to cover a story Friday.
The photographer, Abbas Momani, said several of around 100 settlers who were gathered at the side of the road threw stones at his car, damaging the vehicle and lightly injuring him in the face and hands.
Israeli soldiers on the scene did not intervene, he added.
He and other journalists in a separate vehicle were on their way to cover Palestinian demonstrations in the nearby Jalazoun refugee camp, north of the West Bank administrative center of Ramallah.
According to Israel's interior ministry, approximately 375,000 Israelis live in settlements in the West Bank. The ongoing settlement construction continues to be a contentious issue, especially in the fragile US-led peace talks between Israel and the Palestinian Authority.