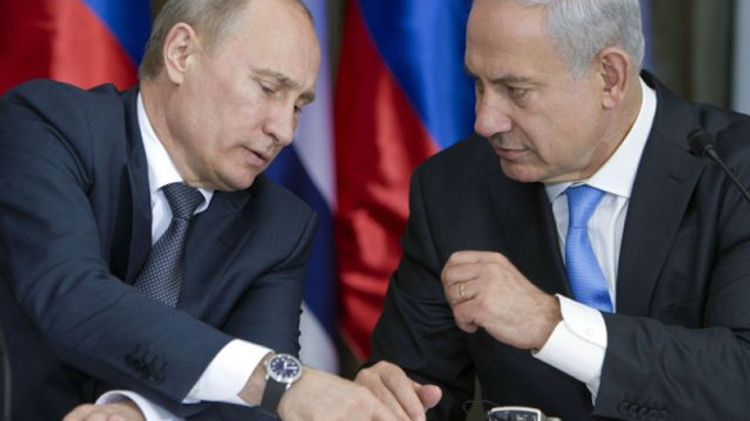 ☆
US officials angry over Israeli 'neutrality' on Russia's annexation of Crimea
credits/photos : Photo by AFP
Putin, left, and his host, Netanyahu following meeting in Jerusalem, June 25, 2012.
Defense official: 'Security interests should not be defined as identical to that of any one else, even the US'
Israel's foreign policy is not and cannot be identical to that of the US since the interests of both countries are different, the head of the Defense Ministry's Director of Policy and Political-Military Affairs Maj. Gen. (Res.) Amos Gilad said Sunday in response to a report in the Israeli daily Haaretz claiming Israel's policy of "noninterference" in relation to Russia's annexation of Crimea angered the American administration.
"Israel is following the events… and we have here a plethora of security challenges," Gilad said in an interview with Army Radio.
"Israel is watching the conflict in Ukraine and recording the events, and focusing on the issue of national security which will influence not only our present, but our future as well."
"The US is involved in its own way, but our [Israel's] security interests should not be defined as identical to that of any one else, even the US," he added.
American officials in Washington expressed anger over Israel's policy in relation to Russia, Haaretz reported on Sunday.
Members of the White House and State Department said they were very disappointed that Israel had not backed the US's position on the crisis in Ukraine. Israel was absent from the recent UN General Assembly vote in which a motion to not recognize Crimea's new status was passed by a wide margin (100 votes in favor, 11 against, and 58 abstentions).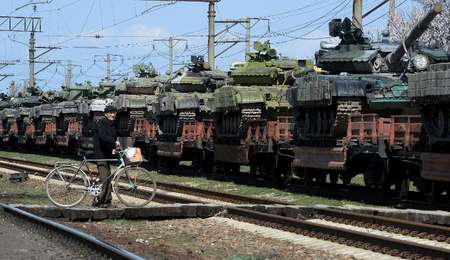 "We have been consulting closely on Ukraine not only with our partners and allies around the world," a senior U.S. official told Haaretz. "Obviously we are looking to the entire international community to condemn Russia's actions and to support Ukraine, so we were surprised to see that Israel did not join the large majority of countries that voted to support Ukraine's territorial integrity at the United Nations."
In response to the claim, an unnamed Israeli official noted that Israel's absence from the vote was regarded as out of the ordinary, since the country regularly votes with the US in the UN.
Russian media reported Israel's move as an act of support or lack of opposition to recent events in Crimea.
"The strike was an elegant solution to a dilemma, but even without the strike there is a good chance Israel would not have voted with the United States on the issue," the Israeli official said, referring to a recent worldwide strike at the Foreign Ministry, which Israel gave as a reason for its absence during the vote.
Israeli Foreign Minister Avigdor Lieberman also emphasized the country's neutrality towards the issue. Speaking to Israel's Channel 9, Lieberman said that Israel has "good and trusting relations with the Americans and the Russians, and our experience has been very positive with both sides."
American officials said that they were particularly angry about the FM's statements, since he mentioned both the US and Russia as being on the same plane, even though the latter regularly furnishes arms to Israel's enemies and votes against it in the UN.
Although it appears as though Israel is walking a diplomatic tightrope to avoid repercussions from either side, the Israeli official also noted that Israeli Prime Minister Benjamin Netanyahu canceled a visit to St. Petersburg. The visit, originally scheduled to take place in June, was at Russian President Vladimir Putin's request and was intended to honor Israel-Russia relations.
Another meeting with Russian officials dealing with counter-terrorism was also canceled in light of the ongoing Ukraine crisis.
As to why Israel would feel the need to stay on good terms with Putin, the Israeli official said that fear was a big factor and that the country did not wish to confront Russia at the risk of it causing "damage" in other areas, like Iran and Syria.