Israeli FM: Jordan's stability is our national interest. Israel is ready to do whatever it takes to defend it
Israeli Prime Minister Benjamin Netanyahu said Sunday that in light of recent developments in Iraq, Israeli would maintain a security presence in the Jordan Valley regardless of peace talks with the Palestinians.
Netanyahu also announced that Israel would build a security barrier along the Jordanian border that would stretch all the way from Eilat to the Golan Heights.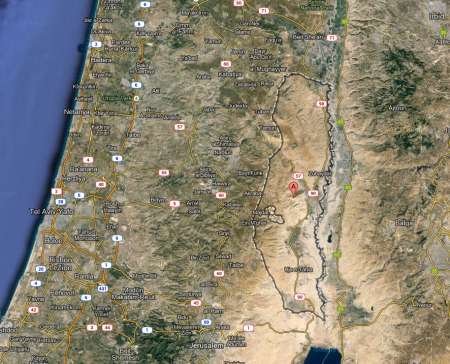 "Our first challenge is to protect our borders. Extremist Islamic forces are knocking on our doors in the north and south and we've set up obstacles against them, except for in one sector," Netanyahu said during a conference at Tel Aviv University.
Israeli Foreign Minister Avigdor Lieberman said Monday that Jordan's stability is Israel's national interest and Israel is ready to do whatever it takes to defend it. 
Lieberman's remarks came after a meeting with German Foreign Minister Walter Steinmeier, who expressed hope that the Israeli kidnapped teens would soon be reunited with their families. 
Steinmeier also condemned the rocket fire into Israel from Gaza, adding that the peace negotiations should resume in order to reach a two-state agreement.
Steinmeier also addressed ISIL's growing threat in the Middle East. "Iraqi ISIL poses a serious threat to Iraq's territorial integrity. Our joined interest should be that ISIL does not grow stronger. We have seen how the events in the region affected Israel's security in the Golan Heights, so we must make sure that an internal solution to Iraq is to be found and that a government that represent all sectors would be established."
 It's all about the money
However, many are wondering exactly how the PM plans on funding such a large-scale project. An anonymous source in Netanyahu's office told Israeli news site Ynet that the government would begin looking into the logistics of building the 400-kilometer long fence.
The Israeli government is expected to allocate nearly one billion shekels (roughly $300 million) for the construction of the massive fence.
Unnamed sources from Israel's Defense Ministry told Ynet that it simply cannot afford to fund such a project on its current budget and that the state would have to work to find money elsewhere.
The Finance Ministry also stated that it had no money left for the current year and that "the fence will have to wait for the 2015 budget."
Netanyahu asks world to bolster Jordan
Announcement of a fence along the Jordanian border came just as Jihadists fighting in Syria and Iraq announced Sunday the establishment of a "caliphate," referring to the system of rule that ended nearly 100 years ago with the fall of the Ottomans.
In an audio recording distributed online, the Islamic State of Iraq and the Levant (ISIL) declared its chief Abu Bakr al-Baghdadi "the caliph" and "leader for Muslims everywhere."
Speaking about recent gains made by the Islamic militant group, Netanyahu however sounded an optimistic note.
"This is not only a challenge but also an opportunity," he said. "We can't solve the conflicts between extremist Sunnis and Shiites, not in Syria or Iraq or elsewhere. These two camps are our bitter foes – the Shiites led by the Iranians and the Sunnis led by al-Qaida and ISIL. But they are also other people's enemies as well. That is where there is an opportunity for enhanced regional cooperation."
Netanyahu also noted the importance of the international community and its role in bolstering Jordan as a moderate Arab state in an increasingly unstable region.
In yet another clear sign of Iraq's disintegration, he also came out publicly in support of an independent Kurdistan.
"It is upon us to support the international efforts to strengthen Jordan, and support the Kurds' aspiration for independence," Netanyahu was quoted as saying by The Times of Israel. "Jordan is a stable, moderate country with a strong army that can defend itself, and it is especially due to this that these international efforts are worthy of supporting it. The same is true for the Kurds: They are fighting people that have proven political commitment and political moderation but they're also worthy of their own political independence."
The worsening situation in the region comes as Jordan's king spoke to a delegation of US congressmen on Sunday and said that he fears the unrest in Iraq could bubble over into the entire Middle East.
Speaking at a meeting in Amman, Abdullah II said that Jordan is trying to help Iraq preserve its territorial integrity and maintain unity, Ynet reported.
Earlier this week, reports emerged confirming that cooperation between Israel and Jordan is growing as the radical Sunni insurgency makes additional gains in Iraq near the Jordan border, a senior source in the Jordanian Embassy in Israel told Israeli news site Ynet.
"There is a very good cooperation between us regarding the growing presence of the extremists in Iraq and Syria, but also on issues relating to other radical forces in the Middle East which have their sights set on Israel and Jordan," the diplomatic source said, without elaborating.
"The developments on the Jordanian-Iraqi border are still unclear, but the Jordanian army is already doing whatever it can to quell any threat from the area," the unnamed said.