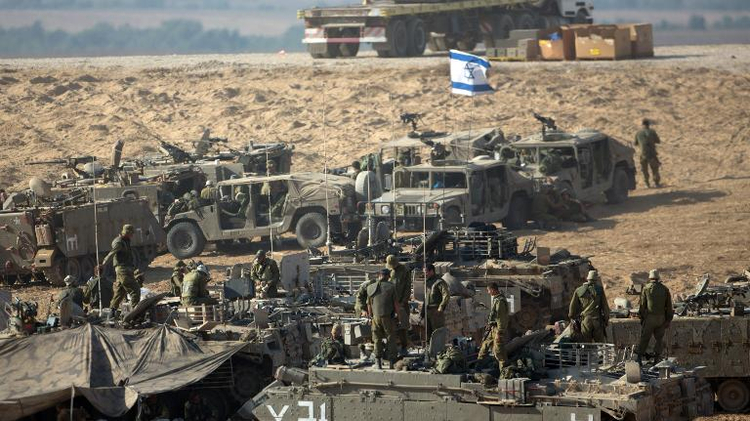 ☆
Hamas says real battle yet to begin
credits/photos : Menahem Kahana (AFP)
L'armée israélienne prend position à la frontière avec la bande Gaza, le 10 juillet 2014
2 soldiers lightly wounded from rocket fire from Gaza; Netanyahu: ceasefire not considered
Towards the end of the third day of Israel's operation in Gaza, Hamas' armed wing the Al-Qassam Brigade, said that the real battle has yet to begin.
"The more shahids falling make us stronger and more determined for victory," the group said in a video statement.
On Thursday, rockets were fired toward the Negev town of Mitzpe Ramon, some 105 kilometers away, the farthest point south that missiles from the Hamas-controlled enclave have ever reached. The rockets were intercepted by the Iron Dome missile-defense system, as were rockets fired toward the town of Dimona, near Israel's nuclear facility, for the second straight day. Hamas announced the rockets toward Mitzpe Ramon were targeted at a major air force base there.
Palestinian authorities say that in all, 89 Palestinians, among them women and children, have been killed and 630 Palestinians wounded in the operation, dubbed "Protective Edge." Senior military sources quoted by Israeli media said a decision on whether to launch a ground incursion into Gaza will be made within two to three days.
As of Thursday morning, a senior military source briefing reporters put the tally at 255 rockets from Gaza that have struck Israel and 785 targets in Gaza hit by Israel from the air and sea. Among the targets were 513 missile launchers and 46 homes of Hamas commanders, according to he military. The Iron Dome missile defense system had intercepted 70 rockets.
Latest Developments:
22.20 GMT: Following intensive search, security forces conclude no infiltration from Sinai Peninsula into Israel has taken place.
21.19 GMT: Four militants from the Sinai Peninsula reportedly infiltrate into southern Israeli city of Eilat; hunt for suspects under way
20.00 GMT: Hamas' armed wing, the Al-Qassam Brigade, said on Thursday that they are ready for a prolonged war against Israel and that the real battle has yet to begin.
In a video statement that was broadcast across Arab media late on Thursday evening, the brigade said: "The more shahids falling make us stronger and more determined for victory. For the first time yesterday, we showered from the north of the homeland to the south in Dimona. Tens of rockets showered the center of the occupation. That is only a few of what is waiting. What is the calm they talk about while their settlers are bullying our people in the West Bank, setting Mohammed abu Khdeir on fire, desecrating the al-Aqsa mosque, and the planes of the enemy keep destroying houses on the heads of their inhabitants – kids, women, and the elderly – in the Gaza Strip."
18.40 GMT: After conflicting reports on the rocket attack in the Eshkol , medical personnel at Soroka Medica Center in Be'er Sheva confirm that two IDF soldiers were wounded by the rockets; one is in moderate condition and one was lightly wounded. No one was seriously injured as was previously reported.
18.30 GMT: Police say that previous reports of serious injuries in Ashdod were false.
18.00 GMT: US State Department Spokesperson Jen Psaki says no one wants to see Israeli ground invasion into Gaza.
17.40 GMT: Three injured by rocket fire from Gaza on the Eshkol Region, one in serious condition.
17.15 GMT: Two people treated for shock from rocket attack on Be'er Sheva.
16.53 GMT: Iron Dome intercepts at least six rockets fired at central Israel.
16.38 GMT: Rocket fired from Gaza hits home in Be'er Sheva, reportedly injuring four.
15.40 GMT: UN Chief Ban Ki-moon at an emergency Security Council meeting called for an immediate ceasefire between Israel and Palestinian fighters in Gaza. "The risk of violence expanding further still is real. Gaza, and the region as a whole, cannot afford another full-blown war."
He also spoke with Abbas, Egypt's President Abdel Fattah al-Sisi and US Secretary of State John Kerry over the crisis, which drawn calls for restraint from Washington and the European Union.
Russian President Vladimir Putin issued a similar plea in a phone call to Israeli Prime Minister Benjamin Netanyahu, urging an immediate end to the bloodshed and expressing concern over civilian casualties.
15.30 GMT: Hamas claims responsibility for rockets fired at Jerusalem.
15.00 GMT: Four rockets fired at Jerusalem from Gaza. Two are intercepted by Iron Dome, two fall in an open area. No injuries reported.
13.50 GMT: Palestinians in Gaza report receiving message from IDF warning them to evacuate the Gaza border area.
13.35 GMT: Israel takes back report that Hamas' head of rocket operations was killed in an IAF strike.
11.54 GMT: A car full of explosives was stopped at a road block on its way from the West Bank into Israel.
11.32 GMT: Israel kills Iman Siam, head of Hamas rocket operations, most senior Palestinian figure killed in the operation. Hamas denies the report.
11.13 GMT: 53 rockets fired from Gaza since midnight; 16 intercepted.
11.12 GMT: Israel's defense minister Moshe Ya'alon says "Hamas will continue to suffer harsh blows in coming days, with the power and extent necessary, until calm returns to the southern communities."
10.41 GMT: Israeli Prime Minister Benjamin Netanyahu says Thusrday, during the Foreign Affairs and Defense Committee meeting, that a ceasefire with Hamas is not being considered at the moment. Netanyahu also says Israel has got the support of the world. The PM adds that despite ordering to intensify the air strikes on Gaza, Israel cannot let itself do what other countries do during wars. "We cannot do what the Russians did in Chechnya."
10.12 GMT: Palestinians report of 80 dead, among them 22 children, since the beginning of Operation Protective Edge. Israel permits 240 Palestinians with foreign citizenship to leave Gaza Strip.
10.10 GMT: Several rockets fired toward central Israel. Iron Dome missile defense system intercepts five rockets over Ashdod.
09.10 GMT: Ambulances evacuate wounded from Gaza after Egypt opens Rafah border crossing. Israel has allowed over 200 trucks carrying goods enter the Strip over the last three days.
09.00 GMT: Security Cabinet convened.
08.36 GMT: Two rockets fired from Gaza land in Tel Aviv area. Several people treated for shock. Hamas claims responsibility.
08.21 GMT: Erez border crossing on the Palestinian side destroyed in Israeli strike (Gaza's Interior Ministry). Israeli Air Force denies report.
08.18 GMT: Haifa's municipality asks to remove all dangerous materials from the port
08.05 GMT: Woman lightly injured as rocket falls in courtyard of house in the southern city of Netivot
08.00 GMT: Several rockets from Gaza were intercepted over the Negev towns of Dimona and Mitzpe Ramon. Mitzpe Ramon, 105 kilometers from Gaza, is the farthest south the rockets have ever reached. This is the second attempt to strike Dimona, located near Israel's nuclear reactor, in two days. Hamas says rockets aimed at major air base in Mitzpe Ramon.
07.58 GMT: Sirens wail across Tel Aviv area, loud explosions, two rockets fired from Gaza intercepted. Fragments fall in Tel Aviv near a gas station. No injuries reported.
04.45 GMT: Three Islamic Jihad terrorists killed by Israel in Gaza.
03.38 GMT: Israeli strikes on Gaza will be escalated "since there are still many more targets to attack," a top Israeli military officer told Haaretz. "The operation has thus far been carried out via aerial strikes, and in the next 24 hours it will stay that way," he said.
03.17 GMT: The Israeli military struck 54 targets in the Gaza Strip since 21:00 GMT.
"Since midnight (21:00 GMT), 8 rockets have been fired at Israel by #Hamas terrorists & the #IDF has hit 54 terror targets in #Gaza," it wrote on Twitter.
10/7 03.14 GMT: Sirens warning of incoming rockets from Gaza sound in Sha'ar Hanegev Regional Council. Initial reports said two mortar rounds exploded in open areas, causing no injuries or damage.