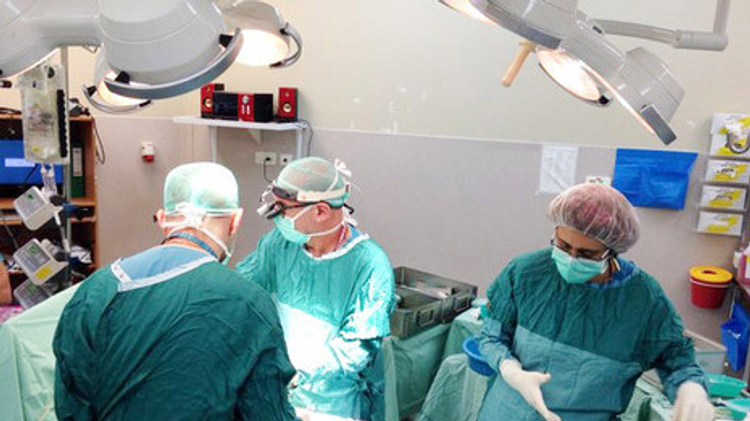 ☆
Haifa hospital treating patients from Gaza
credits/photos : Rambam Hospital
A patient from Gaza being operated on in Haifa's Rambam Hospital this past week.
Egypt also opens border with Gaza to facilitate transfer of wounded Palestinians to Egypt hospitals
Israel evacuated approximately 20 wounded Palestinians from Gaza, including eight children, who are now being treated at Rambam Hospital in Haifa, Israel's NRG news site reported.
Despite the intense fighting between the Gaza Strip and the IDF, medical cooperation is being continued and additional Palestinian patients currently in Gaza will still be able to come receive treatment in Israel as planned later on this week.
In addition, The Guardian said that Egypt has opened its border crossing with Gaza in order to facilitate the transfer of wounded to Egyptian hospitals.  
The Guardian quoted a source from the Egyptian foregin ministry as saying they have "extensive and full contact with all parties concerned, either directly or internationally. Our main objective is to stop Israeli aggression. We are in full contact and pushing very hard to provide all humanitarian assistance to the Palestinians in Gaza."
Back at the Rambam Hospital in Haifa, Yazid Falah, the coordinator for the hospital's Palestinian patients, said that some of the patients "feared that they wouldn't be well received" due to the current war raging with Gaza.
"We calmed them down and explained to them that there was no danger for them to be at an Israeli hospital," Falah said. "Here [at Rambam] we see humans; we don't see sides. At the end of the day, everyone is in the same boat."
Despite the current war between Israel and the Gaza Strip, Falah assured that the medical cooperation would continue.
"On the one hand, they find themselves in Israel and see the consequences of Hamas' activities, and how people are being hurt on this side of the border as well. On the other hand, their families are in Gaza, and they fear for the lives of their loved ones," Falah said.
Many of the patients are have reported to Falah that they prefer to remain in the hospital in Israel during the IDF operation in Gaza as they are afraid to return and see what is left of their homes and cities. He also spoke of an overall expectation from the patients that the situation will continue to get worse.
Despite the war raging in the south of the country, the medical staff at Haifa's Rambam Hospital remain assured that the "good relations" between the Israeli and Palestinian patients will continue.
Each year, Israeli hospitals, like Haifa's Rambam, treat thousands of Palestinians from both the West Bank and Gaza.