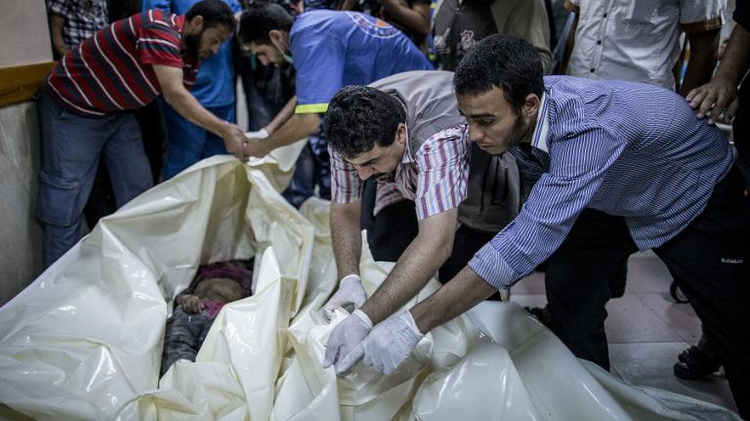 ☆
LiveBlog: Hamas calls for third Intifada in West Bank
credits/photos : Marco Longari (AFP)
Les corps d'enfants palestiniens tués dans des raids aériens israéliens, le 21 juillet 2014 à l'hôpital al-Shifa à Gaza
UNRWA spokesman says no employees among dead in shelling of school; Israeli cabinet to meet Friday
Operation Protective Edge Day 17:
As tens of thousands of Palestinians clash with Israeli security forces in the West Bank, Qatar-based Hamas spokesman Husham Badran called for a third Intofada, saying the timing is right to rise up, Israel Radio reported early Friday morning.
"This is your opportunity," Badran said to West Bank Palestinians.
Hamas official Izzet A-Rishak​ also joined the call for another uprising, urging on his Twitter feed for a revolution against the enemy, adding that the blood of Gazans ignites the West Bank.
Hamas TV also began to air Intifada songs ahead of more protests planned for later Friday.
Israeli Prime Minister Benjamin Netanyahu on Thursday told cabinet ministers that Israel is "moving forward with the operation in Gaza with full power, in the air and on the ground." The leader further added that Israeli Defense Forces has "deeply and significantly hurt the Gaza terror infrastructure," including the tunnels leading into Israeli territory.
Israel's security cabinet is expected to meet to discuss proposals for a Gaza ceasefire later today, Israel Radio said.
"If Hamas accepts the American proposal it is not impossible that there could be an Israeli decision to accept it also,"an unnamed senior Israeli source is quoted as as saying.
Exiled Hamas leader Khaled Meshaal told the BBC in an interview Thursday that a truce must include a guaranteed end to Israel's blockade on the Gaza Strip.
"We want a ceasefire as soon as possible, that's parallel with the lifting of the siege of Gaza," he said.
"We want an airport, a (sea)port; we want to open up to the world. We dont want to be controlled by a border crossing that makes Gaza the biggest prison in the world."
The military reported to the Cabinet Wednesday that several additional days were needed to expose the tunnels and bunkers dug by Hamas in Gaza. The army reports that so far it has unearthed 63 shafts and 30 tunnels, some of them leading into Israel, and destroyed nine.
A senior Hamas official said on Wednesday there had been progress in negotiations to end the Gaza conflict but the Islamist militants needed detailed guarantees that Israel would ease its blockade of the enclave.
According to the army's latest data, Israel struck 3,333 terror targets since the beginning of Operation Protective Edge on July 8, some 1,853 since the ground operation began a week ago.
In addition, Israeli forces detained 150 Palestinians suspected of involvement in terror activity on Wednesday and transferred them for questioning.
Some 2,270 rockets have been launched from Gaza at Israel, 448 of which were intercepted and 1,777 which struck Israeli territory.
The Palestinians are reporting 800 fatalities, among them more than 120 children, and over 5,000 wounded. The UN says more than 100,000 Gazans have been forced to flee their homes.
Latest Developments:
20:32 GMT: Reports that the IDF bombed and flattened a 7-story building in Rafah as well as a 4-story shopping center. The IDF also hit a car in the northern Gaza Strip carrying wanted militants.  
20:00 GMT: The commander of the 12th Battalion of the Golani Infantry Brigade was seriously wounded in Gaza when the wall of a Hamas tunnel collapsed on him, the Israeli military says.
19:20 GMT: Israeli shell fire on a house in Gaza killed at least one person Friday, medics said, as the total death toll exceeded 800 Palestinians after one of the bloodiest days of the conflict.
The tank shell hit a home in the southern city of Khan Yunis, emergency services spokesman Ashraf al-Qudra said.
18:10 GMT: The spokesman of the Coordinator of Government Activities in the Territories said UNRWA claims that Israel prevented the safe evacuation of the UNRWA school in Beit Hanoun were completely "unfounded."
"During recent days," according to the statement, "COGAT has been maintaining close contact with representatives of the UNRWA, the ICRC and Palestinians in Beit Hanoun."
The statement adds that "COGAT made every possible effort to ensure the safety of local residents by evacuating them from the local area," and further emphasizing that "following this contact, the humanitarian window was authorized."
18:00 GMT: 47 struck Israel while 15 rockets were intercepted by the Iron Dome missile defense system over the past 24 hours.
The Israeli military attacked over 90 targets bringing the total number of strikes since the beginning of Operation Protective Edge to more than 3,450.
17:30 GMT: Since the beginning of the ground phase of Operation Protective Edge, IDF soldiers have uncovered 31 tunnels used for terror, 11 of which were subsequently destroyed by IDF forces, the Israeli military said in a statement.
17:15 GMT: Regarding the deaths at the UNRWA school in Beit Hanoun, UNRWA Spokesman Chris Gunnes tells i24news: "We're not pointing the finger of blame at either side. We need a credible and timely investigation." Gunnes also tells i24news that no UNRWA employees were killed in the incident, although he does not know about injuries. This contradicts an earlier statement by UN chief Ban Ki-Moon who reportedly said: "Many have been killed -- including women and children, as well as UN staff." Gunnes also told i24news that the IDF had the precise coordinates of the school but that approval never came from the IDF to evacuate civilians. The IDF claims that it did offer a 4-hour window to evacuate.
16:50 GMT: Several hundred protesters demand a halt to Israel's ground offensive in Gaza during a demonstration outside the Israeli embassy in Madrid.
About 400 demonstrators, many of them waving Palestinian flags, chant "murderers" as police look on.
16:48 GMT: The death toll from the Israeli operation in the Gaza Strip has reached 798, Hamas health ministry spokesman Ashraf al-Qudra says.
The Hamas spokesman says 98 people died in the Strip today, at least 15 of them in an attack on a UN-run school in the northern town of Beit Hanun, where hundreds of civilians had sought refuge from the violence. The IDF is still trying to determine whether the errant projectile that hit the school was fired by Israel or Hamas.
16:41 GMT: Israeli media reports Palestinian youths are clashing with Israeli security forces near the Kalandia checkpoint in the West Bank. The youths are apparently hurling rocks and fire crackers at Israeli forces.
16:20 GMT: Iron Dome intercepts Gaza rocket over southern resort of Eilat.
15:28 GMT: Arab youths are rioting in several East Jerusalem locations, Ynet reports. Police are deploying crowd dispersal measures.
15:29 GMT:10 Palestinians were killed in four Israeli attacks at different Gaza locations, according to Palestinian reports.
15:27 GMT: Israel is blaming Hamas for the death toll at the UNRWA school in Beit Hanoun. "Israel Defense Forces told the Red Cross to evacuate civilians from UNRWA's shelter in Beit Hanoun between the hours of 10 a.m. and 2 p.m. today. UNRWA and the Red Cross received the message," read a statement by IDF spokesperson's unit.
"Hamas prevented civilians from evacuating the area during the window that the IDF gave them."
Netanyahu's spokesman added that "​The IDF is examining the possibility that the UNRWA school in Beit Hanoun was hit by a rocket that was fired by Hamas in that area."
13:13 GMT Palestinian sources report 15 killed, upward of 200 injured in Israeli shelling of an UNRWA school in Gaza.
12: 39 GMT: Netanyahu tells cabinet ministers that Israel is "moving forward with the operation in Gaza with full power, in the air and on the ground." The leader further added that IDF has "deeply and significantly hurt the Gaza terror infrastructure," including the tunnels leading into Israeli territory.
11:12 GMT: Three rockets intercepted over the southern city of Kiryat Gat.
11:11 GMT: Egypt says foiled terrorist attack from Sinai against Israel. According to the report, an Egyptian army's ambush fired at a vehicle carrying Grad missiles meant to be fired into southern Israel from Sinai. Two passengers that were in the car were killed.
09:47 GMT: Four rockets intercepted over the southern city of Netivot
08:38 GMT: Seven Palestinians were killed in a series of strikes Thursday in a flashpoint area near Khan Yunis in southern Gaza, the emergency services said.
08:34 GMT: Israel's Transportation Minister Yisrael Katz says in contact with the European Aviation Safety Agency (EASA) regarding renewal of flights into and from Israel.
08:20 GMT: Two rockets intercepted over Tel Aviv area during joint press conference of Israeli Prime minister Benjamin Netanyahu and UK's Foreign Secretary Philip Hammond.
08:08 GMT: Five rockets intercepted over Tel Aviv region.
06:57 GMT: Israeli air force shoots dead three suspected terrorists in Khan Younis.
06:45 GMT: Report in London-based a-Sharq al-Awsat that Hamas has agreed to five-day ceasefire plan formulated by Secretary of State John Kerry and Palestinian President Mahmoud Abbas.
04:00 GMT: FAA announces lifting of ban on flights to Israel
03:30 GMT: UN Secretary-General Ban Ki-moon expressed alarm on Wednesday that 20 rockets found hidden in a United Nations school in the Gaza Strip had gone missing and directed the world body to deploy experts to deal with the situation. Ban "expresses his outrage and regret at the placing of weapons in a UN-administered school," a United Nations statement said. UNRWA is sheltering 102,000 people in 69 of its schools amid the renewed violence.
"By doing so, those responsible are turning schools into potential military targets, and endangering the lives of innocent children, UN employees working in such facilities and anyone using the UN schools as shelter," the statement said.
03:00 GMT: The Israeli military released a statement detailing Palestinian Islamic Jihad Commanders who were targeted in recent days:
Acram Salah Mahmmar Sh'ar - A senior PIJ militant. In charge of PIJ's militant activity in the area of Khan Yunis. Was in charge of executing attacks against IDF forces on the Gaza border and of rockets fired from the area of Khan Yunis at Israeli communities.
Mahmoud Awwad Ali Ziada – a resident of Jabaliya. A prominent PIJ terrorist and head of PIJ activity in the northern Gaza Strip.
Shaben Haled Sha'aben Dahduh- a resident of Gaza City. A prominent PIJ operative and head of PIJ activity in Gaza City region.
Sa'yeed Mahamed Nasser Au Mamer- a resident of Rafah. A senior PIJ operative, and head of PIJ activity in Rafah.
00:35 GMT: Palestinians report intense Israeli fire in the northern Gaza neighborhoods of Beit Lahiya and Beit Hanun, Israeli onlinepaper NRG reports.
24/7 00:30 GMT: A family of six, including two young children, was killed Thursday in an Israeli air strike in the south of the Gaza Strip, Palestinian emergency services say. "Six members of the Al-Aftal family, including a five-year-old girl and a boy of three, were killed," says emergency services spokesman Ashraf al-Qudra, bringing the number killed Thursday to 18.
*********************************************
Video: Military activity in Gaza