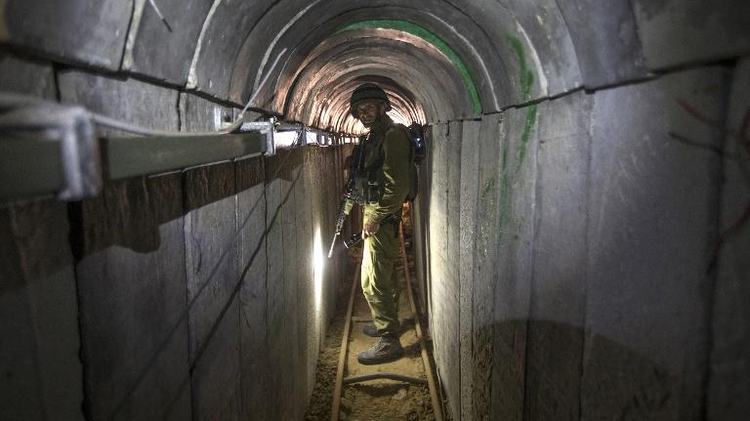 ☆
Report: Hamas used child labor in tunnel building
credits/photos : Jack Guez (Pool/AFP)
Un soldat israélien montre aux journalistes le tunnel construit par des militants palestiniens entre Israël et la bande de Gaza, le 25 juillet 2014
2012 report published by Institute of Palestine Studies alleged 160 children died in construction of tunnels
As the extensive ground phase of Operation Protective Edge exposed the massive tunnel system dug by Hamas underneath Gaza and into Israel, Tablet Magazine on Friday cited a 2012 report detailing the workings and construction process of the vast subterranean infrastructure. The "Tunnel Phenomenon" of the report's title is well-documented and known despite having been virtually ignored in the public eye in Israel, until the tunnels were utilized in several infiltration attempts by Hamas militants, all of whom were killed by Israeli military patrols.
The report published by the Institute for Palestine Studies was authored by Nicolas Pelham – a well-known Middle East analyst who wrote for The Economist and The New York Review of Books, among others.
It highlights another fact that may have been obscured until now – and is increasingly relevant in light of the high number of child deaths reported throughout the skirmish. "At least 160 children have been killed in the [construction of] tunnels," says the report cited by Tablet, "according to Hamas officials."
The report explains that Hamas made use of child laborers in the construction process, which the author compares to the exploitation of children in the Victorian coal mines: their small stature was "prized" in the narrow shafts. According to the report, human right groups "raised concerns" regarding "child labor in the tunnels" as early as 2008.
A security source told i24news Friday the Israeli army has foiled a massive terrorist attack that would have been carried out during the Jewish New Year this September.
According to the report, thousands of terrorists were meant to cross over to Israel from Gaza through tunnels to kill and kidnap Israelis. The source added that the army learned of the attack during the interrogations of Hamas prisoners captured during Operation Protective Edge.
The IDF and government are in agreement that the ground operation should go on until Hamas' tunnels are destroyed.
Israeli soldiers have unearthed at least 63 shafts, 31 tunnels used for terror, 11 of which were subsequently destroyed by Israeli forces.