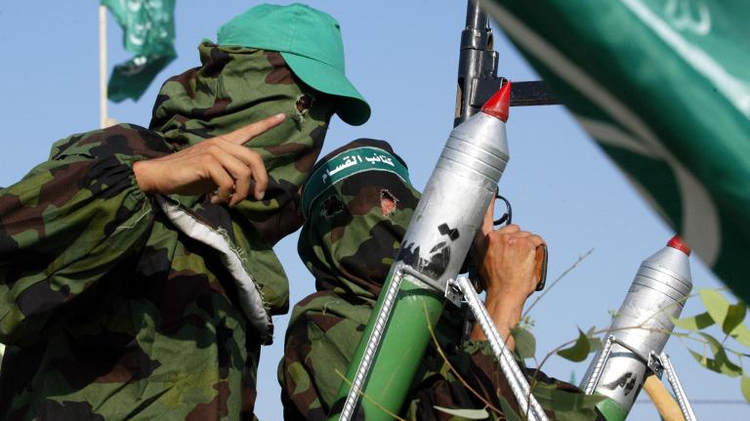 ☆
Hamas executes a former top official in Gaza
credits/photos : Fayez Nureldine (AFP/File)
File photo of armed Hamas militants
Former spokesman Ayman Taha allegedly spied for Egypt; Hamas executed civilians accused of spying for Israel
A former spokesman for Hamas was found dead Thursday in Gaza, with reports leaking that the death may have actually been an execution carried out by Hamas who suspected the spokesman of spying for another Arab country.
Hamas said in a statement that Ayman Taha was killed when Israeli forces "targeted him in the apartment where he was with several others in Gaza City" in the Shejaiya neighborhood of Gaza City.
Taha -- the son of one of the group's founders -- was a well known spokesman for the movement before his arrest by Hamas in February under suspicions of possible "abuse of funds" and other allegations.
The Palestinian newspaper al-Quds reported that Taha was not killed by Israel. Instead, they say he was executed by a firing squad after it was learned that he maintained contact with intelligence services in Egypt.
According to the report, Taha was taken to the hospital with gunshot wounds to his head and chest. The information about his death was only released on Thursday.
Also on Thursday, Hamas said that it had executed several Palestinians suspected of spying on behalf of Israel during the fighting between Hamas and Israel.
According to Al-Arabiya news, a Hamas security service member said "spies were executed after they were caught red-handedly informing on the whereabouts of the resistance (or) disrupting the work of resistance men and defusing ambushes prepared against the enemy."
Less than 2 weeks ago, Palestinian media reported that Hamas executed over 30 alleged collaborators with Israel.
The reports said that the suspects were caught in the Shejaiya neighborhood in northen Gaza and summarily executed. Among the evidence for their collaboration were telephones with SIM cards from an Israeli cell phone provider.
In the past, Hamas has come under fire from human rights groups for executing suspected collaborators without a trial. Sometimes Gazans are accused of being collaborators based on mere rumor and at other times those who fall out of favor with Hamas are deemed collaborators and executed.