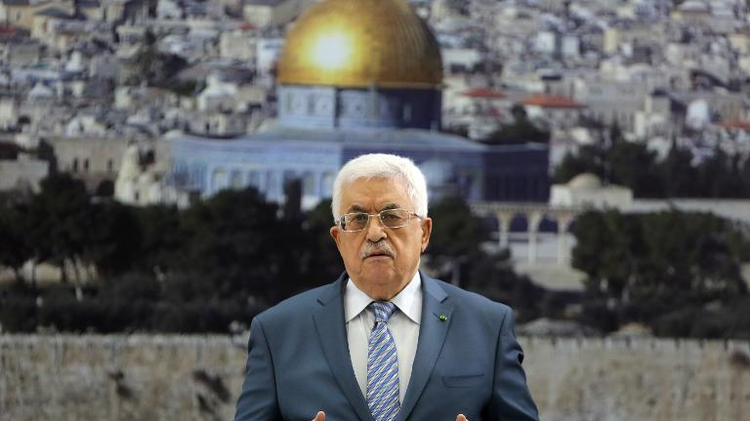 ☆
Netanyahu: no agreement with Abbas exists
credits/photos : Abbas Momani (AFP/File)
Palestinian president Mahmud Abbas meets with members of the Palestinian leadership in the West Bank city of Ramallah, on August 16, 2014
False Palestinian report claimed Abbas said that he and Israeli PM agreed on Palestinian state in '67 borders
The office of Prime Minister Benjamin Netanyahu categorically denied that any agreement between Netanyahu and Palestinian President Mahmoud Abbas regarding a future Palestinian state existed. Earlier on Thursday, the Palestinian Ma'an News agency reported that Abbas, speaking to the PalestineTV, the Palestinian Authority's official TV station, said that he and Netanyahu agreed to establish a Palestinian state based on the 1967 borders, though the final outline of the borders has not yet been agreed on.
Chief Palestinian negotiator Saeb Erekat, who headed the last round of Israeli-Palestinian negotiations earlier this year, will meet with US Secretary of State John Kerry who will reportedly be visiting the region next week, President Abbas added.
Abbas' statements, however, were apparently made about an agreement between the Palestinian president and the US and Abbas never actually mentioned Netanyahu in the interview.
Israeli officials added that Netanyahu and Abbas have not met in the last months and that Netanyahu never expressed to Abbas his willingness to the 1967 borders as a basis for a future Palestinian state.
Abbas also criticized Hamas, saying that the "two thousand lives lost in Gaza could have been saved," and saying that he attempted to mediate an Israel-Hamas ceasefire, but "other countries" - possibly implying Qatar - have meddled in internal Palestinian issues.
In related news, Hamas chief Khaled Meshaal on Thursday rejected any attempt to disarm his Palestinian Islamist movement in Gaza as demanded by Israel.
"The weapons of the resistance are sacred and we will not accept that they be on the agenda" of future negotiations with Israel, Meshaal told a news conference in Doha where he lives in exile.
Israel has consistently linked the reconstruction of the Gaza Strip, devastated during its 50-day war with Hamas that ended on Tuesday, to the territory's demilitarization.
Meshal also said that the "people (of Gaza) won" the recent bout of fighting between Israel and Hamas, which concluded Tuesday, though he admitted that Gaza paid a dear price.
"The enemy's leaders," he said, "performed a holocaust twice as bad as Hitler's."
However, he asked the people of Gaza if they could ask for anything more than "the humiliation" of Israel, and stated that Israeli Prime Minister Benjamin Netanyahu, Defense Minister Moshe Ya'alon and Chief of Staff Benny Gantz are all "desperate".
"This war was forced upon us after an eight-year-long siege," Meshal added, "the Palestinian unity government must be responsible for the rebuilding of Gaza."
Meanwhile, Israel's political scene is still reeling from Prime Minister Benjamin Netanyahu's "under the radar" decision to sign a ceasefire with Hamas on Tuesday night, without consulting or informing the cabinet beforehand. A new report of a secret meeting that took place several days ago in Amman, Jordan might only feed the flames.
Jordanian daily AL Ghad reported Thursday Netanyahu and Palestinian leader Mahmoud Abbas met days before the signing of the ceasefire but did not add any more details regarding the meeting.
Related stories:
Poll: Gazans see victory, Israelis feel unsafe
Meanwhile, senior Fatah official Nabil Shaath said Thursday the Palestinian leadership will pursue diplomatic efforts at the UN Security Council to end what it describes as "Israel's decades-long occupation," Palestinian news agency Ma'an reported.
Shaath told Ma'an that the Palestinian Authority would first petition the UN Security Council on September 15 to demand a "timetable" for Israel's withdrawal from the West Bank.
According to Shaat, if that UN request is denied, the PLO will take the Palestinian case to the International Criminal Court in The Hague, where it will attempt to try top Israeli officials like Netanyahu and Defense Minister Moshe Ya'alon for alleged war crimes in Gaza.
"Taking the case to the ICC is conditional upon the Security Council response to our request," Shaath said in the interview.
Shaath added that Israel has had to accept the ceasefire deal, leaving out its main demand to demilitarize Hamas, amid pressure from the United States.
In related news, Mousa Abu Marzook, Hamas top official in Egypt, who serves as the group's Cairo liaison and participated in the last round of ceasefire talks, has said Thursday he is making his way to Gaza. Wednesday night the Palestinian delegation returned to the Strip after the signing of the truce deal.
Israel's security cabinet is also expected to convene Thursday evening at 1700 GMT.
(with AFP)