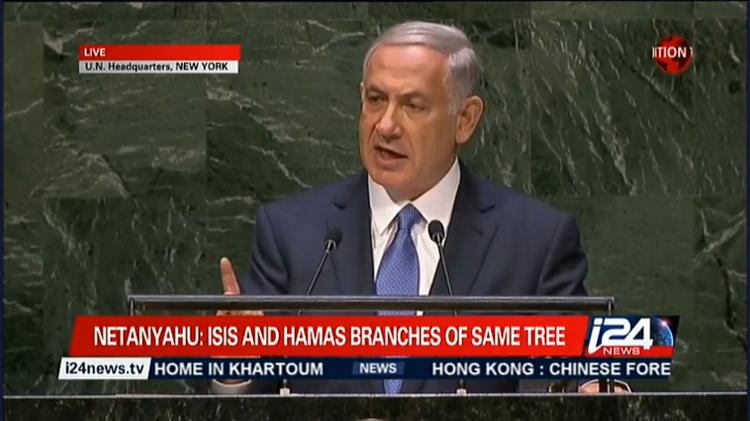 ☆
Erekat compares Netanyahu to leader of IS
credits/photos : i24news
Israeli Prime Minister Benjamin Netanyahu speaks at the UNGA, September 29, 2014
Israeli PM compares IS to Hamas in UN speech, warns nuclear-armed Iran is 'gravest threat to us all'
"Netanyahu is trying to disseminate fear of the Islamic State led by Abu Bakr al-Baghdadi, but Netanyahu forgets that he himself leads the Jewish state," said Saeb Erakat, the Palestinians' chief negotiator in peace talks with Israel.
"He wants us to call Israel the Jewish state and supports terrorist settlers who kill, destroy and burn mosques and churches... like Baghdadi's men kill and terrorize," Erakat told AFP.
With his speech at the United Nations, "Netanyahu finally closed the door on progress towards a two-state solution within the 1967 borders and rejected any serious political solution" in the peace talks, said Erakat.
The Palestine Liberation Organization meanwhile said Israeli Prime Minister Benjamin Netanyahu blatantly manipulated the facts when he compared Hamas to IS.
"Netanyahu's speech at the UN was a blatant manipulation of facts and attempted at misleading the audience through a combination of hate language, slander and argument of obfuscation," PLO executive member Hanan Ashrawi said in a statement in English.
"Obviously Netanyahu has lost touch with reality, particularly in refusing to acknowledge the fact of the occupation itself or the actions of the Israeli army of occupation in committing massacres and war crimes," she added.
Addressing the United Nations General Assembly earlier, Netanyahu denied accusations of Israeli war crimes during its July-August offensive on the Gaza Strip that killed 2,140 Palestinians and said that Palestinian president Mahmoud Abbas was jointly culpable with Hamas, which fired thousands of rockets into Israel, for bringing retaliatory Israeli air strikes down on Gaza residents.
"Hamas embedded its missile batteries in residential areas and told Palestinians to ignore Israel's warnings to leave," Netanyahu said. "I say to president Abbas, these are the war crimes committed by your Hamas partners in the national unity government which you head and you are responsible for."
"Hamas' immediate goal is to destroy Israel but has a wider goal the same as ISIS," he said. "ISIS and Hamas are branches of the same poisonous tree. When it comes to their ultimate goals: Hamas is ISIS and ISIS is Hamas."
Netanyahu then said that the "fight against militant Islam is indivisible. That's why Israel's fight against Hamas is your fight. Israel is fighting what your countries might be forced to fight tomorrow."
In Gaza, Hamas spokesman Sami Abu Zuhri said Netanyahu was "portraying Hamas and IS as two faces of the same coin" although "Hamas is a national liberation movement, while the (Israeli) occupier is the source of evil and terrorism in the world."
In his own address to the General Assembly on Friday, Abbas vowed to seek war crimes prosecutions against Israel over the 50-day conflict in Gaza, which he called a "war of genocide."
Netanyahu hit back on Monday with a jibe at Abbas's 1980 doctoral thesis in which he questioned whether six million Jews were really killed in the Holocaust.
"In what moral universe does genocide include warning the enemy's civilian population to get out of harm's way?" he asked.
"I suppose it's the same moral universe where a man who wrote a dissertation of lies about the Holocaust, and who insists on a Palestine free of Jews... can stand at this podium and shamelessly accuse Israel of genocide and ethnic cleansing," he said.
A nuclear-armed Iran is 'gravest threat to us all'
The US State Department Monday took issue with Israeli Prime Minister Benjamin Netanyahu's analysis that he delivered at the UN General Assembly on the threat of a nuclear-armed Iran, the Islamic State and Hamas.
"[Hamas and IS] are both designated terrorist organizations under the United States designations, but certainly we see differences in terms of the threat and otherwise," US State Department Spokeswoman Jen Psaki said during a press briefing.
"We don't believe that Prime Minister Netanyahu or anyone else from Israel is suggesting that the United States launch a military campaign against Hamas."
During his speech, Netanyahu also addressed the threat of a nuclear-armed Iran, saying that defeating IS but allowing the Islamic Republic to have a nuclear weapon would be like winning the battle but losing the war.
He warned that such a decision would pose the "gravest threat to us all" and called for a full dismantling of Tehran's nuclear program.
Psaki agreed that a nuclear-armed Iran is indeed a threat, but she diverged on the question of whether the Islamic Republic was a bigger threat than IS.
"Obviously we're spending a great deal of time and energy because we are concerned, as is Israel, about Iran acquiring a nuclear weapon … we're equally concerned about the threat of ISIL, given all of the energy that we're putting into that," she said.
The Israeli PM also warned of Tehran's shifting PR campaign, calling it a "charm offensive" that was aimed at deceiving the international community and allowing it to pursue its nuclear ambitions.
Psaki, however, remained adamant that the US would continue to pursue an agreement aimed at curbing Iran's nuclear program and that it would not agree to a deal "that doesn't meet our standards and meet our threshold."
Israeli MKs denounce 'lack of hope'
At home, Israeli left-wing Knesset members critiqued Netanyahu's speech for failing to present any new ideas towards solving the Israeli-Palestinian conflict.
"The speech did not deliver an ounce of good news for citizens of Israel who are desperate for hope," said Labor MK Shelly Yacimovich. "Netanyahu could have differentiated Israel by presenting it as a moderate country that seeks peace."
Isaac Herzog, the leader of the opposition, meanwhile said he was unsatisfied with the PM's speech.
"Netanyahu knows how to deliver a speech and I agreed with quite a few of his statements, but the problem is that the world is not listening to him," Herzog said. "It is unclear which Netanyahu we should believe: the one who speaks about political compromise, or the one who, during five years of his term, did not do a thing towards promoting a political initiative."
The speech however drew praise from members of Netanyahu's coalition government, with Coalition Chairman Yariv Levin (Likud) commending the PM.
"Netanyahu ripped the mask off the face of the leader of the Palestinian Authority and proved that Abbas is a partner of Hamas and not a partner for peace," Levin said.
Chairman of the Foreign Affairs and Defense Committee MK Ze'ev Elkin (Likud) also lauded the speech, calling it a "proper response" to Abbas's "slander and lies."
(with AFP)