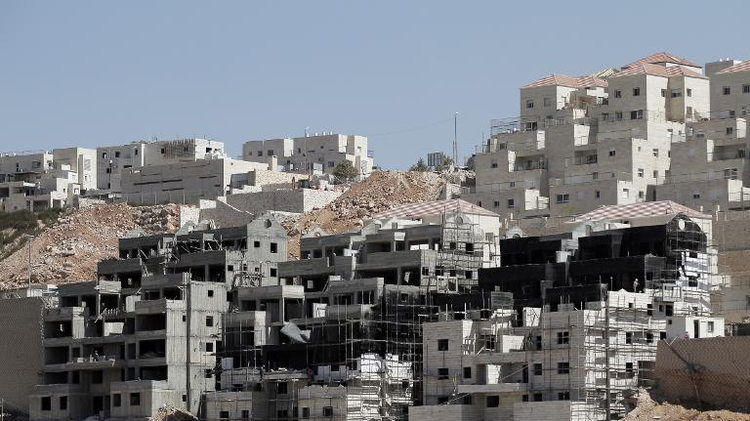 ☆
Israel plans 300km of roads in West Bank
credits/photos : Ahmad Gharabli (AFP/File)
Buildings under construction are seen in the Israeli settlement of Beitar Illit near the Palestinian West Bank village of Wadi Fukin, on September 4, 2014
Plan, not for implementation now, would require expropriation of thousands of acres of Palestinian land
The government has long-term plans to pave 300 kilometers of roads in the West Bank, which would require the expropriation of thousands of acres of Palestinian land, Israel Army Radio reported Monday.
The plan, formulated over a period of two decades, consists of 44 separate roads, 24 of which have been authorized and the rest are pending final phases of approval.
Many of the roads will connect Jewish settlements in the West Bank to each other, and some will connect them to nearby cities in Israel, such as Modi'in. The roads will, by and large, serve Jewish settlers rather than Palestinian inhabitants of the West Bank, the station reported.
In order to execute the full program, the state would have to appropriate over 6000 acres of West Bank land.
A spokesperson for the Israeli Defense Ministry told Army Radio that implementation of the plan "is meant to stretch out over many years and most of it is not to be realized now. We're dealing mostly with several problematic roads the safety of which needs to be addressed, for the benefit of both Israeli and Palestinian drivers."
The move has been criticized on the left for prioritization settlers over other sectors in Israeli society. Knesset Member Michal Rozin, of the left-wing Meretz party, said that "the government continues to authorize projects like crazy, as if there was no housing crisis inside the Green Line… this is another step of this radical right-wing government to prevent the two-state solution."
On the other hand, MK Yariv Levin of the ruling Likud party said that the "the right to drive on safe, fast roads should be given to any Israeli citizen, everywhere. The current discrimination must be stopped… the required roads must be paved immediately."
In September, UN Secretary General Ban Ki-moon criticized Israeli plans to expropriate 400 hectares of Palestinian land in the Bethlehem area in the south of the West Bank.
"The seizure of such a large swathe of land risks paving the way for further settlement activity, which - as the United Nations has reiterated on many occasions - is illegal under international law and runs totally counter to the pursuit of a two-state solution," Ban Ki-Moon's spokesman said.