☆
Israel to ask US Congress to halt aid to Palestinian Authority
PM Netanyahu on Palestinian ICC bid
Move follows freeze on millions in tax revenues after ICC bid; Palestinians looking to resubmit statehood bid
Israel was weighing its options Sunday for further punishing the Palestinians after freezing millions in tax revenues as a first response to their bid to join the International Criminal Court.
A senior Israeli said Jerusalem would lobby pro-Israel members of the US Congress to enforce a law that would halt $400 million in annual American aid to the Palestinian Authority, Israeli daily Haaretz reported.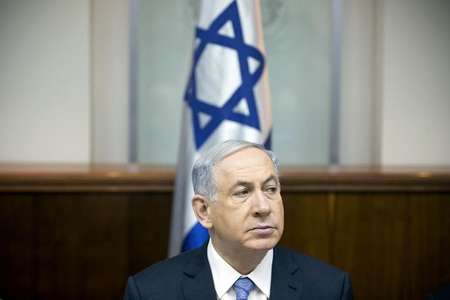 Last month, President Barack Obama signed a stop-gap funding bill that stipulates that US economic support not be given to the PA if "the Palestinian initiate an International Criminal Court judicially authorized investigation, or actively support such an investigation, that subjects Israeli nationals to an investigation for alleged crimes against Palestinians."
The Palestinian move to join the Hague-based court sets the scene for potential legal action against Israel for war crimes, in a bid to put pressure on it to pull out of the territories.
But the request to join the court, formally presented on Friday, infuriated Israel which quickly moved to freeze the transfer of half a billion shekels ($127 million/106 million euros) in tax revenues to the PA.
"The Palestinian Authority has chosen to take a path of confrontation with Israel, and we will not sit idly by," Prime Minister Benjamin Netanyahu told cabinet ministers on Sunday, vowing to put up a vigorous defense of Israel's soldiers.
Palestinian chief negotiator Saeb Erakat denounced the freezing of the transfer as "piracy", and Hamas said it amounted to "the theft of Palestinian money", urging the leadership to cut all security cooperation with Israel.
But Israeli officials warned it was only the first in a series of punitive measures, warning of "more severe steps" that could lead to a "gradual dissolution" of the PA.
Israel in 'attack mode'
But, in an unusual development, Israel was not planning to announce any new settlement construction, a senior foreign ministry official said on Sunday.
Speaking to Israeli diplomats serving in Europe, foreign ministry director general Nissim Ben Sheetrit said Israel's response would be "harsher and more comprehensive" than just freezing the taxes, but would not include settlement announcements, ministry spokesman Emmanuel Nahshon told AFP.
"Israel is about to switch from defense to attack mode," Nahshon quoted him as saying, confirming comments first published by the Haaretz website.
A senior official quoted by Haaretz said the government had learned a lesson from that incident and would not be taking any steps making Israel the focus of criticism rather than the Palestinians.
The ICC can prosecute individuals accused of genocide, crimes against humanity and war crimes committed since July 1, 2002, when the court's founding treaty, the Rome Statute, came into force.
Gaza war first case to be examined at ICC
A Palestinian legal expert said the first case that would be referred to the ICC would be the "crimes" committed by Israel during summer 2014, including the Gaza war.
An official Fatah party website posted an image on Saturday depicting Netanyahu next to a noose with the phrase "coming soon."
Shawan Jabarin, director of the Ramallah-based rights group Al-Haq, said the Palestinians had decided to file suit over Israel's actions in the West Bank and Gaza Strip starting from June 13, 2013.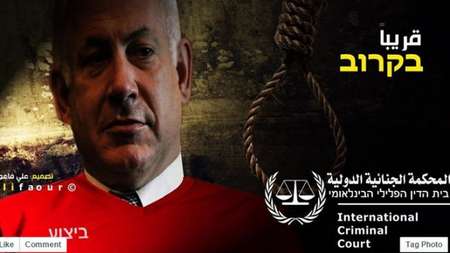 That was the date when Israel began a massive West Bank crackdown after the kidnapping and subsequent murder of three Israeli teenagers, triggering a series of events which led to the seven-week Gaza war.
A high-ranking legal official quoted by the top-selling Yedioth Ahronoth said Israel was ready to counter with its own lawsuits against senior Palestinian officials.
"These lawsuits, which are backed up with evidence, documents and affidavits, can be filed as early as tomorrow morning," he told the paper.
The basis of the complaints would be that Abbas's partnership in a consensus government with Hamas makes him complicit in the terrorist group's rocket attacks from Gaza on civilians in Israel.
Palestinians looking to resubmit UN statehood bid
Meanwhile, Palestinian President Mahmoud Abbas said on Sunday that he was in talks with Jordan to resubmit a Palestinian statehood bid to the United Nations Security Council, which failed to garner enough votes last week.
The new member-states of the UNSC, which were instated over the New Year, are expected to be more sympathetic to the resolution, which demands an Israeli withdrawal from the West Bank by 2017.
"We didn't fail, the UN Security Council failed us. We'll go again to the Security Council, why not? Perhaps after a week," Abbas said during a conference in the West Bank of Ramallah.
"We are studying it, and we will study this with our allies and especially Jordan ... to submit the resolution again, a third time or even a fourth time."
(with AFP)