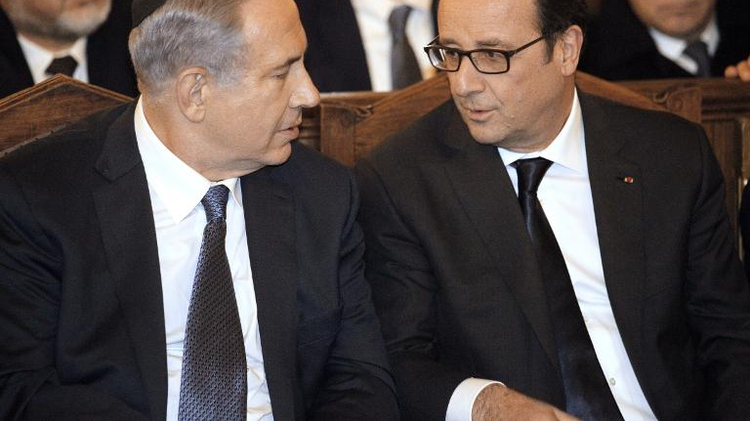 ☆
Jerusalem confirms: Netanyahu wasn't wanted at Paris solidarity rally
credits/photos : Matthieu Alexandre (Pool/AFP)
Benjamin Netanyahu and Francois Hollande
Hollande reportedly didn't want the Israeli PM to use the rally as his campaign platform
Following the terrorist attack on a kosher grocery store in Paris on Friday some have hoped that the feelings of solidarity and sorrow shared by both countries will prevail over the ongoing disputes, mainly regarding the Palestinian statehood aspirations. However, a report on Israeli Channel 2 TV, which was confirmed by Israel's Prime Minister Office on Sunday, suggests the relationship might be going down hill even faster than one might think.
According to Channel 2, France's President Francois Hollande has sent Israel's Prime Minister Benjamin Netnayhau a message over the weekend, requesting him not to arrive at the solidarity rally, which was held earlier on Sunday in Paris.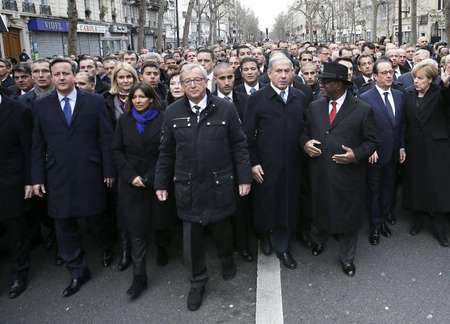 An Israeli source, who has remained anonymous, told daily Haaretz that Hollande wanted to keep the rally focused on solidarity and unity and did not want anything, including the Israeli-Palestinian conflict or Jewish-Muslim relationship, to distract the attention. According to the source, Hollande had hoped that Netanyahu would understand the difficulties that could arise out of his showing in the rally, and announce his absence.
The source also told Haaretz that the French were especially concerned that Netanyahu would use the event for his political campaign ahead of the March 17 elections, and make statements relating to French Jews that could hurt the show of solidarity the Elysee Palace was hoping for.
Netanyahu, reportedly, initially agreed knowing his arrival arrangements to the rally would be extremely complicated due to security concerns. On Saturday night his office confirmed the PM will not fly to Paris, after all. Netanyahu informed the French he would instead arrive in Paris on Tuesday.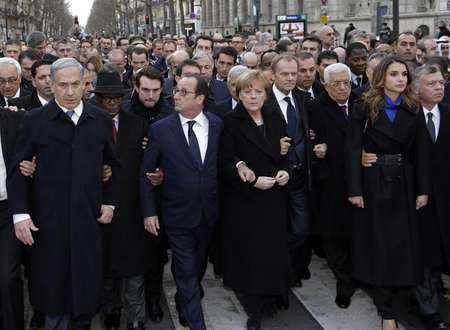 Palestinian President Mahmoud Abbas apparently received a similar message from the Elysee and agreed to stay home, as well.
However, everything changed when Israel's Foreign Minister Avigdor Lieberman and Economy Minister Naftalie Bennet decided on Saturday night to announce they would be arriving in Paris for the solidarity rally Sunday. When Netanyahu heard that, he quickly changed his mind and confirmed his presence at the rally, after all.
According to the Haaretz source, the French were livid with Netanyahu and clarified that this conduct will have a negative effect on the relationship between the countries . A short time later Abbas announced he was also coming to the rally.
Israeli diplomatic sources said that it was all a big misunderstanding on Jerusalem's side. They said Netanyahu thought the message asking him not to arrive at the rally was based on security concerns alone. They added that during the Saturday night's phone conversation between Hollande and Netanyahu, the French leader said he "would be happy" to see the Israeli PM.
France supports Palestinian statehood
Israel is still furious with France, which earlier this month, surprisingly supported the Palestinian statehood bid at the UN Security Council. Israel's Foreign Ministry has summoned the French ambassador to Israel Patrick Maisonnave for clarifications and to convey its disappointment and dissatisfaction over France's vote. it also expressed concern over what Jerusalem sees as a deterioration of ties between Israel and France since April.
Meanwhile, another controversy is brewing on the issue of French Jews' immigration to Israel following the attack and the general atmosphere of growing anti-Semitism in France.
Hundreds of French Jews on Sunday attended a Jewish Agency fair providing information regarding immigration to Israel, taking place under tight security in Paris. The fair had been planned in advance of the past week's tragic events.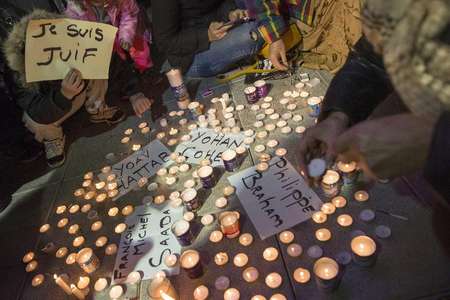 On Saturday, Netanyahu called on French Jews to move to Israel. "To all the Jews of France, all the Jews of Europe, I would like to say that Israel is not just the place in whose direction you pray, the state of Israel is your home," Netanyahu said.
Israeli Defense Minister Moshe Ya'alon, former finance minister Yair Lapid and Foreign Minister Avigdor Lieberman issued similar calls.
But French Prime Minister Manuel Vals expressed different sentiments altogether.
"If 100,000 French people of Spanish origin were to leave, I would never say that France is not France anymore. But if 100,000 Jews leave, France will no longer be France. The French Republic will be judged a failure," Valls said ahead of a memorial rally in honor of those killed in France in recent days.
Netanyahu did the same in 2012
Similar differences of opinion have arisen in the past after anti-Semitic attacks.
The Israeli prime minister has tried to lure France's Jews to his country on a previous occasion, following attacks by Islamist Mohammed Merah in and around Toulouse in southwest France in March 2012.
Merah killed three soldiers and four Jewish civilians, including three children at a school.
During a visit to France for a commemoration service the following October, Netanyahu declared: "I always say to Jews wherever they are -- come to Israel and make it your home."
That triggered a war of words with Hollande, who slammed Netanyahu for turning the visit into a campaigning opportunity ahead of elections a few months later.
"Netanyahu came to France to campaign," Hollande said in private remarks leaked by a French newspaper.
"Since I was there, he toned down his speech but it wasn't good to transform this ceremony into an electoral meeting. It wasn't appropriate," Hollande said.