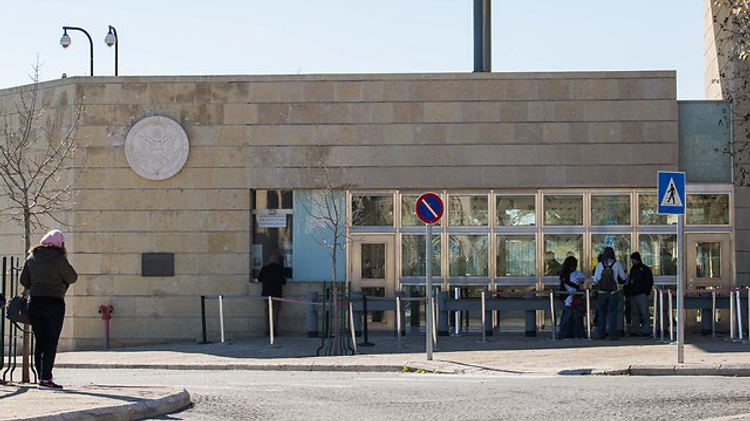 ☆
US Consulate in Jerusalem violates agreement, arms Palestinian guards
credits/photos : Ynet
The American Consulate in west Jerusalem
Sources claim consulate's chief security officer, Dan Cronin, discriminates against Israeli employess
The American Consulate in Jerusalem has decided to hire and arm 35 Palestinian security guards from East Jerusalem to be employed as escorts to American diplomats' convoys in the West Bank, Israeli news site Ynet reported Wednesday.
The plan, initiated by the consulate's chief security officer, Dan Cronin, is a breach of a 2011 agreement between the consulate and the Israeli government, which determined that only former Israeli combat soldiers hired by the consulate would be allowed to carry weapons.
The American consulate does employ guards from East Jerusalem but they have not been armed up until now.
Three Israeli security guards have recently quit in protest of the decision, the report said.
Sources told Ynet that over the last year and half, ever since Cronin began his tenure at the Consulate, the Israelis have been discriminated against.
Employees claimed that seven Israeli guards were fired, compared to one Palestinian.
They also accused Cronin of a callous attitude towards the Israelis and of voicing pro-Palestinian remarks. "The law in Israel is merely advice to him," they said. "Cronin does what he wants. He doesn't want the Israelis in the consulate."
Furthermore, according to these sources, some of the Palestinian guards have been arrested by Israeli authorities in the past for throwing stones, or have relatives who were convicted of terrorist activity.
"The consulate's conduct is extremely biased towards the Palestinian side, and Cronin is actually raising an armed militia of Palestinians in the consulate. They're trained in weapons use, Krav Maga, and tactical driving. This is irresponsible. Who is ensuring that putting this weaponry in Palestinian hands will not lead to terror?" they wondered.
The American consulate said in response that, "The United States' consulate has complete faith in the professionalism of its staff," the consulate said in response. "We do not discuss security for our diplomatic delegation, but note that there are many inaccuracies in the claims. Furthermore, we coordinate our work with local authorities in a complete and ongoing manner."