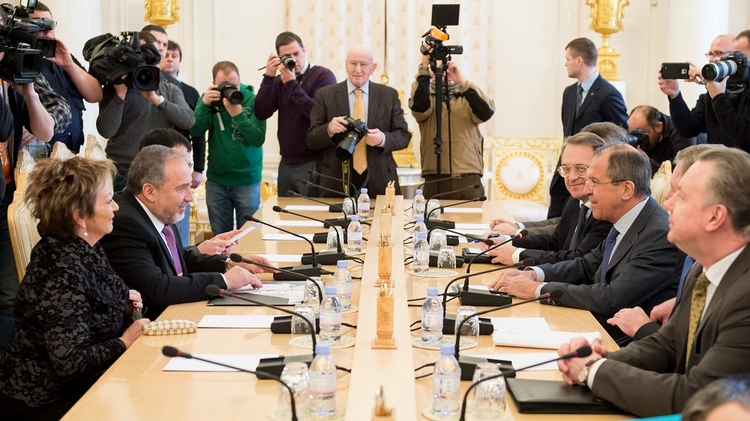 ☆
Israel is prepared to mediate between Russia and Ukraine, Lieberman says
credits/photos : Government spokesperson
Israeli Foreign Minister Avigdor Lieberman with Russian counterpart Sergei Lavrov in Moscow, Russia, on January 26, 2015
Israeli FM says maintaining good relations with Moscow a 'top priority' for Jerusalem
Israel is prepared to act a mediator between Russia and Ukraine, Israeli Foreign Minister Avigdor Lieberman said on Monday in an interview with the Russian news agency RIA Novosti.
"Israel's neutrality in the Russian-Ukrainian conflict is the most reasonable position but neutrality does not mean inaction," Lieberman said ahead of a meeting with Russian counterpart Sergei Lavrov in Moscow. "We have good relations with both countries. Moscow and Kiev trust us."
"This is a good basis for mediation efforts. We have repeatedly said that we were ready to deploy and these are not only statements," he added. "It is precisely because we are from these countries that we can understand both parties."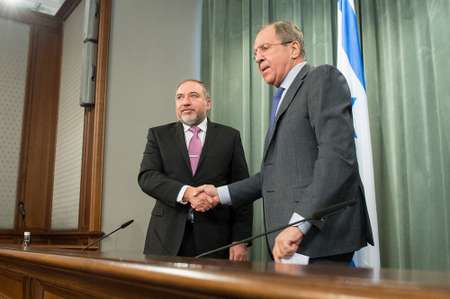 Lieberman met with Lavrov to discuss strengthening relations between the two countries, a spokesperson for the Israeli FM's office said in a statement.
Ahead of his official visit, Lieberman told Russian news agency ITAR-TASS that maintaining good relations with Moscow is of paramount importance for Israel.
"Maintenance of good relations with Russia is a priority moment for Israel and its principal stance," Lieberman said.
"Israel is a small country in the heart of the most unstable region and since its birth Israel has been in the center of geopolitical, ideological, religious, diplomatic and sometimes military collisions on the global scale," the FM was quoted by ITAR-TASS as saying. "We simply cannot afford neglecting warm relations with such significant international player as Russia."
During the meeting, Lieberman and Lavrov also discussed the situation in the Middle East with a special focus on Syria and Lebanon. The Israeli FM discussed Jerusalem's red lines with regards to the northern border.
Lavrov said that Russia and Israel believe the United Nations has a central role to play in the fight against terror.
"We have confirmed our joint position in regard to the non-alternative in the fight against this universal evil on the basis of international law. We support the UN's efforts in playing the key role and doing it without any double standards," Lavrov was quoted as saying by the Sputnik news agency.
Regarding Iran, Lieberman said that Israel would continue to closely monitor negotiations between world powers and that no nuclear agreement would be better than a bad agreement.
Lieberman also raised the issue of the Palestinian bid at the International Criminal Court, which will see Israel investigated for alleged war crimes in the West Bank and the Gaza Strip. The FM made it clear to Lavrov that such moves only serve to undermine the purpose of the ICC.