☆
Mosque torched near Bethlehem in a suspected 'price tag' act
Mosque torched near Bethlehem, West Bank
Violent scuffle between Jews and Palestinians in Hebron's market place
Palestinians near the Palestinian West Bank town of Bethlehem said a mosque in the village of Jab'awas was set on fire by Jewish settlers before dawn on Wednesday, arousing suspicions that the vandalism was carried out by right-wing extremists in an act of "price tag." Nationalist graffiti were sprayed on the mosque's walls.
"Price tag" is a euphemism for hate attacks by Jewish extremists.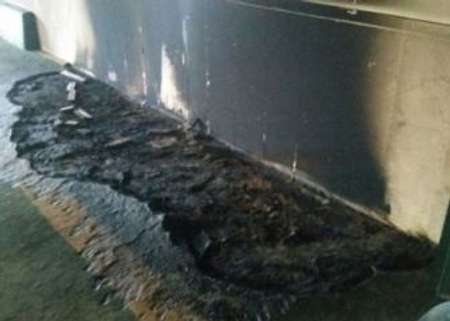 In March, vandals slashed the tires of more than 40 cars in Palestinian East Jerusalem, spraying a slogan reading: "Gentiles in the land are enemies."
In April vandals left anti-Muslim graffiti on a mosque in northern Israel.
"Unidentified people drew a Star of David and wrote 'close the mosques and open yeshivas' [Jewish seminaries] on the outer wall" of the mosque in Fureidis, police spokesperson Micky Rosenfeld told AFP.
"The tires of several cars parked nearby were slashed," he said, adding that "crimes committed for nationalist motives are extremely serious."
Later that month, assailants nearby city of Umm al-Faham left graffiti on a mosque and damaged its door.
Suspected Jewish extremists slashed the tires of some 40 cars in an Arab village in northern Israel, as well and a Roman Catholic convent west of Jerusalem was vandalized by attackers who sprayed offensive graffiti on the walls and damaged five nearby cars.
In May unknown vandals scrawled nationalist graffiti on a Muslim cemetery near Nesher in northern Israel, a day after a woman said she was assaulted with pepper spray in a suspected racial attack.
The graffiti at the Alkassam cemetery read "Price tag Tzipi Livni," referring to the former justice minister, who had criticized such attacks.
Another slogan read: "thanks for Memorial Day," while another referenced US Secretary of State John Kerry.
Also on May vandals sprayed anti-Christian graffiti on a Jerusalem church ahead of a visit by Pope Francis in Israel.
"Price tag…King David for the Jews…Jesus is garbage" was spray-painted in Hebrew on the wall of St George's, a Romanian Orthodox church near an ultra-Orthodox Jewish neighborhood.
In November vandals poured acid on a car belonging to Sheikh Samir Aasi, the imam of al-Jazzar Mosque in Acre.
The Shin Bet and Israel Police warned at the time that "price tag" attacks were hard to stop as right-wing extremists and "hilltop youth" are the hardest people to recruit as informants.
"They have a fundamentalist mind-set, and they're very devoted and confident, and the potential to recruit them as informers is close to zero," a Shin Bet officer told the Jerusalem Post.
Later on Wednesday a violent scuffle broke out between Jews and Arabs in Hebron's market place amid ultra-nationalist Baruch Marzel's visit in the city to mark 21 years since the Cave of the Patriarchs massacre.
On February 25, 1994 American-born Israeli Baruch Goldstein, at the time a member of the far-right Israeli Kach movement, opened fire on unarmed Palestinian Muslims praying inside the Mosque of Abraham at the Cave of the Patriarchs during the religious holiday of Ramadan.
The attack left 29 male worshippers dead and 125 wounded. The attack only ended after Goldstein was beaten to death by survivors.
Related Stories: 'Hate crimes' in Israel - a reality distorted by media