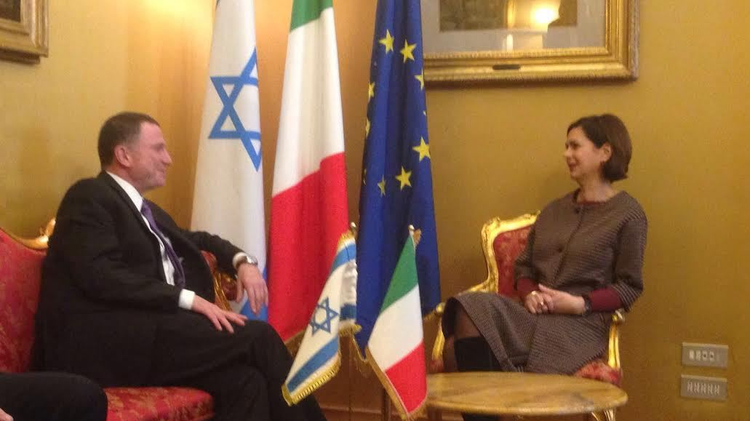 ☆
Israel urges Italy to bar Iran president over Holocaust cartoon contest
credits/photos : i24news
Knesset Speaker Yuli Edelstein (L) meets with President of the Chamber of Deputies of Italy Laura Boldrini (R) in Rome Friday, January 15
Rouhani is set to make his first visit to Vatican and meet Pope Francis
Knesset Speaker Yuli Edelstein met Friday with his Italian counterpart and told her to prevent Iranian President Hassan Rouhani from arriving in Italy on January 25.
He asked President of the Chamber of Deputies of Italy Laura Boldrini to prevent the visit in light of Iran's decision to hold an exhibition of cartoons ridiculing the Holocaust on International Holocaust Day, January 27.
"A man who denies and ridicules the Holocaust, does not deserve to enter Europe," he added.
Rouhani will make his first visit to the Vatican and meet Pope Francis later this month. Rouhani, a self-declared moderate who was elected in 2013, had been scheduled to visit the Vatican in November as part of a tour which would have taken him to Italy and France. But the trip was cancelled following the Paris attacks.
The previous official visit by an Iranian president to the Vatican was in 1999 when Mohammad Khatami met John Paul II, followed by another visit in 2005 when he attended the Polish pope's funeral.
Edelstein's comments came after Iran announced that it will be holding another cartoon contest aimed at creating caricatures denying the Holocaust.
The contest, which is being held for the third time, will have a grand prize of $50,000, up from $12,000 last year. 
Organizers claim the purposed of the competition is designed to highlight the world's double standard in defending caricatures of the Muslim prophet Mohammed, whose depiction is forbidden in Islam.
The competition, scheduled to be held in June 2016, is expected to draw submissions from artists from some 50 countries, Iran's semi-official IRNA news agency reported in December.
Edelstein on Wednesday urged UN Secretary General Ban Ki-moon to denounce the 11th Tehran International Cartoon Biennial.
In a stern letter to Ban, Edelstein said that "words cannot describe the revulsion and protestation of the state of Israel and many across the world at the recurring proof that Iran continues in its policy of Holocaust denial."
Last week, Israel's ambassador to the UN Danny Danon also called on Ban to condemn the competition, charging "this anti-Semitic act represents the pure evil of the Iranian regime."
Read More: