France will recognize Palestinian State unless negotiations resume: FM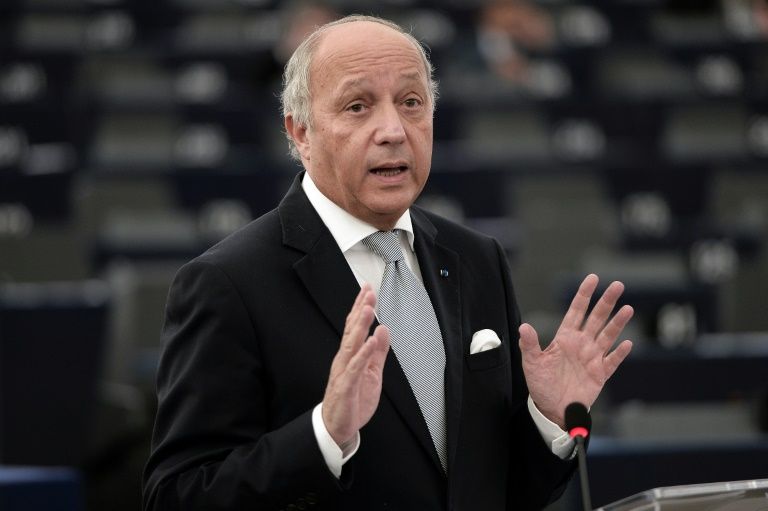 French Foreign minister Laurent Fabius called on Burundi to release an arrested French journalist and British photographer
Frederick Florin (AFP/File)
Palestinian ambassador to UN rejects suggestion that prospects for progress are slim because of US elections
French Foreign Minister Laurent Fabius said on Friday that France will recognize the Palestinian state if no progress made on 2-state solution in the coming weeks, Reuters reported.
"France will engage in the coming weeks in the preparation of an international conference bringing together the parties and their main partners, American, European, Arab, notably to preserve and make happen the solution of two states," Fabius said, adding that France has a responsibility as a permanent member of the U.N. Security Council to continuously reinforce efforts to find a two-state solution between Israel and the Palestinians.
Israeli official denounced Fabius' warning, saying that "Fabius' statement is an incentive for the Palestinians to reach a deadlock, because he announces in advance that if his push reaches a deadlock then France will recognize a Palestinian state. This is not a way to hold negotiations or reach peace."
The Palestine Liberation Organization's Negotiations Affairs Department welcomed Fabius's statement and hailed the call to form an international conference in a post on Twitter.
"We welcome the call made by France for serious international involvement towards ending the Israeli occupation that began in 1967," the tweet said. 

A follow up tweet quoted chief Palestinian negotiator Saeb Erekat as saying, "We will be contacting France, as well as other international partners to advance in that direction." 
Palestinian officials campaign UN  to revive peace prospects
Meanwhile, Palestinian officials are waging a new campaign at the United Nations to revive peace prospects, with the starting point possibly a Security Council resolution condemning Israeli settlements, the Palestinian envoy said Friday.
Ambassador Riyad Mansour rejected the suggestion that prospects for progress were slim because of the US election campaign, which could make Washington more reluctant to put pressure on Israel to compromise.
"We will not accept that the year 2016 is a year when we cannot do anything," Mansour told reporters.
"We have to open some doors to keep the hope alive and keep the two-state solution alive."
Mansour said the success of the Iran nuclear deal and progress on the Syrian peace track highlighted the need for a "collective approach" to solving the Israeli-Palestinian conflict.
The ongoing violence on the ground is likely to worsen if nothing is done, he said, adding that the situation in August and September will be "much, much worse than what we see now."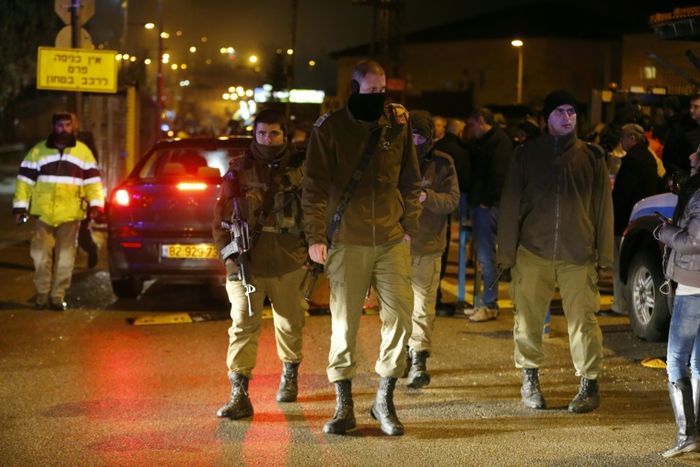 A wave of Palestinian knife, gun and car-ramming attacks since mid-September has killed 30 Israelis.
Over the same period, 159 Palestinians have been killed by Israeli forces, most while carrying out attacks and others during clashes and demonstrations.
The Palestinian ambassador recently met with the envoys from the permanent Security Council members -- Britain, China, France, Russia and the United States -- to discuss the way forward.
Mansour declined to give details of the talks, including whether the United States, which as Israel's ally has blocked UN action, was open to a Security Council role in reviving the peace process.
The Palestinian envoy suggested that a resolution condemning Israel's expansion of Jewish settlements could be a first step, but he stressed that there should be a broader plan.
This could include the creation of an international support group, the deployment of observers to trouble spots or the convening of an international peace conference.
"The signal has to come from the Security Council," he said.
The United States used its veto in 2011 to block a UN resolution condemning Israeli settlements, and it has rejected a UN role in the peace process.
The council has not adopted a resolution on the Israeli-Palestinian peace process since 2009.
(Staff with agencies)
You need to be logged in in order to post comments. Sign up or log in
ludwigvb
January 30, 2016 9:10 AM
"the same person who posts with a fake English name.."? Farmer Name Meaning English: occupational name from Middle English, Old French ferm(i)er (Late Latin firmarius). The term denoted in the first instance a tax farmer, one who undertook the collection of taxes, revenues, and imposts, paying a fixed (Latin firmus) sum for the proceeds, and only secondarily someone who rented land for the purpose of cultivation; it was not applied to an owner of cultivated land before the 17th century.Irish: Anglicized (part translated) form of Gaelic Mac an Scolóige 'son of the husbandman', a rare surname of northern and western Ireland. "Israel has managed to survive without french help for three thousand years" ... but it DIDN'T ... it's a re-invention with white Europeans. But it
ludwigvb
January 30, 2016 12:21 AM
"Fabius' statement is an incentive for the Palestinians to reach a deadlock? Was Israel that walked away from the last round of talks! doesn't want peace ... wants more land yet!