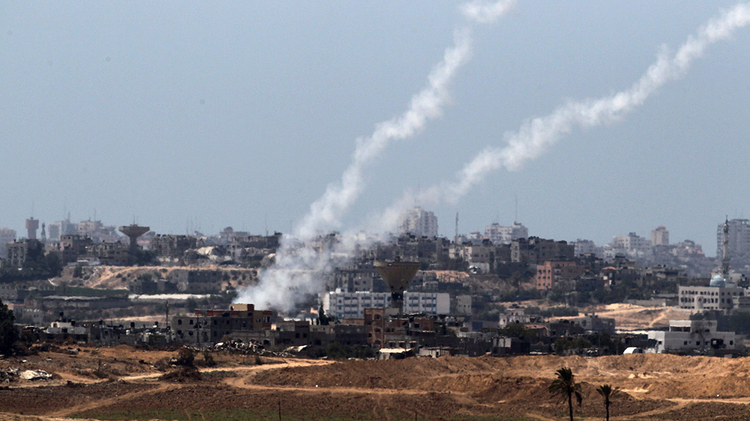 ☆
Attorney General rejects Israeli proposal to expel terrorists' families to Gaza
credits/photos : AFP
A picture taken from the Israeli side of the border shows rockets being fired by Palestinian militants from the Gaza strip into Israel
Israeli PM reportedly supports idea, says legal restrictions are a misinterpretation of international statute.
Israel's attorney general on Sunday rejected the idea of deporting the families of Palestinian terrorists to the Gaza Strip as a deterrent to quell lone-wolf terror attacks against Israelis. 
Attorney General Avichai Mandelblit ruled that the idea, which has been floated by several ministers from Prime Minister Benjamin Netanyahu's Likud party in recent weeks, was a violation of both Israeli and international law. 
According to Israel's Army Radio, several Likud ministers suggested the expulsion plan during recent cabinet meetings, amidst an upsurge in lone-wolf terror attacks targeting Israeli citizens and security forces. 
A source present during cabinet debates claimed that Mandelblit's objection was the only barrier to the implementation of the policy, the Times of Israel says.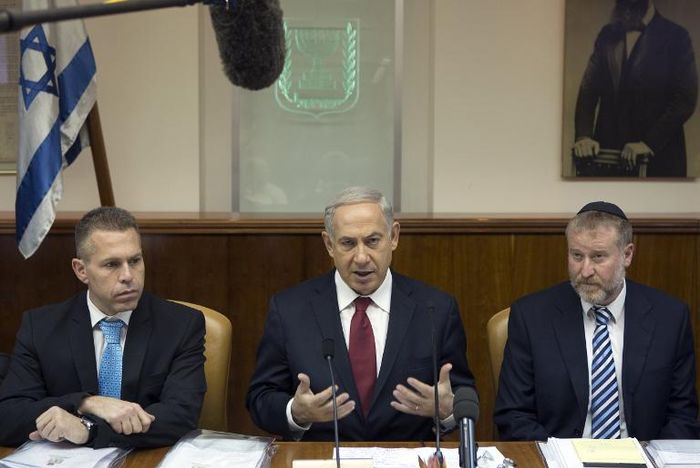 Prime Minister Benjamin Netanyahu expressed support for the expulsion plan, according to Israel's Ynet news, and claimed that the legal restrictions preventing its implementation were a misinterpretation of international legal statute.
"We have not managed to bring about the deportation of terrorists' families. We cannot do this because the courts define this as a war crime. That is how it is defined in the Geneva Conventions, et cetera," Netanyahu said during a cabinet meeting according to Ynet. 
"I think the intention there regarded relocation of entire populations," he continued. "They interpret it as relocating one person or another. I am certain this was not the intent of those who legislated the conventions. But that's how they interpret it in the world and, unfortunately, that's how they interpret it here."
Human rights groups say other measures taken by Israel to curb terror, such as the demolition of terrorists' homes, revoking work permits, and restricting movement in attackers' hometowns, amounts to collective punishment, with the suspects' families forced to suffer for others' alleged acts.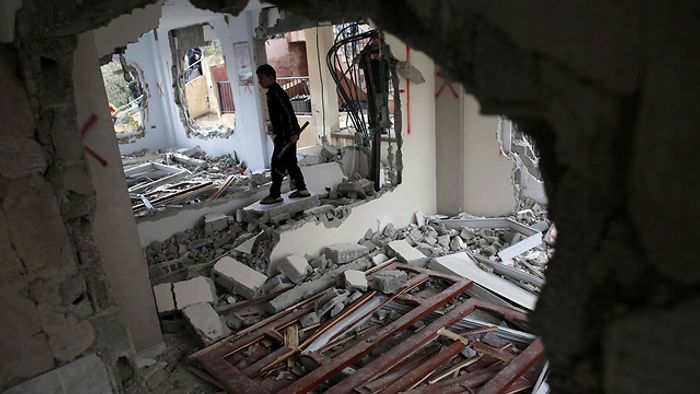 Since October 1, Palestinian knife, gun and car-ramming attacks have taken the lives of 27 Israelis, an American and an Eritrean, according to an AFP count.
The stabbings, shootings and car-rammings have mainly been carried out by "lone wolf" attackers, who have defied calls for peaceful resistance to Israel's so-called occupation.
At the same time, more than 180 Palestinians have been killed by Israeli forces, around two-thirds while carrying out attacks and most of the rest during clashes and demonstrations.
(Staff with agencies)