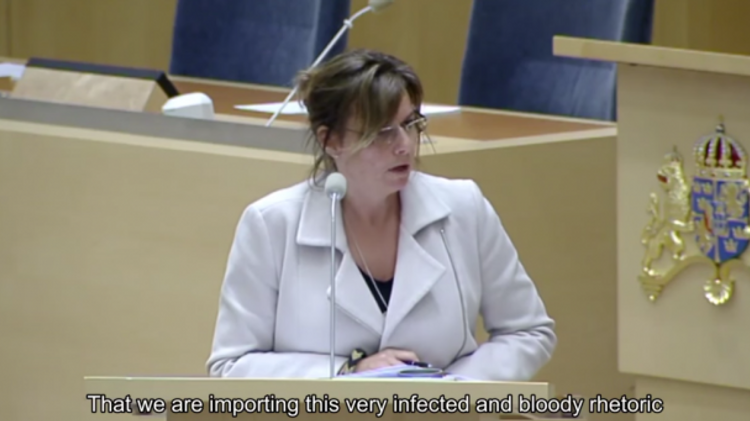 ☆
Sweden: Incitement will not affect our aid to Palestinian Authority
credits/photos : Capture d'écran Youtube
Isabella Lövin, Swedish Minister for International Development Cooperation, during a parliamentary debate on Stockholm's aid to Ramallah, March 4 2016
The comments follow a number of statements by Swedish Foreign Minister Margot Wallstrom that have irked Israel
A Swedish minister on Friday said that her government's aid to the Palestinian Authority does not rest on the PA curbing incitement, the Times of Israel reports.
Isabella Lövin, a member of the Green Party and Sweden's Minister for International Development Cooperation, told a parliament debate that Stockholm's "support to the education sector or education ministry is not included in the strategy for Palestine decided by the government."
Last year, Lövin said that the Swedish government is using the opportunity to "reach out" and that a "constant threat to pull back aid is not a way forward."
Lövin was challenged by MP Mikael Oscarsson, an MP from the pro-Israel Christian Democrats opposition party, in a written query regarding Sweden's provision of funding to the PA, the Times of Israel says.
Citing the names of Palestinian schools named after terrorists and the possibility that aid money may go towards supporting terrorism, Oscarsson raised the option of finding some way to guard against Swedish funding being used to promote incitement.
When again challenged by Oscarsson during Friday's debate, Lovin maintained that financial aid should not be conditioned on scaling down incitement, the Times of Israel says.
Israel's Foreign Ministry, responding to the Times of Israel, slammed Lövin's comments.
"Those deliberately ignoring the influence of Palestinian incitement on the current wave of terror are turning a blind eye to the main cause of the knifing attacks threatening innocent Israelis," the Foreign Ministry told the website.
This is the latest in a string of minor diplomatic spats between Israel and Sweden over comments made and stances adopted by Stockholm.
Last October, Swedish Foreign Minister Margot Wallstrom irked Israel with a tweet about the wave of terror sweeping the country.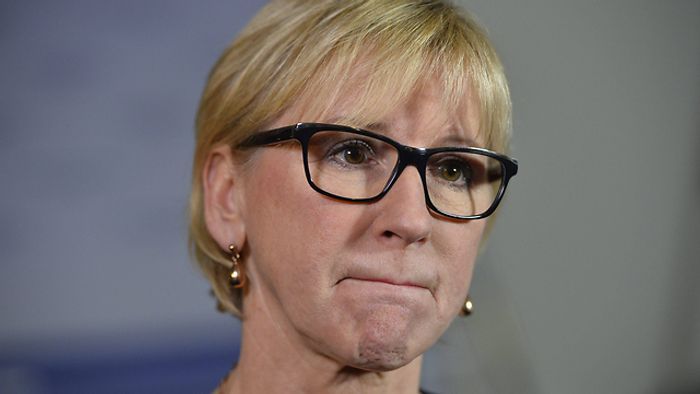 "Escalating violence in Jerusalem. Attacks against civilians unacceptable. Bring perpetrators to justice. Leaders must act responsibly."
Israeli diplomats were unhappy that Wallstrom failed to mention that the victims were Israeli. A diplomatic source in Jerusalem said: "It is most regrettable that the Swedish foreign minister is unwilling to state in a clear and unequivocal way that the terrorists are Palestinian, and that the victims are Israeli. We wish that her messages would be much clearer and correspond to the reality of the situation."
In December, Wallstrom was in the headlines again when she criticized Israel before the Swedish parliament for what she claimed were extrajudicial executions of Palestinian attackers.
When asked by a Swedish parliamentarian why she refused to condemn Palestinian acts of violence against Israelis, she replied that while she did not condone terrorism and that Israel did have a right to self-defense, "at the same time the [Israeli] response doesn't need to be extrajudicial executions or disproportionate force."
Sweden was the first Western European country to recognize a state of Palestine back in October 2014, a move that Israel strongly condemned.