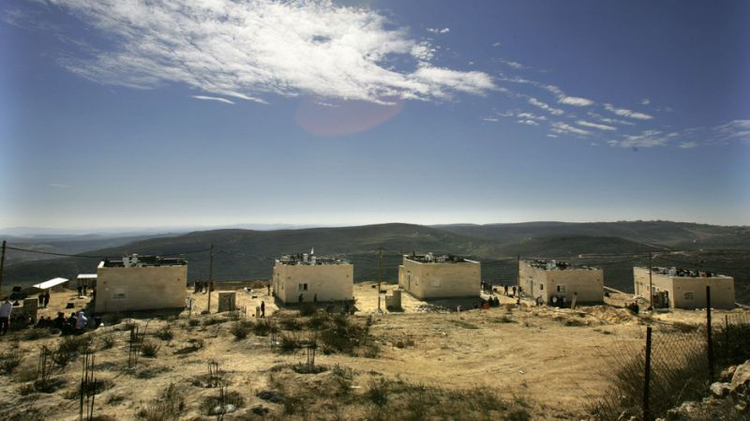 ☆
Israel's attorney general proposes compromise solution on wildcat settlement
credits/photos : AFP Photo/Menahem Kahana
Five of the nine houses marked for destruction in 2006 in the Amona settlement in the West Bank, on January 31, 2006
Residents outraged over suggestion of temporary accommodation until new homes are built
Israeli Attorney General Avichai Mandelblit on Monday night proposed an initiative to deal with the wildcat settlement of Amona, whose residents are fighting resettlement: temporarily housing Amona residents on three plots of land controlled by Israel's Custodian for Absentees' Property.  
This would give residents a nearby place to stay after December 25, when they are scheduled to be evacuated, until their new homes are built in another settlement. Following a lengthy legal battle, Israel's High Court of Justice ruled that Amona was built on private Palestinian land and that the settlement was therefore illegal.
Mandelblit added that this solution would only be valid if what has become known as the "regulation bill" fails to become law.
The bill introduced by Bayit Yehudi (Jewish Home) MK Shuli Moalem-Refaeli would retroactively legalize Amona – and also set a precedent allowing the government to confiscate private Palestinian land.
Mandelblit has stood firmly against the bill and has said that it contradicts Israeli law. "The bill allows the expropriation of private property contrary to Israeli law, and in a manner that is consistent with Israel's obligations under international law," he has said.
Amona residents fighting to remain on the land reacted to Mandelblit's proposal with outrage. "This is a ridiculous and humiliating initiative by someone who cannot see, right in front of him, the dozens of families and hundreds of families who have built their life's work here for 20 years," said a statement from the organizers' headquarters, according to Israeli news site Ynet.
Read more: Analysis: Between disengagement and Amona
J'lem mayor says will raze illegal Palestinian homes if Amona outpost demolished
Israeli ministers approve bill to legalize wildcat West Bank outpost