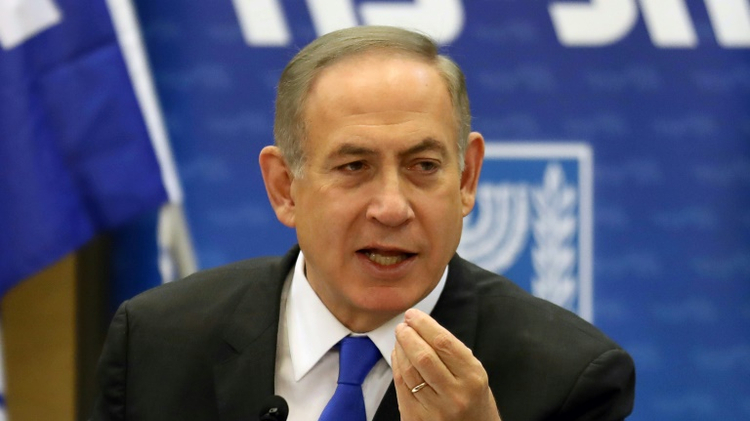 ☆
Opposition lawmaker says Netanyahu accepting gifts from 'sugar daddy' is graft
credits/photos : GALI TIBBON (AFP)
Israeli Prime Minister Benjamin Netanyahu speaks during a Likud faction meeting at the Knesset (Israel's Parliament) in Jerusalem on January 2, 2017
Media reports say details of undisclosed second case will cause public outrage, but are legally ambiguous
Israeli lawmaker Shelly Yachimovich of the opposition Zionist Union party on Saturday slammed Prime Minister Benjamin Netanyahu for accepting gifts from a "sugar daddy," amid reports that the premier had for several years received gifts of cigars worth tens of thousands of shekels annually from a wealthy film producer.
"The prime minister had a sugar daddy for expensive products; that is the definition of corruption," Israel Radio quotes Yachimovich as saying at a Tel Aviv event.
Netanyahu was questioned under caution by police for the second time in a week on Thursday night in what media outlets say is a corruption probe.
The leader's lawyer on Friday dismissed the possibility of criminal charges over accepting cigars from Hollywood producer Arnon Milchan, saying that "any reasonable person" understands that a "close friend" giving cigars as a gift was not a criminal offense.
But fellow lawmakers were not convinced.
"Getting a monthly allowance amounting to hundreds of thousands of shekels over the years from Arnon Milchan is not a gift among friends, it's a disturbing package deal," said left-wing Meretz Party MK Zehava Galon.
Zionist Union lawmaker Tzipi Livni said Saturday that Netanyahu must decide "whether he wants to be a prime minister or an oligarch."
The Prime Minister, Livni charged, is more concerned with what the public can give him rather than how he can serve the public and has "lost the moral right to be prime minister."
In addition to accusations that Netanyahu accepted illicit gifts, police are questioning the premier regarding a second case, the details of which have been kept tightly under wraps.
Media reports have said that the allegations pale in comparison to graft, with the Ha'aretz daily describing them as potentially "earth-shattering."
Sources close to the investigation told Israeli broadcasters on Friday that the allegations are likely to cause "a public storm" and "public anger", but are legally ambiguous and might not necessarily lead to an indictment.
Netanyahu's lawyer Yaakov Weinroth has said that the second case did not involve money, loans, or any kind of crime.
According to Israel's Channel 10, the case involved a "central" Israeli businessman who wanted Netanyahu to "take a certain decision" in return for an unspecified reward. It was not clear whether Netanyahu had taken the decision, according to the report.
Witnesses in the cases are to be questioned over the coming days, after which Attorney General Avichai Mandeblit would decide whether to approve a third interrogation of the Prime Minister, television reports said.
Netanyahu has denied any wrongdoing, saying repeatedly that "there will be nothing because there is nothing".