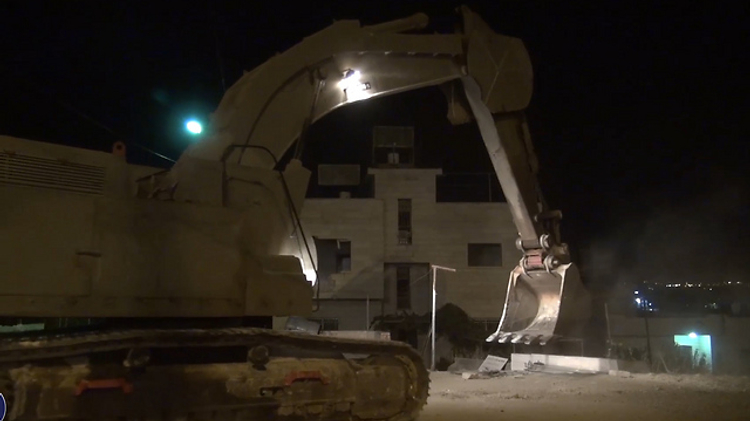 ☆
Arab Israeli leaders call for strike in response to home demolitions
credits/photos : IDF Spokesperson Unit
Israeli security forces demolish the homes of Palestinian terrorists responsible for the mass shooting attack at Tel Aviv's Sarona market complex, August 3, 2016
Joint List MK says government is creating an environment that forces Arab citizens to build without permits
Leaders of the Arab community in Israel called for workers across the country strike to strike Wednesday in response to the government demolishing 11 homes in the Arab town of Qalansuwa a day earlier.
In a statement, the Joint Arab List condemned the demolitions, saying that "the act of demolishing 11 houses, whose owners built on their private lands in Qalansuwa, is an unprecedented crime and a declaration of war against the residents of Qalansuwa and against the Arab community in Israel".
In the statement the party went on to warn that " Arab public will not stand idle by," as Israel continues its policy of demolishing Arab structures "and will defend the right to fair and safe housing."
Israel's finance ministry in a statement said that the structures had been built on agricultural land not zoned for buildings and that they had been constructed without permits.
Tuesday's demolitions come after Prime Minister Benjamin Netanyahu in December vowed to crack down on illegal building "in the Negev, Wadi Ara, in Galilee, in the center - throughout the country," areas which boast high Arab-Israeli populations.
The chair of the Joint List party, Ayman Odeh, claimed that the government was not treating its citizens equally, saying that "the prime minister talks about equal law enforcement on the one hand but on the other he legalizes Amona, a settlement built on stolen land and demolishes Arab houses built on residents' private land in an area that is going through planning regulation."
Joint List MK Dr Yousef Jabareen said that lack of action from the government is creating an environment that forces Arab citizens to build without permits.
 "House construction without a permit in Arab community is an inevitable outcome of numerous historical failures across the political arena, planning committees, and bureaucratic agencies in developing the Arab towns and villages in Israel," he claimed. "The state of Israel shies away from promoting proper urban planning solutions for Arab citizens; therefore it is illegal and immoral to implement enforcement and punishment against Arab citizens".
"The source of this issue lies in the institutional, planning, and legal barriers forcing the Arab citizens to build without a permit as a last resort to ensure a basic right of shelter," Jabareen continued, adding that  "It is inhuman and immoral to push the Arab citizens into choosing between two worst decisions: either remain homeless or build without a formal permit."