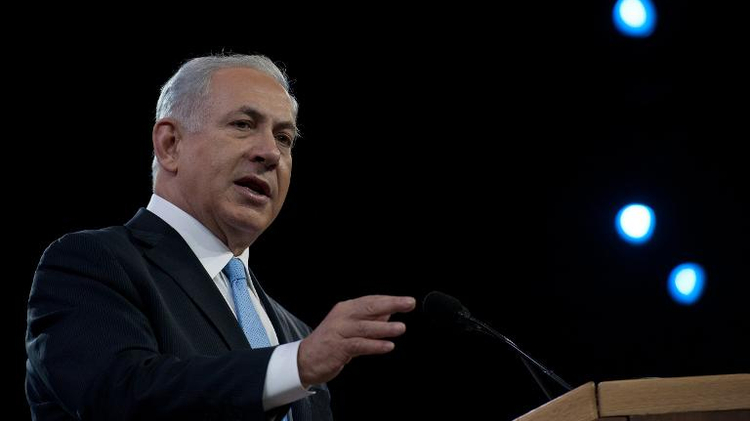 ☆
Public support for Netanyahu plummets dramatically
credits/photos : Nicholas Kamm (AFP)
Israeli Prime Minister Benjamin Netanyahu addresses the Israel Public Affairs Committee (AIPAC) policy conference in Washington on March 4, 2014
Israeli premier's popularity with the electorate sinks as Gaza warfare lingers, poll shows
As rockets fired from Gaza keep battering Israel, and the residents of its southern regions have fled en masse to other parts of the country, it seems that Prime Minister Benjamin Netanyahu's popularity with the electorate is plummeting.
According to a survey conducted on behalf of Israel's Channel 2, public support for the government steadily falls as the war persists.
A mere 38 percents of respondents said they are satisfied with Netanyahu's while 50 percent attested to their disapproval. The figure represents a significant drop (by 17 percent) compared to the results of a similar poll four days, which the rate of support for the premier stood at 55 percent.
A comparison to previous weeks reveals the larger trend: Netanyahu's enjoyed the support of a reported 82 percent on July 23, at the outset of Operation Protective Edge; on August 8 the figure stood at a 63 percent.
The pollsters also inquired whether the public believes the Netanyahu government has adequately addressed the plight of the residents of Gaza perimeter, the kibbutzim and towns in the vicinity of the Hamas-controlled enclave. Sixty eight percent of the respondents believe that was not the case, while 24 percent say the authorities have handled the tricky situation in a satisfactory fashion.
Israelis appeared to be the least happy with Netanyahu's decisions to let the school year commence as per usual on September 1: only 18 percent of the respondents thought it was the right course of action.