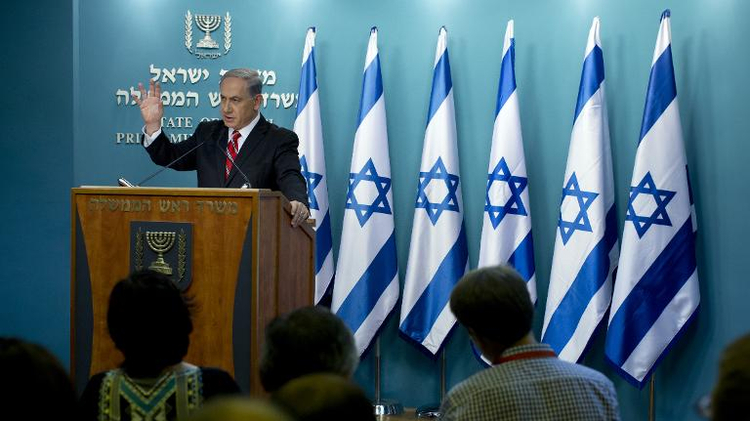 ☆
Poll: Gazans see victory, Israelis feel unsafe
credits/photos : Jim Hollander (POOL/AFP)
Benjamin Netanyahu
Netanyahu's approval rates drop; 60% of Israelis feel less secure now that Operation Protective Edge is over
Israeli prime Minister Benjamin Netanyahu's controversial ceasefire agreement with Hamas on Tuesday night came amid harsh political criticism of his decision from both the right and left sides of the political spectrum as well as a sharp drop in his popularity.
A Channel 2 TV poll, published Wednesday evening, indicated that 54% of Israelis were opposed to the ceasefire deal worked out under Egyptian auspices. 59% said they were dissatisfied with Netanyahu's performance.
According to the Shiluv Millward Brown poll, only 29% believed Israel defeated Hamas and 59% thought it did not.
Satisfaction with Netanyahu sharply fell to 32%, down from a staggering 82% on July 23.
Channel 10 poll found that 75% percent of the Israelis support the toppling of Hamas with the majority of respondents saying war would restart in under a year. 60% said they felt less secure after Protective Edge Operation.
54% of the participants in daily Haaretz-Dialog poll said there was no winner. About a quarter said Israel won and 16% said Hamas did.
50% of Israelis expressed satisfaction with Netanyahyu's conduct during the conflict, a significant drop from 77% on August 5.
However, 42% of Israelis still believed Netanyahu was the politician most suited to being prime minister.
Only 12% said head of opposition Isaac Herzog (Labor) is most suited for the post. 11% said either right-wing Yisrael Beiteinu leader and Foreign Minister Avigdor Lieberman or religious-nationalistic Jewish Home chairman Naftali Bennett should be the next prime minister and just 4% trusted moderate Yesh Atid's Yair Lapid to be the right politician to lead the country.
On the Palestinian side, 89% of Palestinians said they supported the continuation of rocket fire on Israel, Palestinian Center for Public Opinion's poll, conducted last week, found. Just 1.4% said that they were opposed to the attacks. 61% say they would not want United Nations forces in the Strip.
Palestinian Authority President Mahmoud Abbas was viewed favorably by more than half of the Gazan population, with 54% of respondents saying that they were "satisfied" with his performance during the war in Gaza.
Egypt was seen to be the country which "best backed the Palestinian Resistance against the recent Israeli aggression on Gaza." 32.5% named Egypt as the most supportive nation, with Qatar and Turkey named by just 23.5% and 25.3% of respondents respectively.
Criticism and support of Netanyahu's controversial ceasefire decision
Israel's political scene was in an uproar Wednesday after the decision to reach a ceasefire with Hamas was made by Netanyahu without consulting or informing the cabinet beforehand.
Foreign Minister Avigdor Lieberman said Wednesday in a post on its Facebook page that Israel should not negotiate an agreement with Hamas.
"As long as Hamas rules in Gaza we cannot guarantee security for the citizens of Israel and we cannot reach a diplomatic agreement. Hamas is not a partner. We cannot and should not trust heinous murderers. We object to the ceasefire which will allow Hamas to strengthen and wage another war against Israel whenever it is convenient to it."
Yuval Diskin, former director of Israel's internal security service Shin Bet, attacked the cabinet for not sharing with the Israeli public enough information regarding the operation in Gaza. He twitted: "fater 70 dead and 50 days of war the cabinet have not even discussed and approved the ceasefire agreement. The Israeli public has the right to hear a detailed explanation of the deal and it is the duty of the government to give it."
Member of Knesset of the Labor party Nachman Shai also criticized the Prime Minister's conduct: "Twenty hours have passed since the ceasefire took effect and the citizens of Israel have not received any official announcement regarding the ceasefire and the negotiations with Hamas. During the war the prime minister, defense minister and IDF Chief of Staff appeared many times in front of the public but yesterday - silence. The public expects, and rightfully so, to know what was decided, what was accomplished and especially, where are we going from here?"
Labor Party Leader and head of coalition Isaac Herzog said the decision-making process of Netanyahu during the war only strengthened Hamas. "Netanyahu achieved a ceasefire and this outcome is far frrom satisfactory. The real test will be the diplomatic agreement," he told Israeli Channel 2.
"Netanyahu entered the campaign with limited diplomatic credit and lost all of it during the way. When you enter into such a campaign with a strong military arm and a weak diplomatic arm, the results you get are not satisfactory," he added.
Herzog also addressed the feelings of southern Israel's residents, who were heavily bombarded during the war. "Their feeling is clear: there is a deep credibility crisis between the PM, the government and the citizens of Israel. The government did not take care of its citizens and wasted diplomatic opportunities," he stressed.
Netanyahu's people were quick to couch the deal as a resounding success.
During the seven-week war, Israel managed to inflict "a military and political defeat" on Hamas, which "did not get anything that it wanted" from the deal, his spokesperson Liran Dan told army radio.
Deputy Foreign Minister Tzahi HaNegbi, a close ally of Netanyahu, took a similar line. "Hamas, whose main objective was to force us to lift the blockade on Gaza, failed and all its demands were rejected," he told public radio. HaNegbi also said the Israeli premier would not hand Hamas any political victory.
Housing Minister Uri Ariel of the far-right Jewish Home party urged Netanyahu to convene a cabinet session for a postmortem of the ceasefire agreement and how to handle the likely "resumption of clashes." "There will be no port, no airport and no entry of materials that could be used to produce rockets or build tunnels," he told public radio. "That will be our position which we will present at the negotiations in Cairo."
Another staunch critic of Netanyahu's handling of the war, Economy Minister Naftali Bennett, appeared to soften his previous criticism. "Hamas brought on itself unprecedented death and destruction," he wrote on Facebook. "What was not accomplished today will be accomplished next time. This is a time to raise our heads and be proud of what we are."