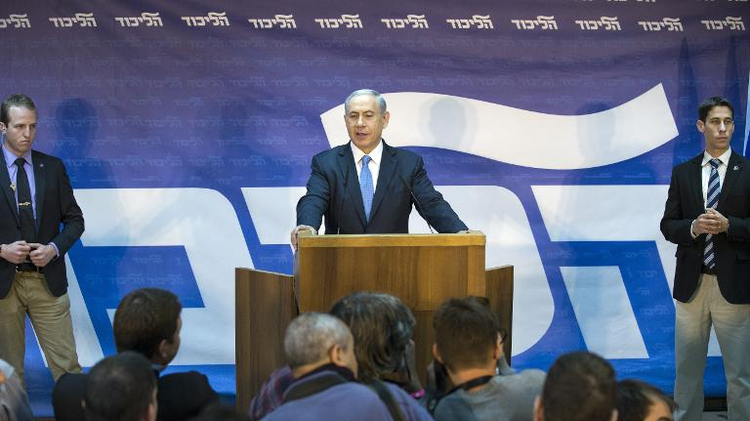 ☆
New poll sees Netanyahu, Herzog neck-to-neck in upcoming elections
credits/photos : Jack Guez (AFP)
Le Premier ministre israélien Benjamin Netanyahu, après avoir gagné l'investiture du parti du Likoud, le 1er janvier 2015
However, Netanyahu may have a significantly easier time constructing a coalition, which may secure his victory
The right-wing and ultra-Orthodox bloc in the Israeli Knesset, led by Prime Minister Benjamin Netanyahu's Likud party, could win as many as 69 seats in the next elections if Moshe Kahlon's new center-right party Kulanu joins the coalition, according to a new poll published Friday by Israel Radio.
The current coalition, which included centrist parties Yesh Atid and HaTnua, led by Yair Lapid and Tzipi Livni, respectively, had 68 seats, and did not include the ultra-Orthodox parties. However, as the next elections were brought on by a falling out between Netanyahu and the centrist parties' leaders, a different assembly of the next coalition – if given to Netanyahu – seems likely.
However, the joint list of Labor-HaTnua, led by Livni and current leader of the opposition, Isaac Herzog, is set to become the largest party in the parliament, according to the poll, with 24 seats, while the Likud would receive 23 seats.
Forty-three percent of the respondents to the poll would prefer to see Netanyahu win a fourth, and third subsequent, term as prime minister, while Herzog is ranked closely behind with forty-one percent preferring to see him taking the reins of the government.
According to the polls, right-wing party Habayit Hayehudi is ranked the third largest with 16 seats, while Kulanu and Yesh Atid both receive 9 seats – for the latter, a dramatic, if expected, drop from its current 19 seats. Kulanu, running on a somewhat similar social justice platform, is expected to draw a significant amount of Yesh Atid's disappointed voters.
Ultra-Orthodox party Shas, despite the splintering of its' former chairman Eli Yishai to lead the new party Ha'am Itanu, is still expected to win 7 seats, while Ha'am Itanu would not pass the electoral threshold, although it is close to entering the parliament with the minimum required 3.25 percent of the vote, which would grant it 4 seats.
Furthermore, the survey shows that the left-wing Meretz party would win 7 seats, mildly increasing its strength from the current 6. The Arab parties, Ra'am-Taal partnered with Balad would get 5 and Jewish-Arab party Hadash would receive 6 seats. The three major Arab parties are reportedly still negotiating a joint run, which, according to polls, may dramatically increase the traditionally low voting percentage in the Israeli Arab sector.