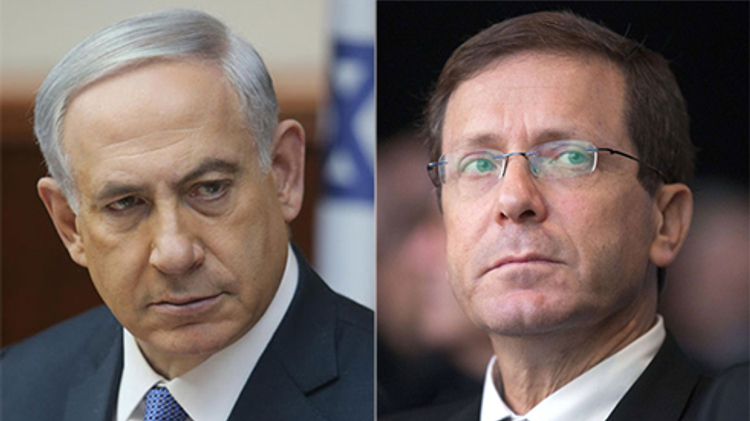 ☆
Israeli election poll: Netanyahu sees slight boost after Congress speech
credits/photos : Alex Kolomoisky/AFP
Netanyahu and Herzog
Herzog's center-left Zionist Union bloc still leads with 24 seats over Likud's 23 seats
Although Israeli Prime Minister Benjamin Netanyahu saw a slight boost over a previous poll following his speech to US Congress, Israel's leading opposition party, the center-left Zionist Union bloc, is still predicted to win the upcoming election, according to a new public opinion poll released by Israel's Channel 2 News Wednesday evening.
Zionist Union head Isaac Herzog would win 24 seats if elections were held today, while the ruling Likud party, led by Netanyahu, would win 23 seats – one seat more than in the previous poll.
The poll results revealed that the slight bump in Netanyahu's popularity might be attributed to his live address to the US Congress Tuesday evening. However, 43 percent of respondents said that they watched the address and it did not influence their perception of the premier.
The United Arab List was predicted to win 13 seats, making it the third largest party in the Knesset. In the case of a unity government being formed between the Likud and Zionist Union -  a prospect both parties have denied considering but one which some analysts said could result from a deadlocked election - Ayman Odeh, the leader of the United Arab List, would become the first Arab opposition leader in the history of the State of Israel.
Right-wing party Habayit Hayehudi, led by Naftali Bennett, polled at 12 seats, tied with Yair Lapid's centrist Yesh Atid. Another centrist party with a social platform, Kulanu, led by former Likud minister Moshe Kahlon, polled at eight seats. Foreign Minister Avigdor Lieberman's right-wing Israel Beiteinu party, left-wing Meretz and ultra-Orthodox parties, Shas and United Torah Judaism, all polled at six seats each. Yachad, led by former minister Eli Yishai, which broke away from Shas after a bitter conflict between Yishai and the leader of Shas, Aryeh Deri, was standing on the electoral threshold, polling at four Knesset seats.
Interestingly, 15 percent of voters said they were still unsure who they were going to vote for.
Related: Netanyahu to Obama: I presented practical alternative to bad Iran deal