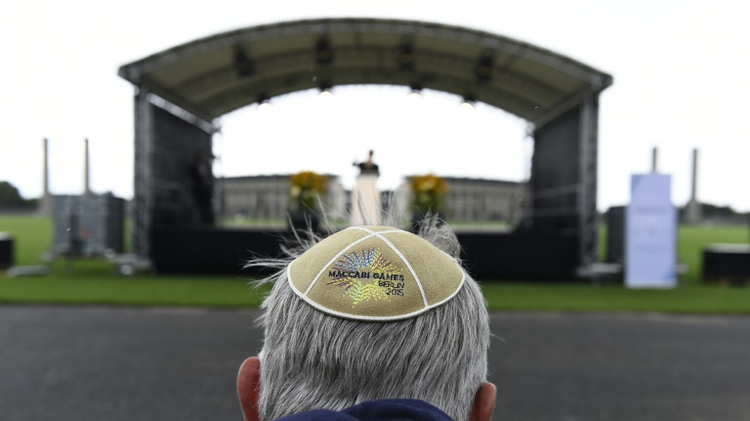 ☆
Holocaust survivors more likely to develop schizophrenia, study shows
credits/photos : Tobias Schwarz (AFP)
A man wears a Kippa at the so-called "Maifeld" near the Olympic Stadium of Berlin, during a Memorial ceremony for the victims of the Holocaust before the official opening ceremony of the 14th European Maccabi Games in Berlin, on July 28, 2015
Israeli researchers find that those born into the reality of Holocaust 41% more likely to develop condition
Survivors of the Holocaust are more likely to develop schizophrenia than people who never experienced such a trauma, Israeli researchers have found, according to Israeli daily Haaretz. 
A new study carried out by researchers at the University of Haifa has found that those who were born into the reality of the Holocaust were 41 percent more likely to develop schizophrenia than Israelis of European origin who did not experience the Holocaust.
Holocaust survivors who immigrated to Israel were diagnosed with schizophrenia at a rate of 27 percent higher than European immigrants who had arrived before the Holocaust, the study shows. 
Prof. Stephen Z. Levine of the University of Haifa's Department of Community Mental Health conducted the study with Prof. Itzhak Levav, a department colleague, and Dr. Yair Goldberg of the statistics department.
Levine explains, according to Haaretz, that the exposure to the various traumas for long periods raised the risk of developing schizophrenia.
"In the professional literature there is a dispute regarding the influence of exposure to the Holocaust," says Levine, Haaretz reported. "There are those who argue that Holocaust survivors who survived are stronger, healthier people and we could thus anticipate that they would be at lower risk for developing schizophrenia. On the other hand, there are those who argue that following prolonged exposure to extreme trauma, Holocaust survivors are at greater risk for developing schizophrenia, and this study backs that argument."
The study was based on the records of around 114,000 Israelis who were born in 22 European countries from 1928-1945.
Titled "Exposure to genocide and the risk of schizophrenia," the study was published in the journal Psychological Medicine. 
Various studies have shown the long-lasting effect the Holocaust has had on those who survived it. 
In the clearest demonstration yet that a person's life experience can affect their children, a research team at New York's Mount Sinai hospital led by Rachel Yehuda discovered last year that the effects of trauma can be transmitted through what is called "epigenetic inheritance." The notion stipulates that environmental influences such as diet, stress and smoking alter the genes of one's children and even grandchildren.
Yehuda's genetic study looked at 32 Jewish men and women who had been imprisoned in a Nazi concentration camps, experienced torture, witnessed it, or had had to hide during the Holocaust.
"The gene changes in the children could only be attributed to Holocaust exposure in the parents," Yehuda said, noting that the survivors' children, who are more likely to develop stress disorders when compared to Jewish families living outside of Europe during WWII, were also analyzed genetically.
Read More:
Trauma of Holocaust survivors passed on to children's genes, study finds
Children of Holocaust survivors more anxious about Iranian threat, study shows