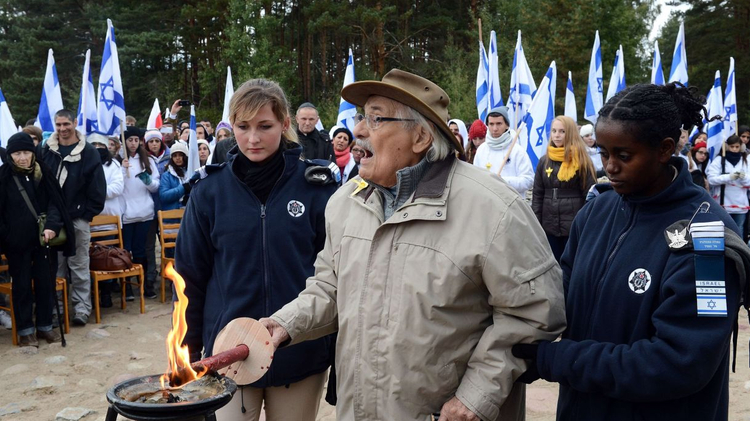 ☆
Last surviving Treblinka-revolt escapee, Samuel Willenberg, dies at age 93
credits/photos : AFP
Two Israeli soldiers help Samuel Willenberg, the only living survivor of an August 1943 prisoner rebellion at Treblinka, to light a candle in a memorial ceremony at the camp on October 2, 2013.
After escaping Treblinka during the 1943 revolt, Willenberg took part in the 1944 Warsaw Uprising.
Samuel Willenberg, the last remaining survivor of the heroic 1943 revolt at the Treblinka death camp, died on Friday at the age of 93.
Willenberg, was born in Częstochowa, Poland in 1943. His mother Maniefa, worked as a nurse and converted to Judaisim from Chrisitanity after marrying Willenberg's father, Perec, an artist and teacher.
Willenberg was 19 when he was taken Treblinka, where over 800,000 Polish and Greek Jews and around 2,000 Romani people were exterminated.
His sisters, Ita and Tamara, were also arrested and sent to death at Treblinka, while his parents managed to survive by posing as non-Jewish Poles.
Willenberg was an active and leading member of the Treblinka underground.
In 1943, he participated in the famous Treblinka revolt, during which some 200 people stormed the camp's fences while exchanging fire with Nazi SS guards and setting fire to parts of the camp.
"There was a lot of confusion. Everything was on fire, and the bullets whizzed in our ears. Every second someone else fell, I jumped over bodies. In the meantime, everyone had run towards the fence, with many falling after being gunned down," he told the Israel Hayom daily newspaper two years ago.
After escaping Treblinka, Willenberg settled in Warsaw, Poland, where he took part in the 1944 Warsaw Uprising.
His memoir, "Revolt in Treblinka" was published in Hebrew in 1986 and translated to English in 1989.
Willenberg moved to Israel in 1950 where he worked as chief measurer for Israel's housing ministry, Ha'aretz reports.
Upon his retirement, Willenberg worked as a sculptor, with much of his art focussing on the Holocaust.
Willenberg is survived by his wife, Ada, and their daughter, Orit Willenberg-Giladi, a prominent Israeli architect who in 2013 was commissioned to design an educational center at the Treblinka camp.
Willenberg's funeral is set to take place on Monday at 3:00 p.m. at the Moshav Udim cemetary in central Israel.
(Staff with agencies)