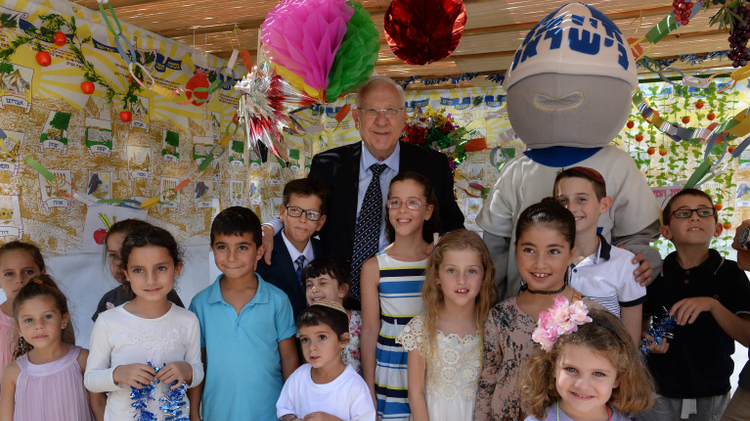 ☆
Israel's Rivlin to host 'open sukkah' for public as country prepares for holiday
credits/photos : Mark Neiman/GPO
Israel's President Reuven Rivlin decorates the traditional sukkah at the President's Residence with the help of chidlren of his staff October 13, 2016
Jews worldwide prepare for upcoming holiday, celebrating sheltering of Israelites in the desert wilderness
Israel's President Reuven Rivlin on Thursday extended holiday greetings for Sukkoth to the Israeli people and invited the general public to join him at the traditional Open Sukkah at the President's Residence.
"I want to wish all the people of Israel a happy and joyous Sukkoth, which we are able to celebrate thanks to the dedication and hard work of the security services who deserve our praise," a statement by the President's office read.
During the holiday which lasts for seven days in Israel, and eight days elsewhere, Jews celebrate by eating outdoors in a sukkah, or booth, constructed specifically for the holiday which is often decorated.
Sukkahs are traditionally constructed from wood, branches, canvas and other natural materials.
According to Jewish tradition four special biblical plants are to be gathered and shaken within the sukkah while reciting a prayer.
The four species are an etrog (fruit of the citron tree), lulav (palm frond), hadas (leaves from the myrtle tree), and aravah (leaves from the willow tree).
"Come and be welcomed in the Sukkah, which is the Sukkah in your house," Rivlin said.
"The President's Residence is the home of all citizens of Israel. From here, go to the Western Wall – not out of a need to explain to anyone the connection between us and the Western Wall, but because there is no greater elation than to be at the Western Wall in Israel."
Rivlin extended the invitation as he was joined at his residence by children of President's Office staff members to decorate the President's Sukkah in preparation for the upcoming festival.
Rivlin also took the opportunity to comment on Thursday's UNESCO vote, questioning the historic connection of the Jewish people to the Western Wall and the Temple Mount.
"There is no festival more connected to Jerusalem than Sukkoth," Rivlin said.
"The festivals of Israel all highlight the inextricable bond between our people and our land, and no forum or body in the world can come and deny the connection between the Jewish people, the Land of Israel and Jerusalem – and any such body that does so simply embarrasses itself."
"We can understand criticism, but you cannot change history," he added.
The Sukkah at the President's Residence will be held opened for the general public on Wednesday 19 October between 7:00GMT -13:00GMT, in partnership with the Economy Ministry and The Manufacturers Association of Israel's 'Blue and White' initiative.
It will also include exhibits and performances for all ages about goods manufactured in Israel.
A day earlier on Tuesday 18 October, the President will continue a tradition he began three years ago and take the President's Sukkah on the road.
This year, he will visit the city of Akko where he will meet local leaders and residents.