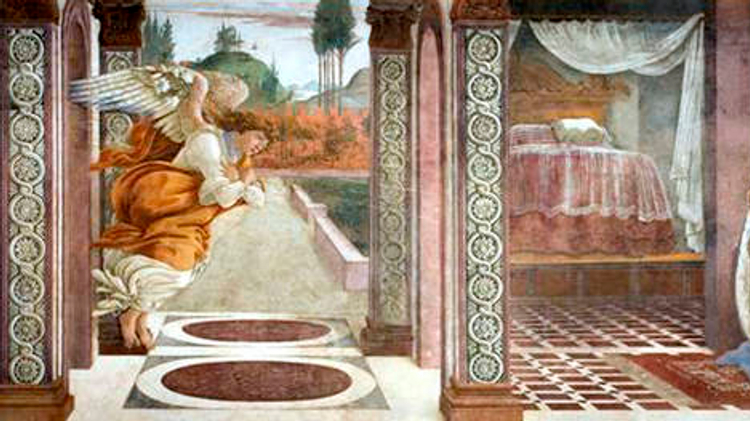 ☆
Botticelli painting pilgrimage ends in Jerusalem
"The Annunciation of San Martino alla Scala," Botticelli
"The Annunciation of San Martino alla Scala" almost didn't make it amid fears of war with Syria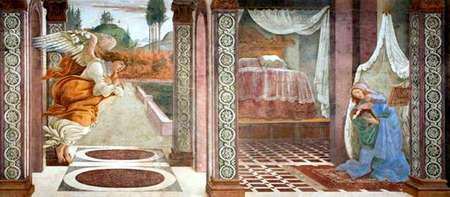 The Botticelli masterpiece "The Annunciation of San Martino alla Scala" will be displayed at the Museum of Israel in Jerusalem starting Tuesday. This is the first time the work will be exhibited in Israel.
"This is a gift that we are giving Israel - with the staunch support of the Italian embassy in Tel Aviv - for the 65th anniversary of its birth. It is a gift for the Jewish New Year, which recently started, and especially Sukkot (the Feast of Tabernacles)," which begins tomorrow, noted Simonetta Della Seta, director general of the Italian-Israeli Foundation for Culture and Arts, which is launching its activities in Israel with the exhibition of the Botticelli fresco.
The huge six meters by three art piece will be displayed for the public in Jerusalem for four months until January 10 2014, in order to give "the most Israelis possible the chance to see it," added Della Seta.
This is the first time that such an important Renaissance work has been shown here," said Della Seta, "it has all the elements of Renaissance aesthetics, from prospective to draping, as well as because the history of the masterpiece actually happened in these lands. This is an important connection."
The painting's pilgrimage to Jerusalem was filled with obstacles due to the tension in the area. It was supposed to arrive in Israel for the Jewish New Year holiday earlier this month, but the Italian authorities cancelled the delivery amid fears of an American strike in Syria and an outbreak of an all-out regional war.