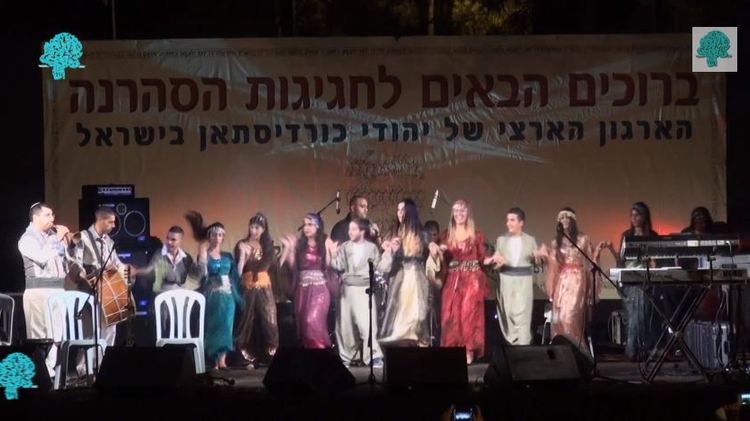 ☆
Jewish Kurds from Iraq, Syria attend Jerusalem festival
credits/photos : Hemi Itz/ Taken from Youtube
Kurdish Jews celebrate the annual Seharane festival in Jewusalem
Israel's Jewish Kurds have helped foster connections with Kurdish communites across the Middle East
Kurds from Iraq, Iran and Turkey arrived in Israel last week to take part in Seharane, the annual Kurdish Jewish festival.
The festival gathered a crowd of over 13,000 people drawing on a population of more than 150,000 Jewish Kurds living in Israel, the leader of the Kurdish community in Israel, Yehuda Ben Yosef, told the Times of Israel.
The Seharane festival was originally celebrated by Jewish Kurds as a celebration of spring, often coinciding with Passover. However, in an effort to differentiate themselves from the popular Morrocan Mimouna holiday, celebrated at the end of Passover, Ben Yosef moved the celebration to the fall, closer to the Jewish holiday of Sukkot.
The celebration has drawn an increasing number of Muslim Kurds from across the Mideast, who make their way to Israel to visit their former neighbors.
The Jewish community in Kurdistan has its roots in the original 10 lost tribes of Israel who were exiled following the Assyrian conquest. Most Kurdish Jews have arrived in Israel after the formation of the state, via Operations Ezra and Nehemiah in the early 1950's. Many fled their communities in predominantly Muslim countries such as Syria, .
The Kurdish community in Israel has taken an interest in connecting with their brothers both in Muslim countries and the Kurdish diaspora in Europe. The recently founded Kurdistan Israel Friendship Association (KIFA) has opened chapters in several European and Middle Eastern countries, including Syria, Iraq and Iran. They hope to foster a relationship between Israel and the separate regions of Kurdistan spread across the Middle East.
KIFA has started projects with a number of Israeli NGOs, with the ultimate goal of opening a school for Jewish Kurds in Israel and creating diplomatic ties between Israel and the emerging Kurdish autonomous state within Iraq.
Mordechai Yona, one of festivals organizers and leading expert on the community of Kurdish Jews, spoke with the Times of Israel, detailing his relationship with Kurds across the Middle East. Yona visited Iraqi Kurdistan in 2000, and receives several Kurdish visitors in Israel. He emphasized that the lasting connection between the Kurdish communities is the seed of a political relationship between Kurds and Israel. "We will be the first to recognize an independent Kuridstan," Yona told the Times of Israel.