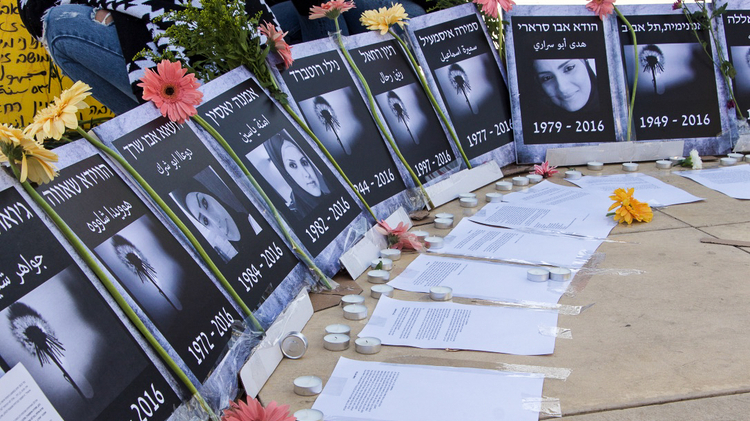 ☆
Tel Aviv marks international day to end violence against women
credits/photos : Jessi Satin/ i24news
A memorial for women murdered in Israel in 2016 is set up in Tel Aviv's HaBima Square on November 25, 2016 to mark international 'Eliminate Violence Against Women Day."
20 women were murdered in 2016 and many more have suffered physical and emotional abuse or sexual assault
Hoda Abu Sarari. Ilana Cohen. Samira Ismail. These are just a few of the 20 women murdered in 2016 whose names were read aloud in Tel Aviv's Habima Square Friday as the world marks international "Eliminate Violence Against Women Day."
In addition to those killed, many more have suffered physical and emotional abuse or sexual assault.
As the country remains ablaze it didn't stop women's rights supporters from coming out in force, to remember their fallen sisters, and to raise their voices in effort to make the list of names grow shorter every year.
"I'm glad that women from all sectors of society are here and are going to speak," Arab-Israeli activist Jana tells the crowd. "Violence against women is present in all races and social statuses, and is not only exclusive to one group, or one time in history. It has been happening since the beginning of time."
Many sections of Israeli society were represented at the rally--Arab, Jewish, Ethiopian, Russian, Transgender, Russian, women and men.
"Many of our sisters have fallen victim to male brutality," she said. "Thanks to you now there is more awareness for this issue. We still have a lot of work to do on this issue but we are still in the beginning of the road and we hope to encourage solidarity among ourselves."
Some members of the crowd were visibly moved, some wiping away tears while others stood with heads bowed, or embracing each other. At one point all present linked arms and made a large circle encapsulating the speakers.
"We will move forward and this awful phenomenon will shrink," Jana continues. "We meet here in memory of our beloved sisters. Each one has a name and each has a story. Each has friends and family who will never forget them."
On international day for elimination of violence against women, an activist reads the names of women murdered in Israel in 2016. pic.twitter.com/RBWj999syF

— Jessi Satin (@JessSatin) November 25, 2016
"May their memory be cherished," she adds. "My sisters we will work together so this list shrinks every year."
Another speaker, Shlomit, called on law enforcement and the government to take women more seriously when they report abuse or violent incidents.
"There is high chance that one of the women in this crowd has been a victim of violence," Shlomit says." We know that when these incidents of abuse reach their tipping point there is usually a pre-incident- there is a history of violence in this relationship. Women raise their voices calling for help but they are not addressed or taken seriously."
"The police fail by not addressing the early stages of the problem- the threats," she told the crowd. "It leaves these women exposed to the danger of being killed."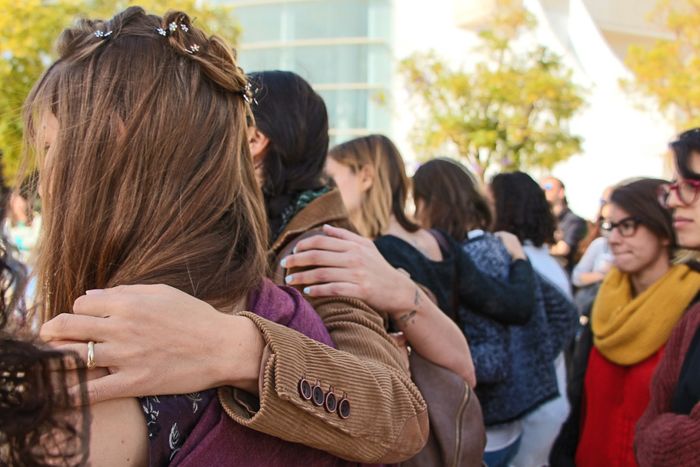 Shlomit went on to encourage everyone to look past the qualities of race or religion or social status and to begin treating it as an epidemic against women as a whole.
"It is a very easy tactic to portray certain communities as violent ones," says Shlomit. "It's about time that we start demanding that we women are recognized as equal because we are all suffering from the same problem, from the same violent men who take the law into their own hands."
A solution to the problem, she tells the crowd, is "teaching men from a young age how to be tolerant. If we don't teach them to be tolerant from a young age, then in ten or twenty years we will still be here counting the women killed."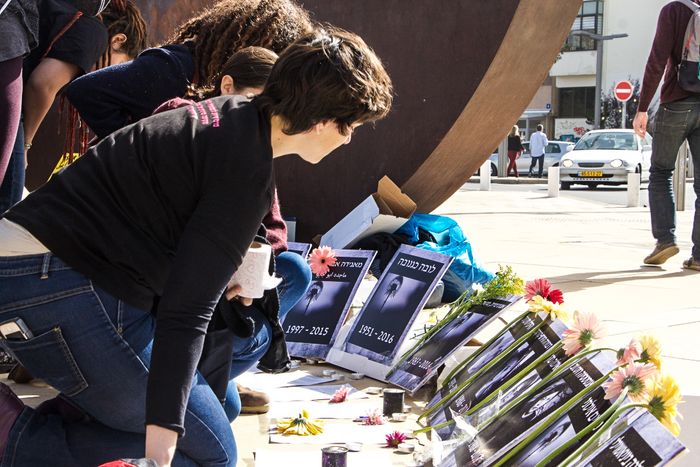 Next to the speakers a memorial is set up in tribute to each of the 20 women killed this year. Each has either her photograph, or an image of a wildflower propped up, adorned with vibrant carnations and daisies. In front of each is placed a poem or written tribute, and memorial candles to be lit by visitors.
"We want people to know the stories, to make people speak more about the subject," activist Elena Romanovsky tells i24news. "Many many women suffer from different kinds of abuse- at home, at work, in different places and most of us don't speak about it."
"I really believe that in the minute that we start speaking about it and acknowledge that it is not only a problem of one of us or two of us, that it is a gender problem and a gender situation and tell many women and girls that they are not alone in this situation, we will move forward," Romanovsky continues. "There are other women who understand them and they have nothing to be ashamed of."
i24news has reached out to the Israeli police for a statement.
Jessi Satin is an i24news reporter and photographer