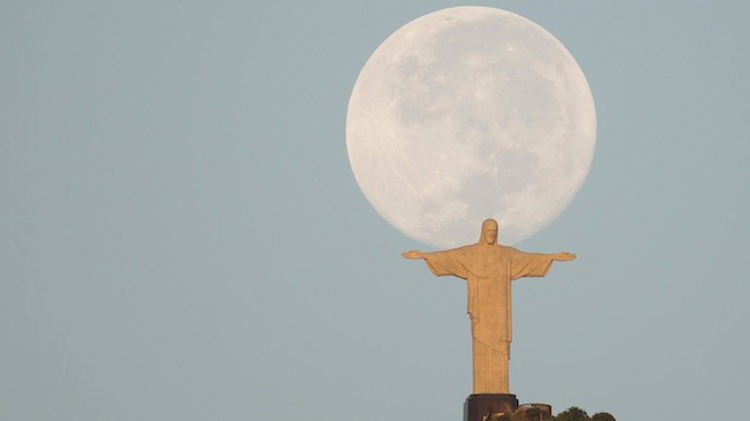 ☆
Jesus statue to tower over Nazareth, God willing
credits/photos :
Christ the Redeemer statue in Rio de Janeiro
Retiree envisions huge monument as 'symbol of love, peace,' aims to found Christian-Arab political party
Israel may get its own larger-than-life statue of Jesus Christ, similar to Rio de Janiero's Christ the Redeemer monument, should the ambitious plan of a Christian Arab from Nazareth materialize.
Bishara Shlayan, a retired captain in the Israeli merchant navy, told the Jerusalem Post he designated Mount Precipice, in the vicinity of his hometown, as the monument's prospective location. In the New Testament, Nazareth is said to be the childhood home of Jesus.
Shlayan has already begun raising funds for the project, which has been warmly received by the Israeli-Arab Christian community, as well as some Jews.
Though the monolith would bear a striking resemblance to the grandiose Brazilian statue, Shlayan says he is aiming it to be even larger.
In addition to his statuesque endeavors, Shlayan aims to found a Christian-Arab political party. While the party is still in the process of being formed, Shlayan has settled on the name "Bnei Habrit [Allies of the Covenant], the Christian party of Israel." The party's platform would support the state of Israel as a Jewish state, while promoting national or army service for Arabs.
"I created the Bnei Habrit party and now I have created the Diglei Habrit [Flags of the Covenant] organization," in order to carry out the statue project, he said.
Legend has it that Mount Precipice, also known as Mount Kedumim, is the location of the biblical tale in which the people of Nazareth tried to push Jesus off the mountain after rejecting him as their messiah. According to Christian tradition, Jesus was able to jump off the mountain and disappeared.
When Shlayan was in Jerusalem a month ago, he had a chance encounter with Israel's Tourism Minister Uzi Landau and pitched him the idea of the statue. Landau gave his approval, saying "Start it, and we will bless it."
Shlayan will seek government support for the project, adding that churches are awaiting initial confirmation before beginning to support the plan.
The Jewish National Fund currently owns the land where Shlayan plans to build the statue.
When asked if there were people opposing the plan, Shlayan said, "People who are against it, it comes from jealousy."
Shlayan added that there are some Muslims and Jews opposed to the plan on religious grounds. There is opposition to the plan floating through the streets of Nazareth from the Muslim community, with some saying they would prefer a statue of the new Muslim mayor, Ali Salam.
In both Judaism and Islam, statues represent a form of idolatry, which is strictly forbidden. "I don't believe in statues, but it is a symbol of love and peace," Shlayan said.