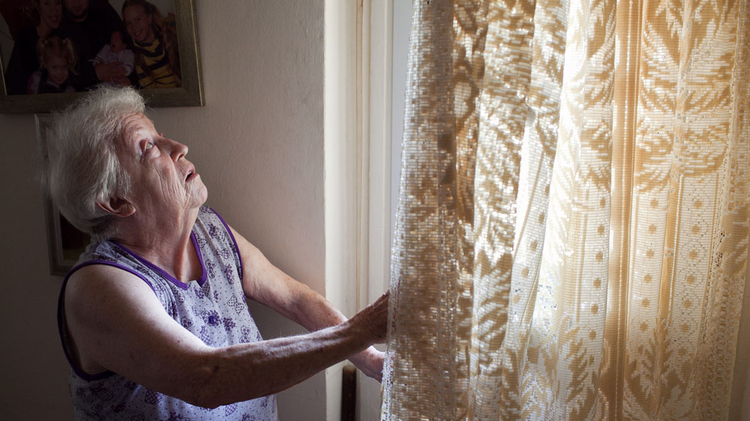 ☆
The Holocaust survivors with bicycle helmets
credits/photos : Amcha
Holocaust survivor looks out window of her home in Ashkelon after rocket fell nearby
They are having to cope with past traumas and new rockets - but with one important difference
After about the 100th rocket was fired on the seaside town of Ashkelon, the social worker of "Amcha," an Israeli support center for Holocaust survivors, decided to visit one the couples of Holocaust survivors he knows well. Yet even the experienced worker was not prepared for the scene when he opened the door of their modest apartment. After all, just a few days earlier and dozens of rockets less, the elderly couple insisted they were doing just fine and needed no help. As he opened the door, the social worker noticed the couple sitting frozen on the couch, wearing bicycle helmets. Bicycle helmets as anti-missile protection. That's the lesson they derived from surviving the Holocaust as children: you're on your own, do something. So they bought helmets.
It's hard to be an Israeli in a rocket-stricken country, it's certainly harder to be old and physically challenged in those circumstances. Old often means lonely, old also makes running to find a shelter within 15 to 30 seconds almost impossible, and dropping to the ground with your hands covering your head if a siren goes off when you're out on the street – utterly improbable. The hardship becomes overwhelming for those with the traumas, scars and fears embedded into their body and psyche by growing up during the Holocaust. Over 2,000 rockets fired on Israel over the last three weeks, 200 of them at Ashkelon, trigger post trauma stress disorder.
The 400 survivors living in Ashkelon, a city among whose first residents were Holocaust survivors, often see the Amcha social club as their first home. Now they need it more than ever. Since the pretty but old building where they meet regularly has no shelter, they are now forced to move from location to location, often under sirens and rockets. But they do. The need for comradery is much stronger than their fear. Fear, is not really a factor. "We are amazed by their strength," says Marlen Maor, a psychologist and director of Amcha Ashkelon. "They share this amazing strength with others. A lone soldier from Ashkelon, Jordan Ben- Simon, was killed in this war. His parents arrived from France and sat shiva (the traditional Jewish seven-day mourning period) in a local hotel. A group of survivors went to pay their condolences. They know a lot about loneliness."
They know a lot about other issues as well. Some say the new wave of anti-Semitism in Europe scares them more than Hamas. Against Hamas they feel protected; they were not protected against the results of anti–Semitism. This experience also taught them not to rely on help from the international community."I saw the world in World War II," says Helena Reis, a survivor from Romania. "Don't trust them now."
For Holocaust survivors, this war is the same, yet slightly different. One survivor summed it up in a simple sentence: "During the Holocaust I was haunted; today I have a country an army and grandchildren to protect me."
The motif of grandchildren and an army to protect often comes up in a lengthy conversation with a group of survivors at the Amcha center in Tel Aviv. An early morning discussion at the cheerful house in the heart of the city sounds like a security cabinet session. Well informed, opinionated, the survivors offer strategic analysis. Most were children of the Holocaust and built a life in Israel. Quite often, that new life brought new traumas. Hanoch Lerer who came to Israel as an orphan in 1948 prefers to talk about the three wars he fought here rather than about that war he spent partly hidden in a pit in Poland and partly as an orphaned child in Russia. Badly wounded in the 1973 Arab-Israeli war, he says rockets cannot scare him; it's the fallen soldiers that make him feel as if organs of his body "are being removed one by one."
Yehudit Moskowitz spent four years in concentration camps in Ukraine as a young child. Her main concern now is her daughter, traumatized by the 1973 Yom Kippur war in which she served as a soldier. "I am now her anti- anxiety pill," says the vibrant woman. "When they talk about the tunnels dug by Hamas, leading from Gaza to Israel, they say 'we could be wiped out in 24 hours. It's just like Hitler.'"
But now they have a state and Amcha, and it makes a world of difference. "The most important thing for them is just to feel and know that there is somebody watching out for them now," says Yuval Dotan , a clinical social worker at Amcha Tel Aviv. "The strongest experience of Holocaust survivors is that there was no one there for them, no one to see what was happening to them. We are here to fill that void now."
Another interesting aspect is not only how survivors are seen and noticed, but also how they see the other. Some admit that after what they experienced, they have no empathy for the other side. But Tzipora Feller, an Auschwitz survivor, says she does feel for the innocent inhabitants of Gaza. "It's hard for me to watch their demolished houses and their funerals," she says.
"Most people have difficulty sympathizing with two sides; they feel the need to choose," says Tali Rasner, Director of Amcha Tel-Aviv. "But just a week ago, a 90-year-old survivor came to talk to me about the images of children in Gaza escaping under fire and smoke. It reminded her of her own childhood. People differ in their reactions, but the survivors have one common denominator – incredible strength."
Lily Galili is a feature writer, analyst of Israeli society and expert on immigration from the former Soviet Union. She is the co-author of "The Million that Changed the Middle East."