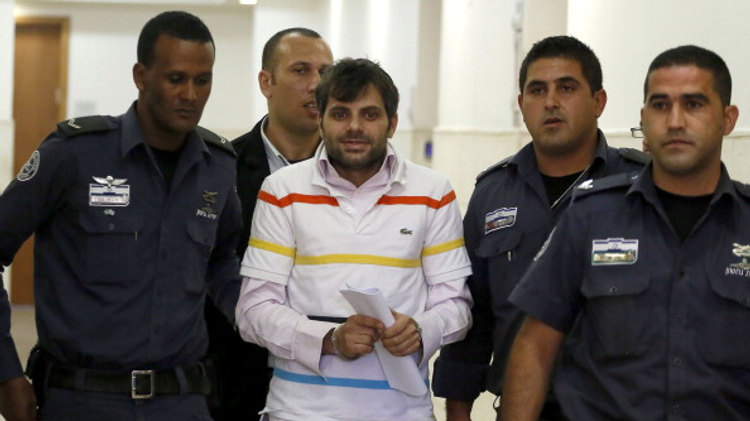 ☆
Abu-Khdeir's killer recounts revenge-driven murder
credits/photos : GALI TIBBON/AFP/Getty Images
Yossef Haim Ben David, the man accused of killing Palestinian youth Muhammad Abu-Khdeir being led to a court hearing
Police releases chilling testimony suggesting killing of Palestinian youth was premeditated
"We said 'they took three of ours, lets take one of theirs' and we decided to pick someone up, kidnap him, beat him within an inch of his life and discard of him," said Yosef Haim Ben David, the man authorities accuse of being the driving force behind the July 2 murder of 16-year-old Mohammed Abu Khdeir. "I took three empty bottles from home, we found two more and we drove to the Hizmeh gas station. There, I filled five bottles with fuel, because we were furious and determined to burn something that belongs to Arabs.... At fist we thought to burn some Arab-owned store, but later discussed it and decided to raise the bar."
Ben-David, a 29-year-old resident of the West Bank settlement of Adam, was indicted for murder along with two accomplices, both minors. His lawyers want him declared him temporarily insane and according to the indictment, he has a history of mental illness and is presently on medication.
Ben David told police that watching the funerals of three Israeli teenagers kidnapped and murdered in early June on television had sparked the decision. "I was furious at them while the entire country was silently praying," he said.
"We began talking about what happened, about the kidnapped youths, and decided that they needed to be avenged," said Ben David, but added that the three's intent was originally only to cause injury or damage to property, and not to kill and that the murder only came about after they snatched Abu Khdeir and he began to struggle.
He said that after they forcefully pulled him into their car and began driving towards a forest in the outskirts of Jerusalem, "the youth began to thrash around, shouted Alla Akbar (God is Great), swore and cursed.... I told M (one of the minors) to press hard and finish him, to make sure he doesn't get up, because those guys have seven lives. The guy started gurgling, eventually he stopped fighting."
"We stopped, I turned off all the lights, I was shaking -- afraid he would rise up on me. I said: 'where is the crowbar, where is the crowbar' and beat the boy over the head with it..."
Ben David recounted that while he was beating Abu Khdeir, he repeatedly shouted that the beatings were revenge for Israeli terror victims. he then told how he instructed one of his co-assailants to bring the fuel from the trunk of the car and together they poured it over Abu Khdeir's entire body. "I took out a lighter and set the guy on fire…and everything was alight," he said.
While the recounting suggests the three didn't set out to kill, additional testimony revealed by the police from a separate interrogation indicates the opposite.
"We planned to hurt a soul, meaning to kill... to torture him and kill him," he admitted according to a police statement. When asked what he meant by torture, Ben David responded: "for the victim to know that he was about to die as a sacrifice for the Jews that were murdered."
At the end of his testimony, Ben David expressed regret for his actions, but not before further repeating again the names of the Jewish victims he sought revenge for. "I am sorry for and regret what I did to the youth Abu Khdeir... I apologize to the youth's family and I hope that god forgives me."
Court approves demolition of murdered youths killers' homes
Meanwhile on Monday, Israel's High Court of Justice rejected a series of petitions calling on the army to forego the demolition of the homes of Amer Abu Aisheh, Marwan Qawasmeh and Hussam Qawasmeh, the alleged killers of the three Jewish teens Naftali Fraenkel, Gilad Shaar and Eyal Yifrah.
A panel of three judges said it found no flaw in the army's decision to raze the homes as a means of deterrence to potential terrorists that would merit court intervention. They also rejected the claim that since the state doesn't destroy the houses of Jewish terrorists, the decision is discriminatory.
According to Haaretz, the judges did however postpone the demolitions until 1 P.M. on Thursday to give the families time to submit an engineer's opinion on how the demolition will affect neighboring houses.