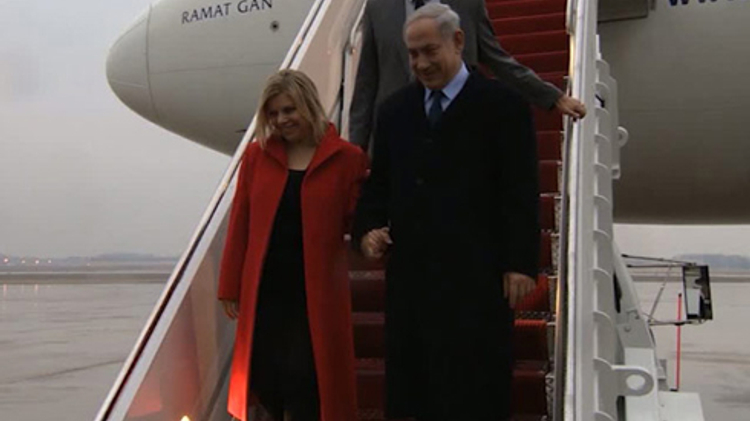 ☆
Sara Netanyahu regarded employees as a 'hygiene problem', lawsuit alleges
credits/photos : Israeli GOP
Israeli Prime Minister Benjamin Netanyahu and wife Sara Netanyahu arrive at the US, 3.3.2014
Ex-housekeeper claims Israeli Prime Minister's wife demanded domestic staff change clothes three times a day
Sara Netanyahu, the wife of Israeli Prime Minister Benjamin Netanyahu, is once again making controversial headlines in Israel: details emerging from an ongoing lawsuit filed by a former housekeeper of the Netanyahu residence reveal that she allegedly considered her domestic staff as a "hygiene problem", prompting unusually strict cleanliness laws.
The housekeeper, Meni Naftali, claims that Sara Netanyahu demanded "everyone who worked on the second floor (to) change clothes three times per shift and shower before entering the bedroom."
He claimed further abusive behavior by the Prime Minister's wife, relating an incident in which Sara Netanyahu demanded a worker who packed several eggs in the same bag, to re-pack the eggs in separate bags – in 20 seconds, all while shouting a countdown. "You're making the Prime Minister late," Sara Netanyahu allegedly screamed, "The coalition will fall apart because of you – because the Prime Minister will be driving on Shabbat!"
Naftali also added that Sara Netanyahu tore up his letter of resignation when he decided to leave his job, telling him the Prime Minister is "too busy with Iran… he has no time for these things."
The ex-housekeeper claims one million NIS (approx. $288,250) in damages over labor law violations and allegedly abusive treatment, mostly on the part of the Prime Minister's wife, Sara Netanyahu. Naftali, a former soldier in an elite military unit, was the family's bodyguard for several years before being asked to assume the running of the residence.
Israeli media reported in detail on the suit filed by Naftali relating to his employment from February 2011 to November 2012. In one such event, he was allegedly woken up at 3 a.m. by an enraged Mrs. Netanyahu, complaining that Naftali bought milk in a bag instead of a carton, as per her demand. Naftali added that Mr. Netanyahu got involved in the matter and instructed him to do what she pleases, "so that she calms down."
Naftali also alleges that the Prime Minister's wife flew into a rage because some flowers in the residence were not fresh, threw the vase on the floor and screamed that he was doing a poor job and that "such a thing would not happen in the Elysse Palace."
Naftali also reported an incident in which he was belittled for bringing the couple a meal that was too large, provoking a racist remark from Mrs. Netanyahu: "We're Europeans… we don't eat as much as you Moroccans do. You overfeed us and then when we're filmed abroad we look fat."
This is not the first labor dispute between a former employee and the first family. In 2010, a former housekeeper for the couple's private residence in the upscale community of Caesarea, filed a suit for 370,000 NIS (approx. $100,000) alleging abusive treatment, among other claims. The case was settled out of court in late 2012. Several years previously, a babysitter sued, too, but the case was dismissed in court.
In reaction to Naftali's suit, the Prime Minister's Office called the claims "malicious gossip that violates the privacy of the Prime Minister and his wife."