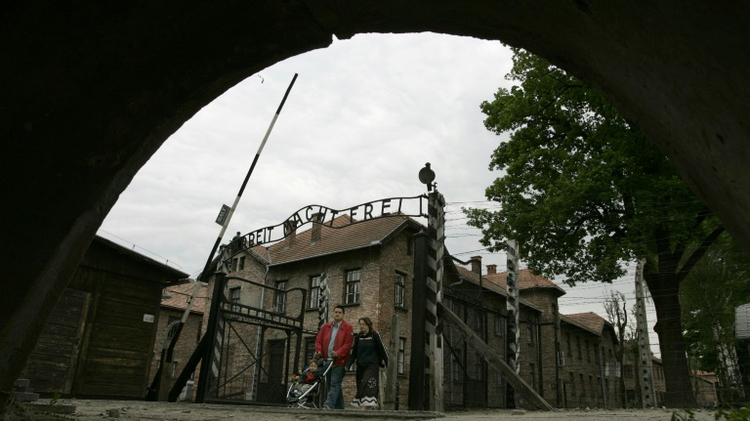 ☆
Israeli Holocaust survivor may be world's oldest man
credits/photos : Joe Klamar (AFP/File)
A family crosses the gate of the Nazi concentration camp of Auschwitz in Poland, where some 1.1 million people, most of them European Jews, perished between 1940 and 1945
Yisrael Kristal, 112, may take title after former oldest man died this week - if he can prove his age
At 112, Israeli Holocaust survivor Yisrael Kristal is believed to be the oldest living man in the world after a Japanese man the same age as him died this week, Israeli daily Haaretz reported. 
Yisrael Kristal of the northern Israeli coastal town of Haifa turned 112 on September 15.
According to Haaretz, Kristal's grandson Oren received an email this week from the Gerontology Research Group informing him that Yasutaro Koide of Japan died this week, just two months short of his 113th birthday.
The international body that verifies and tracks people who are at least 110 years old and sends its list to the Guinness World Records organization said that Kristal was now a candidate for the title of the world's oldest man following Koide's death. 
Upon learning the news, Kristal responded in Yiddish, "The joy of my old age," Haaretz reported. 
While there is no living man who can document that he is older than Kristal, Kristal must present an official certificate attesting to his age that was issued during the first 20 years of his life.
This may prove more difficult than it seems because, according to Haaretz, the earliest official document attesting to Kristal's age is his first marriage license issued in Poland 87 years ago, when he was 25.
Kristal was born in the town of Zarnow in Poland. In 1920, when he was 17, he moved to Lodz to work in the family confections business. and he continued to make sweets in the ghetto when it was established in 1940. Four years later he was sent to Auschwitz, where he lost his wife, according to Haaretz. 
After the Holocaust, he moved to Haifa in 1950 with his second wife and their son.
Yasutaro Koide died on Tuesday at the age of 112 in central Japan, a local official said.
Koide, born just months before the Wright brothers made their first successful flight, died in hospital in the central Japanese city of Nagoya, where he had lived for many years, said the city official.
The super-centenarian, recognized as the world's oldest male at 112 last year, died of heart failure and pneumonia, the official added.
Koide, a former tailor who was born on March 13, 1903 in Fukui prefecture, northwest of Tokyo, received a certificate from Guinness World Records confirming the achievement after another Japanese man who was just a month older died in July.
Asked about the key to longevity, Koide had reportedly said: "The best thing to do is avoid overwork and live with joy."
Japan is known for the longevity of its people and around a quarter of its population of 127 million is aged 65 or older.
It was not immediately clear who would succeed Koide as the world's oldest male.
Currently, the world's oldest person is American Susannah Mushatt Jones who is 116 and was born on July 6, 1899, according to the Guinness World Records website.
Staff with agencies